THE PLAZA Seoul Presents an Haute Cuisine Spectacular by Michelin Star Chef
Chef Takeshi Kobayashi collaborates with THE PLAZA Seoul's Chef Chu Sheng Lo to present diners with a unique omakase dining experience
Signature Chinese cuisine was prepared with ingredients from both Korea and Japan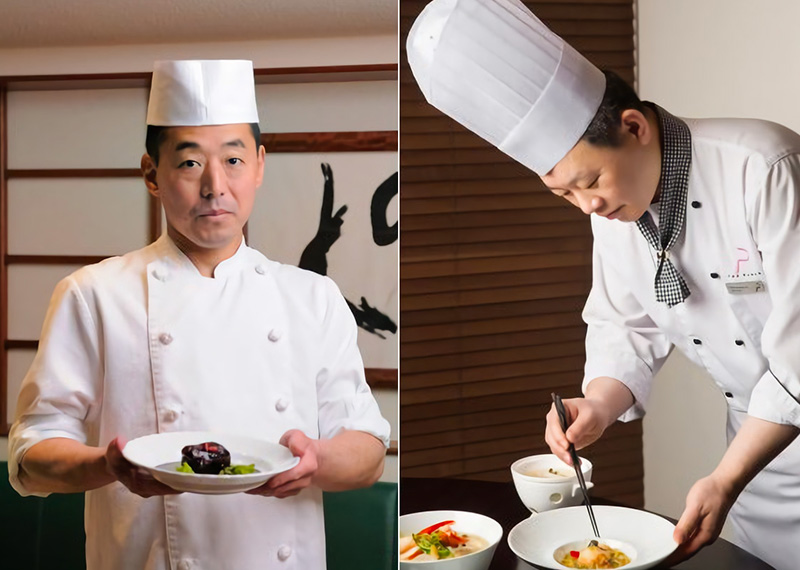 Luxury boutique hotel THE PLAZA Seoul held an extraordinary gala dinner event on the 26th and 27th of April at THE PLAZA's Chinese restaurant Taoyuen. Master Chef Takeshi Kobayashi delighted diners with the very best in Chinese haute cuisine; it was an unforgettable gastronomic experience.
Chef Kobayashi is chef and owner of Mitamachi Momonoki, a two Michelin star restaurant in Tokyo. He attracts global attention with his sophisticated approach to cooking that combines the "fiery" passion of Chinese cuisine and the "cool"-ness inherent to Japanese cuisine. He is the only Chinese cuisine chef in Japan who offers an omakase menu, or "chef's recommendation," where diners entrust the chef to prepare a meal of his own choosing.
Chef Kobayashi's skills were on full display at the Taoyuen. On the first night, he worked with Taoyuen's resident Chef Chu Sheng Lo to prepare a "Four Hands" gala dinner. On the second night, Chef Kobayashi presented diners with a chef's Signature Gala Dinner.
The evening's 11-course menu, including stir-fried Hanwoo beef and dim sum, was prepared specifically for the occasion using ingredients Chef Kobayashi procured from markets in Korea and Japan. Each course was presented with a specially selected wine pairing.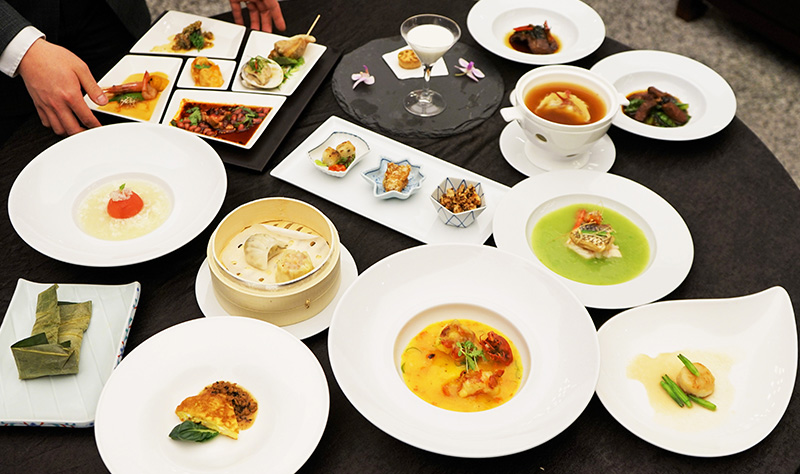 However, the Chef's Signature Gala dinner was not merely about fine food. Chef Kobayashi mingled with the diners in the dining room, sharing conversations and his philosophies on cooking.
"I am honored to have this opportunity to prepare a gala dinner with the chef of the best Chinese restaurant in Korea," said Chef Kobayashi of Chef Chu and his time at the Taoyuen. "I was determined to give the diners an unforgettable evening as they experienced the world's only Chinese omakase service."
Chef Koabayashi's residency at Taoyuen is part and parcel of THE PLAZA's ongoing efforts to provide gourmands with more opportunities to experience fine dining from world-class chefs. Some of these world-renowned culinary masters include the staff of Ooedo, the famous 200-year-old freshwater eel restaurant, and Chef Qin Shuangshuang, who formerly worked at the Venetian Resort Hotel in Macau. The team presented an unforgettable dining experience in 2011 and 2012. Star chefs such as Lai Yau Tim and Alvin Leung were also invited to present gala dinners in 2014 and 2016, respectively.
Now in its forty-second year of operations, Taoyuen has anchored THE PLAZA's dining experience ever since the restaurant opened its doors in 1976. Constantly refining and innovating how Chinese cuisine is served and enjoyed in Korea. Taoyuen is one of Korea's premier fine dining Chinese restaurants.
THE PLAZA is a boutique hotel located in Seoul, Korea that is perfect for business or leisure. Owned and operated by Hanwha Hotels & Resort, the hotel's highly trained staff and luxury facilities provide guests with a peerless level of service.
Hanwha Hotels & Resorts
Hanwha Hotels & Resorts began operations in 1979 as the developer of South Korea's first resort condominium project. It joined Hanwha in 1986. With resort, hotel, and food service businesses, we are rapidly becoming South Korea's premier leisure and food service provider.

For more information, please visit: www.hanwharesort.co.kr/en

Hanwha Group
Founded in 1952, Hanwha has grown quickly by anticipating and responding to changing business environments with a balanced business portfolio that includes energy & materials, aerospace, finance and retail & services. Our expertise and synergy in key areas have catapulted us into the seventh-largest business in South Korea and a Fortune Global 500 company. Hanwha continues to grow rapidly as we strive to pursue global leadership in all of our businesses. We are building a robust foundation for sustainable development and a brighter future for everyone.

For more information, visit: www.hanwha.com
Contact Us
Thank you for your interest in Hanwha.
Please contact us for your inquiries.
Email Us
Information Message
Please enter your email address.
Information Message
Please enter a correct email address.
Success
Keep an eye on your inbox for the latest stories from Hanwha.
Information Message
Your subscription request has already been processed. Thank you.