The Hanwha Group Takes the Lead to Prevent Desertification
50,000 trees planted to create a new Hanwha Solar Forest in Ningxia, China
To date, over 490,000 trees planted across Asia, reflecting a strong commitment to corporate social responsibility
Regional government acknowledges Hanwha's efforts to fight desertification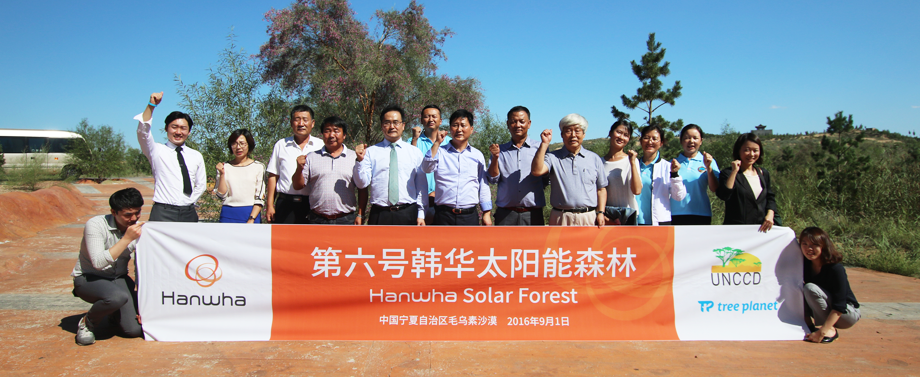 Hanwha is taking the lead to prevent desertification and yellow dust by creating the company's sixth eco-friendly forest in a desert region in China.
On September 1st, Hanwha held a reforestation ceremony for the establishment of the 6th Hanwha Solar Forest in the Mu Us desert, located inside the Ningxia Hui Autonomous Region (NHAR) in China; the event was attended by Senior Executive Vice President Sun Mok Choi of the Hanwha Group's communication team, Vice President Young Rak Kim of Hanwha China, other company employees and officials from the Autonomous Region government. At the ceremony, the city of Yinchuan and the Lingwu National Environmental Protection Bureau presented the Hanwha Group with a plaque of appreciation for its significant contributions – fighting the region's desertification – through social responsibility projects.
The ceremony marked the beginning of Hanwha Group's latest initiative to plant approximately 50,000 desert pines, junipers and other trees in an area covering 165,000㎡, the equivalent of 23 soccer fields in the Mu Us desert region. Energy needed for the tree nursery will be generated using the solar power facility donated to the region by Hanwha back in 2012 and other clean, non-fossil fuel sources, further highlighting the eco-friendly design at work for the forest.
The Mu Us desert, inside the NHAR, is located near the Southern part of Mongolia in the northern central region of China. This is where much of the East Asian yellow dust originates and it is an area under special management by the Chinese government due to its alarming rate of desertification.
Hanwha has not stopped its efforts to prevent the proliferation of yellow and micro-fine dust originating from these deserts since becoming actively involved since 2011 with its first forest in the Selenge province in Mongolia. Hanwha followed up with a generous donation of a solar power generation facility in 2012. In 2013, Hanwha planted 200,000 trees to start the 2nd Solar Forest in Ninxia, China. The 3rd forest was begun nearer home in Seoul, South Korea. The 4th Solar Forest near a local elementary school, again in Ninxia, China in 2015 and the 5th in Seosan, South Korea.
To date, Hanwha Group and a social enterprise, Tree Planet, have created forests throughout Mongolia, China and Korea by planting over 490,000 trees totaling an area equal to 160 soccer fields or 1,330,000㎡, through the Hanwha Solar Forest campaign.
The Hanwha Solar Forest Campaign invites everyone to actively participate by either leaving comments on its Web page (www.hanwhasolarforest.org) or by downloading and playing the mobile app game Tree Planet. When smartphone users plant virtual trees in Tree Planet App game, Hanwha actually plants real trees in desertification-stricken areas.
Trees planted over the past five years through the campaign have begun to flourish and form dense forests in desert regions of Mongolia and China. The forests evidently helped to reduce yellow dust, fight erosion and improve the quality of air. The campaign efforts to combat desertification have also increased awareness among our younger generations to the seriousness of climate change and its impact to our environment.
Hanwha Group
Founded in 1952, Hanwha has grown quickly by anticipating and responding to changing business environments with a balanced business portfolio that includes energy & materials, aerospace, finance and retail & services. Our expertise and synergy in key areas have catapulted us into the seventh-largest business in South Korea and a Fortune Global 500 company. Hanwha continues to grow rapidly as we strive to pursue global leadership in all of our businesses. We are building a robust foundation for sustainable development and a brighter future for everyone.

For more information, visit: www.hanwha.com
Contact Us
Thank you for your interest in Hanwha.
Please contact us for your inquiries.
Email Us
Information Message
Please enter your email address.
Information Message
Please enter a correct email address.
Success
Keep an eye on your inbox for the latest stories from Hanwha.
Information Message
Your subscription request has already been processed. Thank you.