The Tournament of World-class Female
Pro-Golfers: Hanwha Finance Classic 2016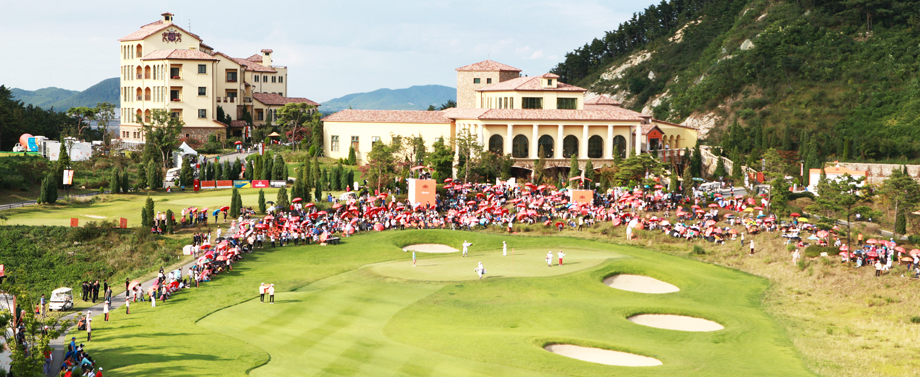 The star players of women's golf gathered at the Golden Bay Golf & Resort in Taean, Korea, for the 2016 Hanwha Finance Classic golf tournament. Taking place from September 1st to 4th, the tournament again saw exciting competition as the international field of top golfers each sought to emerge as the champion.
A Major Golf Tournament of KLPGA 'Hanwha Finance Classic'
The Hanwha Finance Classic first began as the Hanwha Cup Seoul Women's Open in 1990 and has long been one of the most prominent women's golf tournaments in Korea. The Hanwha Finance Classic offers more prize money than any other KLPGA event – a lucrative purse of $1.08 million with the 1st prize payout of $270,000. Each year, the tournament attracts the best talent and is considered an international highlight of women's golf; it's also noticed for its top-notch tournament operation.
This year's tournament was graced by a number of high-ranking pro golfers who regularly compete worldwide:
• KLPGA: Sung Hyun Park, Jin Young Ko and Su Yeon Jang
• USLPG: Lexi Thompson and Jessica Korda
• JLPGA: Mi Jeong Jeon, Soo-Yun Kang, Oe Kaori, and Fujimoto Asako
The most famous golfers not only drew the biggest crowds but also the loudest buzz in the run-up to the tournament.
After four days of intense competition, Sung Hyun Park finally took the trophy. Although Park was inconsistent at the start of the tournament, she was able to emerge victorious by shooting 67 and six under par on the last day, finishing with a total of 282. Jin Young Ko finished second and Min Young Lee of the Hanwha Golf Team tied for third place with Ji Hyun Kim and Yun Ji Cho by shooting three under par at 285.
Hanwha Group's luxurious Golden Bay Golf & Resort features 3 golf courses: the ocean course, the mountain course and the valley course. The Ocean Course is surrounded by the deep blue ocean and a lush green and natural beauty of a pine forest. The Mountain Course is encircled by a scenic yet mountainous terrain that is both wild and invigorating. The Valley Course is nestled between a picturesque valley accented by pleasant streams and soothing lakes. All three links are signature courses designed by the legendary Annika Sörenstam, offering a range of diverse courses for the most experienced golfers. With 27 different holes, players and enthusiasts have the chance to experience a variety of unique challenges amidst stunning landscapes and on a course that has been graced by some of the world's best pro golfers.
Hanwha Golf Team
The Hanwha Golf Team was first established in 2011 and sponsors a number of prominent golfers. Sponsored LPGA athletes include Haru Nomura, Ji Eun Shin, Eun Hee Ji, Sydnee Michaels and In Kyung Kim. From KPLGA, Min Young Lee, Chae Young Yoon and Ji Hyun Kim have been sponsored.
In the Hanwha Finance Classic 2016, one of the highest profile competitors was Haru Nomura, the winner of the Hanwha Finance Classic 2015 and the back-to-back winner of the 2015 and 2016 LPGA tour. The world-class golfer Ji Eun Shin– winner of the LPGA Texas North Shootout less than five years from her debut – was also present. Min Young Lee who recently won the Kumho Tire Women's Open 2016, also participated, making the Hanwha Finance Classic a highly competitive field between some of the most famous female golfers in the world.
Hanwha Group
Founded in 1952, Hanwha has grown quickly by anticipating and responding to changing business environments with a balanced business portfolio that includes energy & materials, aerospace, finance and retail & services. Our expertise and synergy in key areas have catapulted us into the seventh-largest business in South Korea and a Fortune Global 500 company. Hanwha continues to grow rapidly as we strive to pursue global leadership in all of our businesses. We are building a robust foundation for sustainable development and a brighter future for everyone.

For more information, visit: www.hanwha.com
Contact Us
Thank you for your interest in Hanwha.
Please contact us for your inquiries.
Email Us
Information Message
Please enter your email address.
Information Message
Please enter a correct email address.
Success
Keep an eye on your inbox for the latest stories from Hanwha.
Information Message
Your subscription request has already been processed. Thank you.