A Global Top-tier Petrochemical Company
on the Rise
Highlighting the success of Hanwha's petrochemical business for the first anniversary of Hanwha General Chemical (Currently Hanwha Impact) & Hanwha Total Petrochemical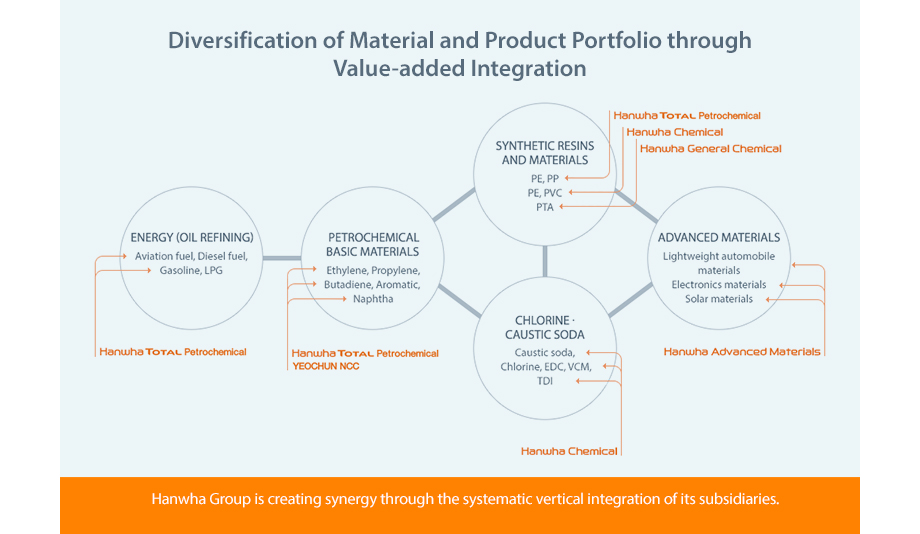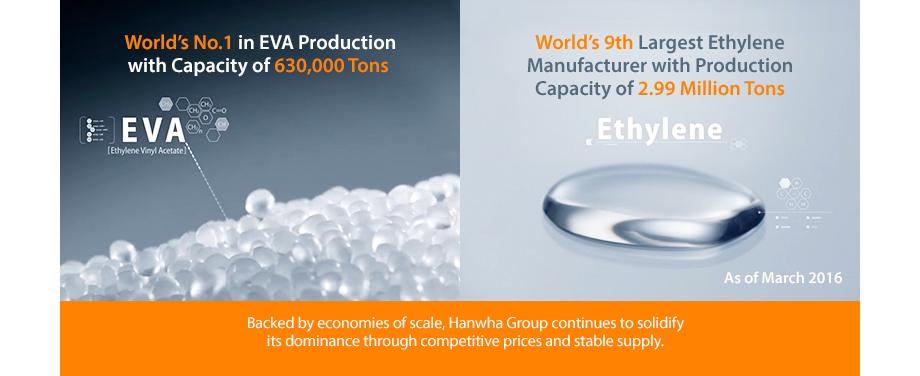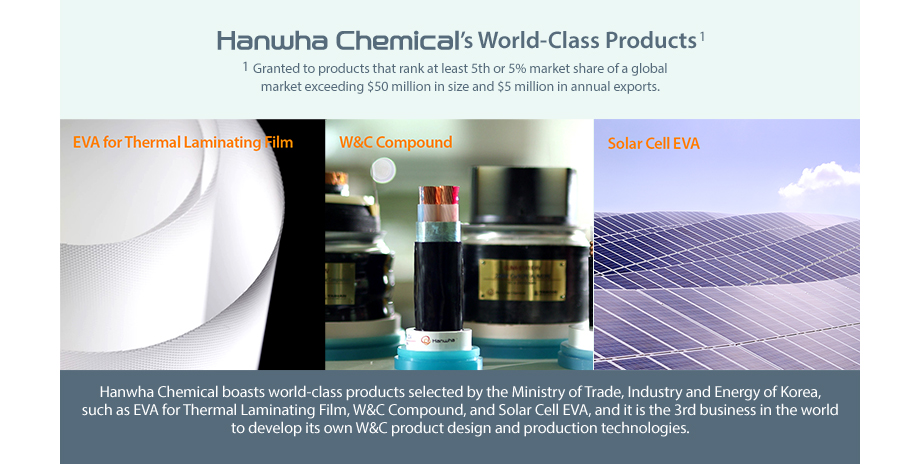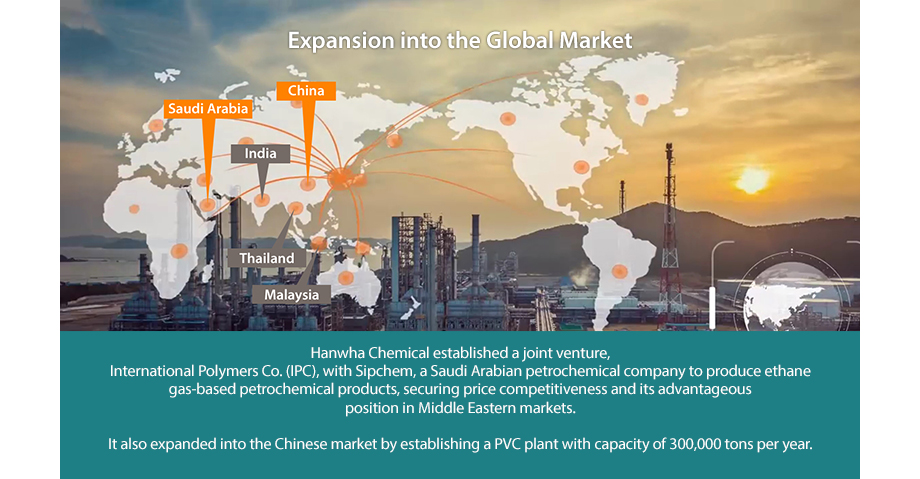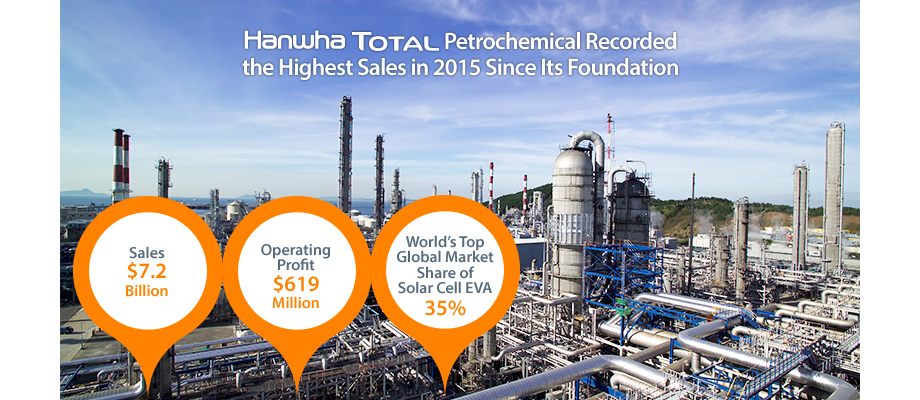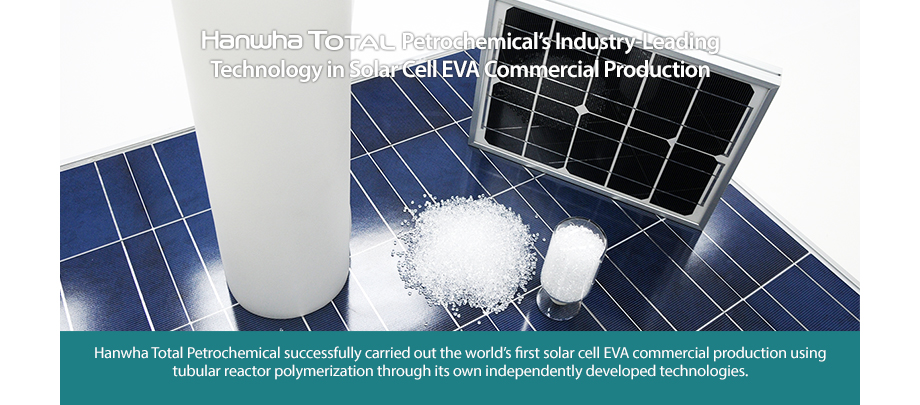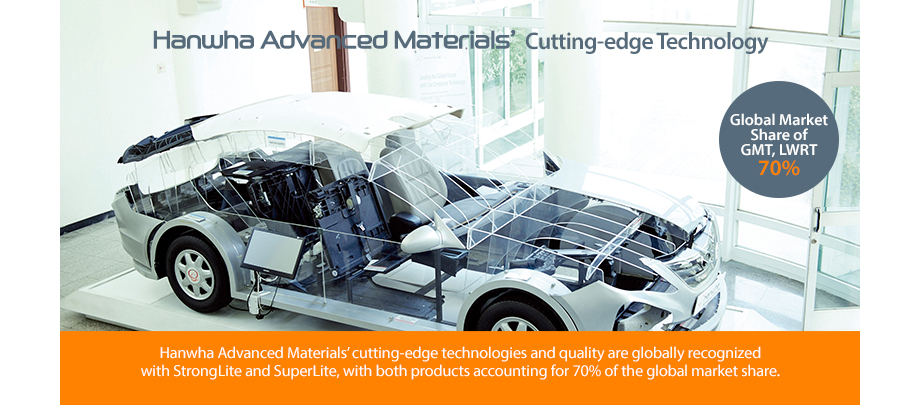 Over the past few years, the global petrochemical industry has suffered unprecedented crises, such as an earnings shock in the wake of plunging oil prices and economic depression. Amid these difficult circumstances, Hanwha Group adopted a selection and concentration strategy for its petrochemical business and launched Hanwha General Chemical (Currently Hanwha Impact and Hanwha Total Petrochemical, cementing its position as a global leader through economies of scale and synergy among subsidiaries.
One year after the launch of Hanwha General Chemical (Currently Hanwha Impact and Hanwha Total Petrochemical in 2015, the renewed status and achievements of Hanwha Group's petrochemical business are highlighted below.

Diversification of Material and Product Portfolio through Value-added Integration
Hanwha Group is creating synergy through the systematic vertical integration of its subsidiaries. It has a diversified material portfolio ranging from oil refining to basic materials, synthetic materials, chlorine∙caustic soda, and it produces various advanced products such as lightweight automobile materials, solar energy materials, and electrical materials.
World's No.1 for EVA and 9th Largest for Ethylene Production Capacity
Backed by economies of scale, Hanwha Group continues to solidify its dominance through competitive prices and stable supply. Ethylene production, the base of the petrochemical industry, reached 2.99 million tons, the 9th-highest in the world, and high value-added EVA production recorded 630,000 tons, securing a top place in the global market.
Hanwha Chemical's World-Class Products
Hanwha Chemical boasts world-class products (refer to the remarks) such as W&C Compound¹, EVA for Thermal Laminating Film², and Solar Cell EVA³, and it has become the third business in the world to develop its own W&C product design and production technologies, cementing its world-leading technologies.
¹ W&C Compound (Wire & Cable Compound)
W&C Compound XLPE is a polyethylene synthetic resin used in producing insulation for conductors to ensure the safety of power transmission and distribution cables. In 1985, Hanwha Chemical developed and commercialized W&C Compound for the first time in Korea, which had previously been 100% dependent on import. W&C Compound was selected as a World-Class Korean Product in 2004, and was soon followed by another remarkable achievement in the production of XLPE for 345kv.
² EVA for Thermal Laminating Film
This high-content EVA is a high value-added product that only a few companies in the world can produce with state-of-the-art technologies and equipment. EVA for Thermal Laminating Film, developed and produced by Hanwha Chemical for the first time in Korea thanks to its unrivalled technologies, is thinly coated on film materials such as PET and OPP to protect the materials and enhance heat adhesiveness and strength. With its outstanding process ability, transparency, and adhesiveness, EVA was selected as a World-Class Korean Product in 2009.
³ Solar Cell EVA
Solar Cell EVA is the main material for EVA sheet, used as an adhesive that protects the solar cell between the glass and back sheet in solar energy generation modules. Solar Cell EVA was selected as a World-Class Korean Product in 2011 for its excellent transparency, adhesiveness, and processing technology, solidifying Hanwha Chemical's position as Asia's leading EVA manufacturer.
Expansion into the Global Market
Hanwha Group is quickly making inroads into strategic production hubs and markets. Hanwha Chemical is producing ethane gas-based petrochemical products after establishing International Polymers Co. (IPC), a joint venture with the Saudi Arabian petrochemical company Sipchem, and building a plant in the northern Jubail petrochemical industrial complex. This made it possible to acquire low-price materials to secure price competitiveness as well as have an advantageous position to advance into neighboring markets and the Middle Eastern markets.
It is also actively targeting China, the world's largest PVC market, through the establishment of a 300,000-ton/yr PVC plant in Ningbo, China, in 2011.
Hanwha Total Petrochemical Records the Highest Sales since Its Foundation
Hanwha Total Petrochemical delivered USD 7.2 billion (KRW 8.27 trillion) in sales and USD 691 million (KRW 797 billion) in operating profit, the best performance since its foundation. It also jumped to the world's top spot in the solar cell EVA market, achieving a global market share of 35%.
Hanwha Total Petrochemical's Industry-Leading Technology in Solar Cell EVA Commercial Production
Hanwha Total Petrochemical successfully carried out the world's first solar cell EVA commercial production using tubular reactor polymerization through its own independently developed technologies, and based on this process, the company is now dominating the global solar cell EVA material market.
Hanwha Advanced Materials' Cutting-edge Technology
Hanwha Advanced Materials has the capabilities to develop and produce lightweight automobile materials and high functional film, and its technologies and quality are globally recognized, with StrongLite and SuperLite accounting for 70% of the global market share.
Contact Us
Thank you for your interest in Hanwha.
Please contact us for your inquiries.
Email Us
Information Message
Please enter your email address.
Information Message
Please enter a correct email address.
Success
Keep an eye on your inbox for the latest stories from Hanwha.
Information Message
Your subscription request has already been processed. Thank you.