Hanwha Q CELLS CCO Dong Kwan Kim Provides Insight on Future Competitiveness of Solar Energy at World Knowledge Forum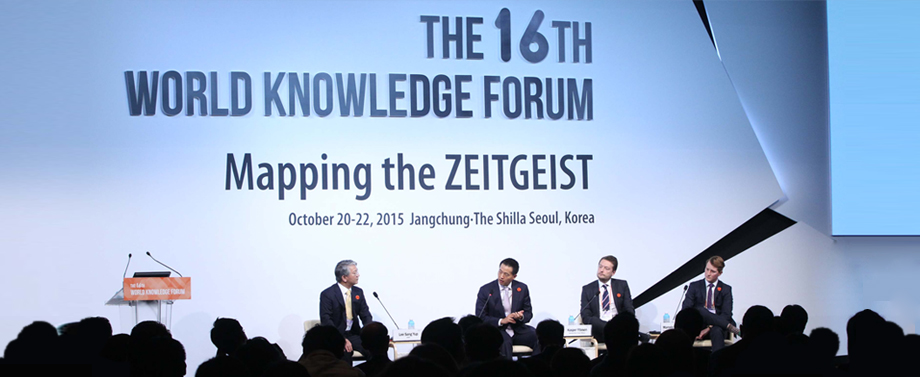 Dong Kwan Kim, Chief Commercial Officer ("CCO") of Hanwha Q CELLS participated as a panel member of the "Renewable Energy in the Era of Low Oil Prices" session of the 16th World Knowledge Forum, held in Seoul on October 21 of 2015 together with Director of Offshore Strategy for Siemens Wind Power Offshore Kasper Yttesen and Technical Leader of GE's Asia Pacific Renewables Sales Team Marcelo Cummins, to discuss the forecast for renewable energy in a rapidly-transforming energy market.
The World Knowledge Forum is Asia's largest annual global business forum that aims to promote the balanced growth and prosperity of the global economy through the sharing of knowledge. In 2015, over 200 of Top business leaders, CEOs of global companies, political leaders, scholars, economists and heads of international organizations from around the world gathered in one place to discuss the challenges as well as the opportunities that a rapidly changing global environment presents to humanity, and share their knowledge with multinational audience of approximately 3,000.
CCO Kim stated that "Only 3.9% of the world's power is actually generated by burning oil, and low oil prices actually does not have direct correlation with the actual competitiveness of renewables," adding that "The most recent trend has clearly shown that in major parts of the world including the United States as well as parts of China and India, where there are the biggest power demands, renewables including solar energy have reached what we call grid parity."
CCO Kim also commented that "As people didn't have to run out of stones to end the Stone Age, the world is demanding a more environmentally-friendly method of generating energy," and said that "Examining the returns of oil ETFs compared with global solar and global wind ETFs shows that the highest returns in the past three years have occurred in solar ETF, and these trends have amplified the market's understanding of where the investments are going, and this is where the returns are."
"This year Hanwha Q CELLS is going to be the largest manufacturer of solar cells, and by next year we're going to be manufacturing over 5.2 GW of solar cells. This year we are going to globally install about 50 GW of solar panels based on our state-of-the-art technology," said CCO Kim, emphasizing that "The cost of manufacturing solar cells has dropped from about $1.80 per watt six years ago to about 40 cents today. By continued innovation in manufacturing and processes, Hanwha Q CELLS will provide products that last longer but with higher efficiency and cheaper price."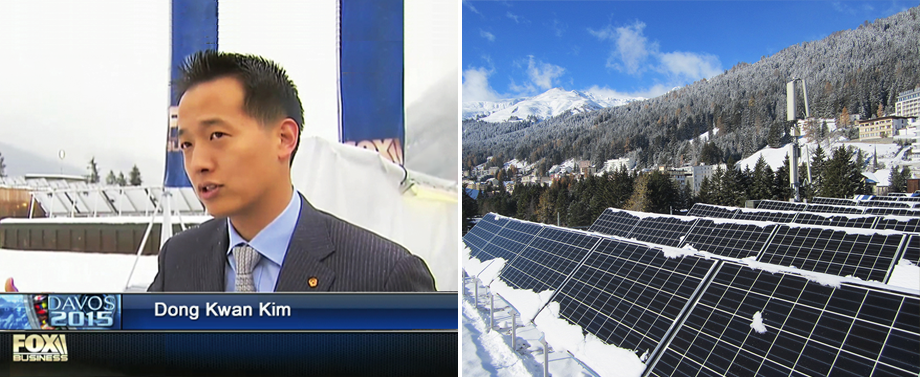 The World Economic Forum ("Davos Forum") awarded Dong Kwan Kim with the Young Global Leader ("YGL") distinction in 2013. The prestigious accolade is awarded to global leaders under the age of 40 who have a recognized record of extraordinary achievement and a proven track record of substantial leadership experience in diverse areas including business, civil society, media, government, education and entrepreneurship. Holders of the YGL distinction represent leaders of tomorrow, acknowledged for their remarkable achievements and considerable service to their communities.
As a strategic partner of the Davos Forum, Hanwha Group supported the project "Greener Davos" initiated by the World Economic Forum in partnership with the municipality of Davos by donating Hanwha Q CELLS' high efficiency Q.PEAK 275 Wp modules for a 340 kWp PV solar system on the 1,000㎡ rooftops of the Davos Congress Center in January of 2014. The equipment will generate enough energy to reduce the center's carbon dioxide emissions by more than 20 tons each year.
Contact Us
Thank you for your interest in Hanwha.
Please contact us for your inquiries.
Email Us
Information Message
Please enter your email address.
Information Message
Please enter a correct email address.
Success
Keep an eye on your inbox for the latest stories from Hanwha.
Information Message
Your subscription request has already been processed. Thank you.