Hanwha Q CELLS Extends
Its Lead in Solar Energy Industry through Downstream Business

Hanwha Q CELLS, the world's largest solar cell manufacturer with a production capacity expected to reach 5.2 GW by first half of 2016, is accelerating its solar downstream business, amplifying its 900 MW-plus utility-scale track record, technological leadership and O&M expertise, as well as a global sales network spanning 36 countries, which includes Europe, Asia, the Middle East and the Americas.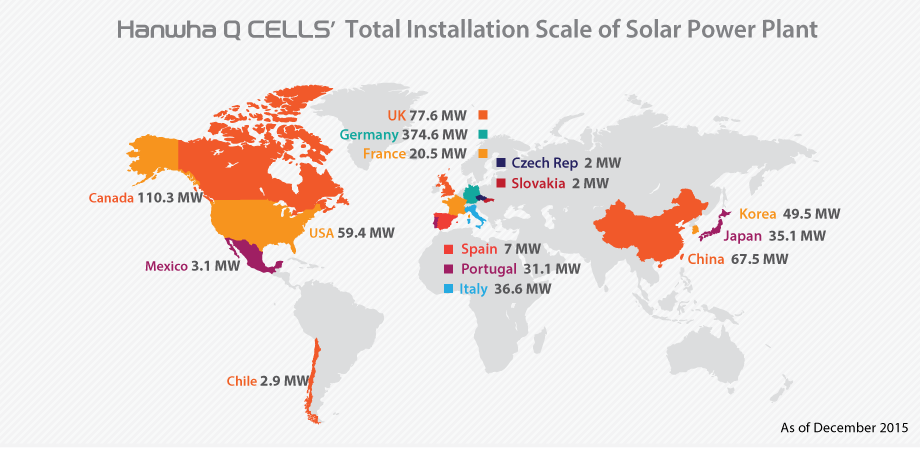 With a Power Purchase Agreement (PPA) with Austin Energy made in November 2015, Hanwha Q CELLS USA will build a 170 MW solar power plant in a space measuring 5,800,000㎡ in Texas, which will generate electricity to be used by Austin Energy in the U.S. Hanwha Q CELLS USA provides EPC (engineering, procurement and construction) for the project.
Beyond North America, Hanwha Q CELLS has explored opportunities to support Chile and Turkey by pursuing robust prospects for expanding its downstream business. Chile has the potential for large-scale utility projects with excellent solar irradiation conditions, and Turkey is facing a solar energy boom with government-led policies.
Discovering these changes in the energy dynamics of both nations, Hanwha Q CELLS has established local subsidiaries in Chile and Turkey to provide tailored and localized services. The subsidiaries are expected to begin additional projects, totaling 53 MW in Chile and 15 MW in Turkey, by the end of 2015.
The growth continues in Asia as well. In particular, the Indian government has announced plans to establish a 100 GW solar energy plant by 2020. Hanwha Q CELLS boosts its presence in the rapidly-growing Indian market, supplying 70 MW solar energy modules to Adani Group and launching a joint project with ReNew Power for a solar power plant of 148.8 MW.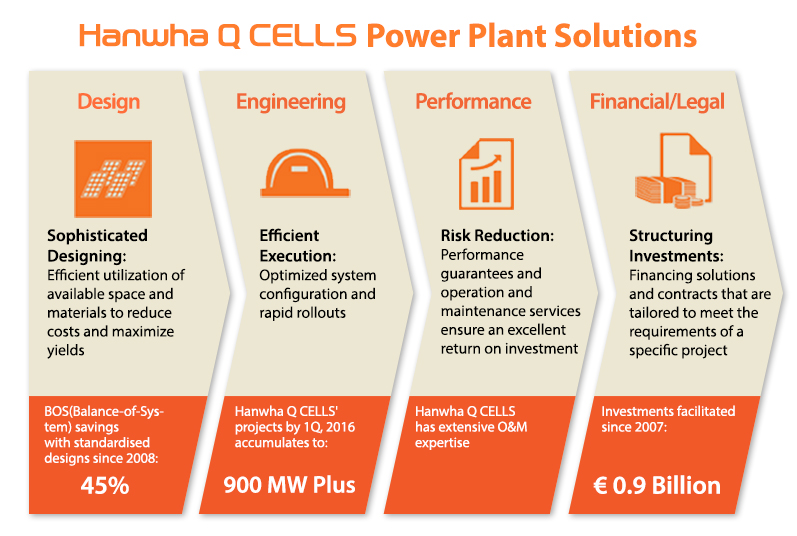 Photovoltaics is taking a leading role in the future energy mix, and utility-scale photovoltaic power generation is more efficient than ever. Hanwha Q CELLS is committed to extending its lead in the global solar energy industry through innovation and truly partnering with its customers.
Hanwha Q CELLS is an optimum EPC contractor for turnkey solutions from a single source and solar power plant solutions engineered in Germany. With proven track record of commitment and expertise, Hanwha Q CELLS focuses on reinforcing its presence as the world's solar energy leader, specializing in downstream business.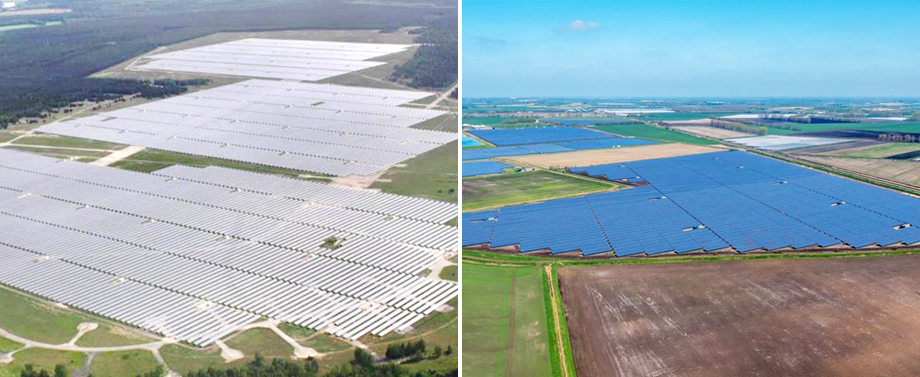 [ Industry Outlook ]
The Paris Agreement and the Arrival of Carbon Reduction Era
At the 21st Conference of the Parties (COP21) held in Paris from November 30 to December 12, 195 parties participated signed the Paris Agreement to cut carbon emission and limit the temperature increase to 2℃ by 2100 with an ideal target of keeping temperature increase below 1.5℃. The agreement enhances the industry prospects for renewable energy sector.
"If nothing else, analysts and experts say, the accord is a signal to businesses and investors that the era of carbon reduction has arrived." (NYT)¹
"The deal will likely accelerate investment in technologies like renewable energy and electric vehicle." (REUTERS)²
"Goldman Sachs' analysts described the deal in Paris as the most important climate agreement since the 1997 Kyoto Protocol, adding it would boost the world's low carbon-emissions economy, which it estimated as a fast-growing $600 billion-plus market."… "In short, we think the Paris agreement represents a strong outcome and will therefore help boost the long-term fundamentals of the capital-goods and low-carbon power-generation sectors while weakening the long-term fundamentals of fossil-fuel industries, Barclays' analysts wrote in a note." (Bloomberg Business)³
¹ Clifford Krauss and Keith Bradsher, "Climate Deal Is Signal to Industry: The Era of Carbon Reduction Is Here", The New York Times,
  December 13, 2015
² Sudip Kar-Gupta and Annabella Nielsen, "Renewable Energy Stocks Rally after Paris Climate Deal", REUTERS, December 14, 2015
³ Matthew Campbell, "Big Oil, Make Way for Big Solar. The Winners and Losers in Paris", Bloomberg Business, December 14, 2015
Contact Us
Thank you for your interest in Hanwha.
Please contact us for your inquiries.
Email Us
Information Message
Please enter your email address.
Information Message
Please enter a correct email address.
Information Message
Thank you for your newsletter subscription.
Your email account has been successfully registered.