Hanwha Has Completed Building 24 MW
Solar Power Plant in Kitsuki, Oita prefecture, in Japan

Hanwha Group is accelerating its leading position in the Japanese solar power market with the construction of a large-scale 24 MW solar power plant in Oita which was completed in January 2015.
Hanwha Solar Power Kitsuki was built on a 299,940 ㎡ uninhibited mountain slope in Kitsuki, Oita Prefecture as a part of Hanwha Q CELLS Japan's independent power projects. Hanwha Energy and Hanwha Q CELLS Japan made a joint investment for its construction.
Hanwha Q CELLS Japan, as the front runner in the Japanese solar energy market took the lead among foreign solar energy companies in Japan with its sales record of over 700 MW solar modules in 2014. Recently, the company asserted plans to actively penetrate Japan's solar power plant market through independent power projects with the goal of building solar power plants which would generate over 100 MW per year. It has further solidified its leading position in Japan with the completion of the solar power plant, Hanwha Solar Power Kitsuki.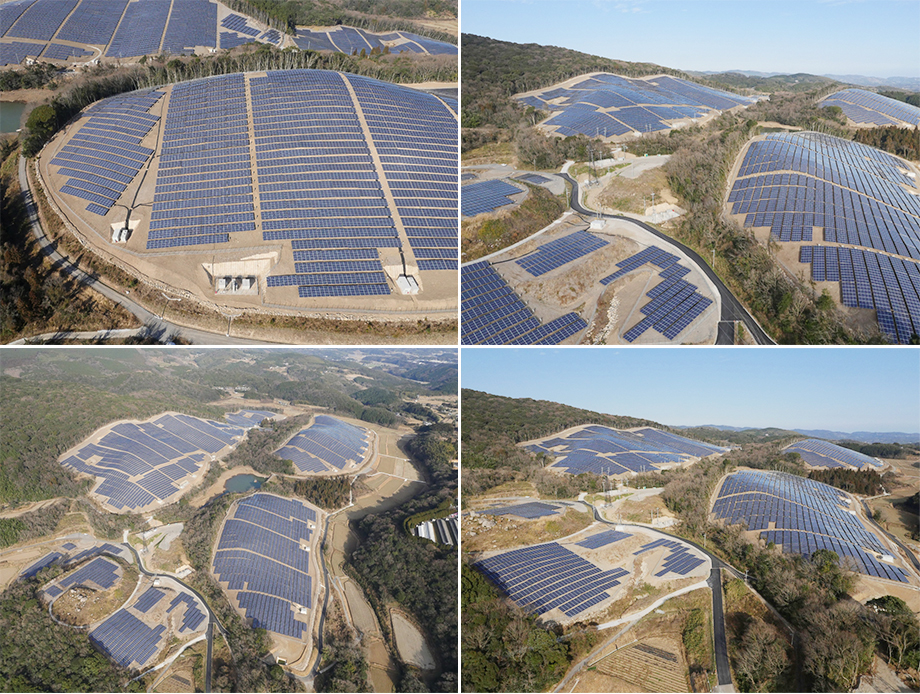 Hanwha Solar Power Kitsuki, the Tipping Point of Independent Solar Power Projects
Constructed with 97,000 Hanwha Q CELLS solar modules, Hanwha Solar Power Kitsuki will generate 24 MW of electricity per hour which can be supplied to 7,190 households annually.
Hanwha Solar Power Kitsuki is generating sufficient interest, as it has benchmarked a new standard for the economical construction of power plants. The company was able to save cost in acquiring land as it was built on a slope, as opposed to other plants that were built on flatland.
A Leader of Renewable Solar Energy, Reviving Abandoned and Polluted Lands
In addition to being constructed on a slope, Hanwha Q CELLS has pioneered new possibilities of solar power plants around the globe. For example, Hanwha's Maywood Solar Farm project stationed in Indianapolis, Indiana, USA emerged as a brilliant, new approach of redeveloping superfund and brownfield sites. Sunny Fukushima is a project which aims to redevelop the Fukushima golf site that was abandoned after the Fukushima nuclear disaster. Approximately 105,000 of Q CELLS leading Q.PRO-G3 solar modules will be used to generate 26.2 MW of clean electricity by the time the project is completed in March 2015. The solar power plant is expected to supply around 8,000 homes in the area with stable power and an archetype of renewable energy generation in Japan. The company has also managed to construct various solar power plants in cost-effective ways by exploiting vacant space such as factory roofs and even sewage treatment plants.

The Hanwha Solar Power Kitsuki project is the company's third independent power project in Japan following the 2 MW solar power plant in Awa, Tokushima Prefecture established in June 2013,
and the 0.8 MW plant in Kushiro, Hokkaido Prefecture in December 2014.
Upon the completion of Hanwha Solar Power Kitsuki, Hanwha Q CELLS Japan will emerge as a reliable, key player in the renewable energy sector by going beyond solar modules sales and supplying stable electricity in Japan.
Contact Us
Thank you for your interest in Hanwha.
Please contact us for your inquiries.
Email Us
Information Message
Please enter your email address.
Information Message
Please enter a correct email address.
Success
Keep an eye on your inbox for the latest stories from Hanwha.
Information Message
Your subscription request has already been processed. Thank you.