Hanwha Q CELLS Opens Doors
into U.S. Solar Market

In February 2015 Hanwha Q CELLS emerged as a new global solar power leader from combining two of the world's most recognized photovoltaic manufacturers, Hanwha SolarOne and Hanwha Q CELLS. The merger comes only four years after Hanwha Group first launched its solar business. Hanwha Q CELLS recently took its efforts to become a world's leading total solar energy solution provider to the next level by signing the largest single supply contract to date in the industry.
On April, 2015, Hanwha Q CELLS announced that it had signed a contract to supply modules totaling 1.5 GW to NextEra Energy Resources, LLC, a subsidiary of one of the world's largest clean energy companies, U.S.-based NextEra Energy, Inc. The deal is the largest-ever single contract in the solar industry. After the 1.5 GW module is fully installed, total power generation will be equivalent to the amount of power used by 2,500,000 people for a year.
With the latest contract, Hanwha Q CELLS' entire production of modules will be utilized in the power plant that NextEra plans to construct in the United States. NextEra Energy is one of the world's largest new and renewable energy companies, with annual sales of $17.5 billion and a total market value of $46 billion as listed on the New York Stock Exchange (NYSE).
Armando Pimentel, President of NextEra, stated that "the company considers Hanwha Q CELLS as the best partner for the company's large scale investment in photovoltaic power generation, as the two companies share leading technological capabilities, reliability, and a clear vision for the global solar power business."
With the contract, Hanwha Q CELLS not only made its presence widely known in the U.S., a major market for solar power, but was also able to acquire a new growth engine that will enable the company to further focus on expanding its global business.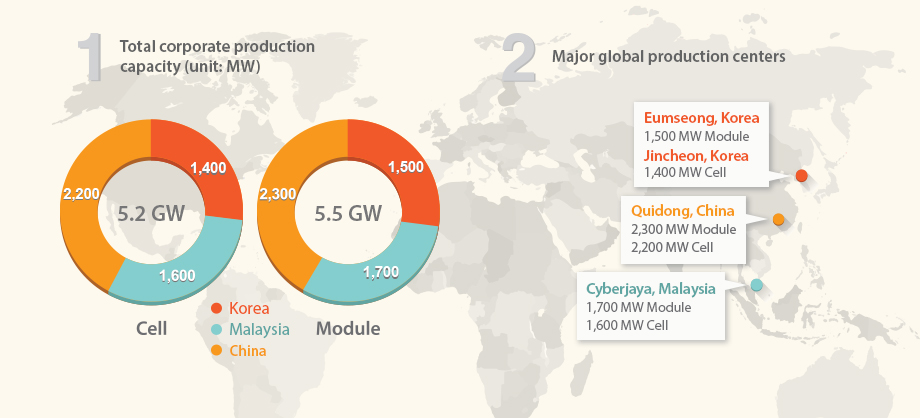 Hanwha Q CELLS Becomes A Global Solar Power Leader
- Cost competitiveness and technological edge boost company's competitiveness in the global market
The technological edge and cost competitiveness of Hanwha Q CELLS enabled the company to successfully conclude such a large-scale contract with NextEra.
Hanwha Group continued its investment despite the downturn in the global solar industry, pushing ahead with a merger between Hanwha Q CELLS and Hanwha SolarOne in 2015 in order to remain in step with the growth of the industry and solidify the company's presence in the global solar industry.
Thanks to these efforts, Hanwha Q CELLS was able to become one of the world's leading solar cell companies with the world's largest solar cell production capacity and a total market value of $2 billion as listed on the NASDAQ stock exchange.
The merger will allow Hanwha Q CELLS to secure cost competitiveness by achieving economies of scale with the world's largest solar cell production capacity, forming a synergy with the company's core capabilities including advanced technology and know-how and diversified production centers across Europe and Asia. The move also gives Hanwha Q CELLS a distinct competitive edge over its Chinese competitors in the global market, as the company will also be able to deploy more flexible responses to changes in market conditions as well as government regulations, including anti-dumping duties in the American market, a major issue in the industry today.

IN CHINA

Hanwha Group launched its solar power business by acquiring the former Solarfun Power Holdings, a NASDAQ-listed company. Over 6,700 employees produce ingots and wafers as well as solar cells and modules.

IN MALAYSIA

Hanwha Q CELLS' production plant in Malaysia boasts one of the world's most advanced cell production cost structures, giving the company a clear cost competitive edge. The plant's strengths include total automation and flexible expand-ability, and it also has the added benefit of freeing the company from U.S. and European anti-dumping regulations.

IN GERMANY

Hanwha Q CELLS' Technology & Innovation Headquarters are located in Talheim, Germany. Its R&D center serves as the true brain for photovoltaic technology development with a research staff of over 200 and holding over 270 patents.
Setting Sights on Global Solar Leadership
Hanwha Q CELLS is set to launch a dramatic new phase in its growth into a global leader through four years of unparalleled achievements and Hanwha Group's global network built over the past six decades.
Hanwha Q CELLS aims to become not just the world's largest manufacturer but a true global solar power leader with the world's highest sales, operating profits and market share. Seong Woo Nam, CEO of Hanwha Q CELLS, outlined the company's future vision by stating that "Hanwha Q CELLS stands poised to achieve its goal of becoming the top global leader by 2020."
Contact Us
Thank you for your interest in Hanwha.
Please contact us for your inquiries.
Email Us
Information Message
Please enter your email address.
Information Message
Please enter a correct email address.
Success
Keep an eye on your inbox for the latest stories from Hanwha.
Information Message
Your subscription request has already been processed. Thank you.