Hitching a Ride Above Town: How Hanwha is Propelling
Urban Air Mobility Forward
October 27, 2022 (KST)

Aviation is on the verge of a transformation: urban air mobility.

What is urban air mobility (UAM)? UAM is a vision where the future of urban transportation expands into the third dimension, the air. As a next-generation urban transport system, UAM is one way that cities can help address issues like increasing urban populations, air and noise pollution and traffic congestion. As the first Korean company to enter the UAM business, Hanwha Systems has been forging partnerships and investing in UAM technology for the past several years to make eco-friendly flying vehicles a reality. From innovating take-off tech to modeling flight infrastructure, Hanwha's role in the UAM space has helped spark progress in a market projected to be worth $1 trillion a year by 2040.

Now, Hanwha's plans to take the morning commute airborne appear closer than ever, with innovations in electric vertical take-off and landing system (eVTOL) technology boosting confidence and aviation leaders like Hanwha Aerospace joining the push. Hanwha Aerospace recently inked deals with Overair and Vertical Aerospace to help build key components for their commercial air taxis, signaling its commitment to teaming up with global partners to get commercial UAM projects off the ground. With ongoing investments from Hanwha Systems and Hanwha Aerospace and growing progress in the tech required for propulsion, momentum is growing for a safer, cleaner and faster way of traveling.
Co-Piloting UAM With Industry Leaders
With significant growth expected in urban centers in the coming decades, cities and regions worldwide are thinking more about how to move people and goods efficiently, including breakthroughs in new aviation technologies. That's why Hanwha is co-piloting the future of this market by seeking global opportunities and partnering with industry leaders in UAM to advance this technology across every area of the globe.

To jump-start this development, Hanwha Aerospace and Hanwha Systems have come together to sign a USD $145 million contract with the U.S.-based eVTOL vehicle startup Overair. In doing so, the companies will develop an electric propulsion system and provide Overair with electric motors and battery packs. Hanwha Systems already has an established history with Overair, collaborating with the company on developing the Butterfly, a breakthrough all-electric aircraft with six seats designed to take off and land vertically. With this additional joint investment, Overair remains on track to fly its all-electric experimental prototype in the second half of 2023. Hanwha's continued investment in Overair not only fuels the ongoing development of their eVTOL prototype, but will also allow Overair to lay the groundwork for commercializing their mobility technology.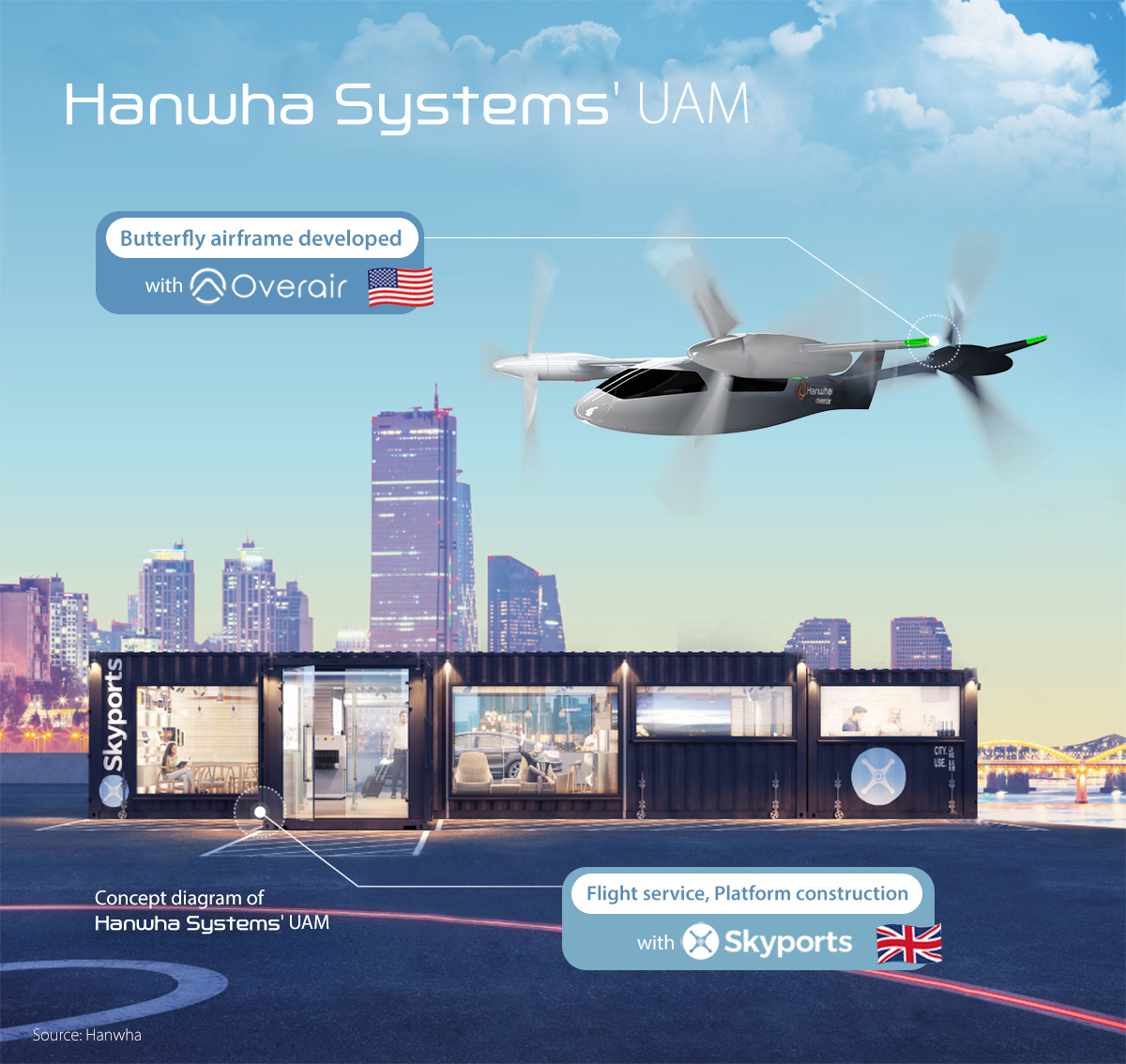 It takes a lot of energy to get people into the air. Burning jet fuel comes at a huge environmental cost, causing air travel to be a significant carbon emitter, responsible for 2% of global emissions. As a result, Hanwha is exploring new and innovative ways to lessen the carbon impact of the aviation industry through UAM. For instance, Hanwha Systems has also signed an MOU with U.S.-based Honeywell Aerospace to jointly develop an Advanced Air Vehicle (AAV) system. Their partnership covers a hybrid electric propulsion system which would allow for longer-distance air travel using less jet fuel, as well as the expansion of mobility services and a strategy to increase demand in domestic and foreign markets.

Finally, both Hanwha Aerospace and Hanwha Systems signed an MOU with France's Safran Group, a leading European aerospace and defense company, to strengthen all-around business cooperation in the future space and mobility industries, exploring new frontiers for aerospace technology. Together, the companies will collaborate to develop low-orbit satellite communication services—essential to expanding the UAM market—and build economical and efficient propulsion systems and satellite launch services.

Through the spirit of collaboration, Hanwha is exploring business opportunities across the globe and across the entire UAM supply chain to provide end-to-end solutions for future mobility—growing not only as a business, but as an industry.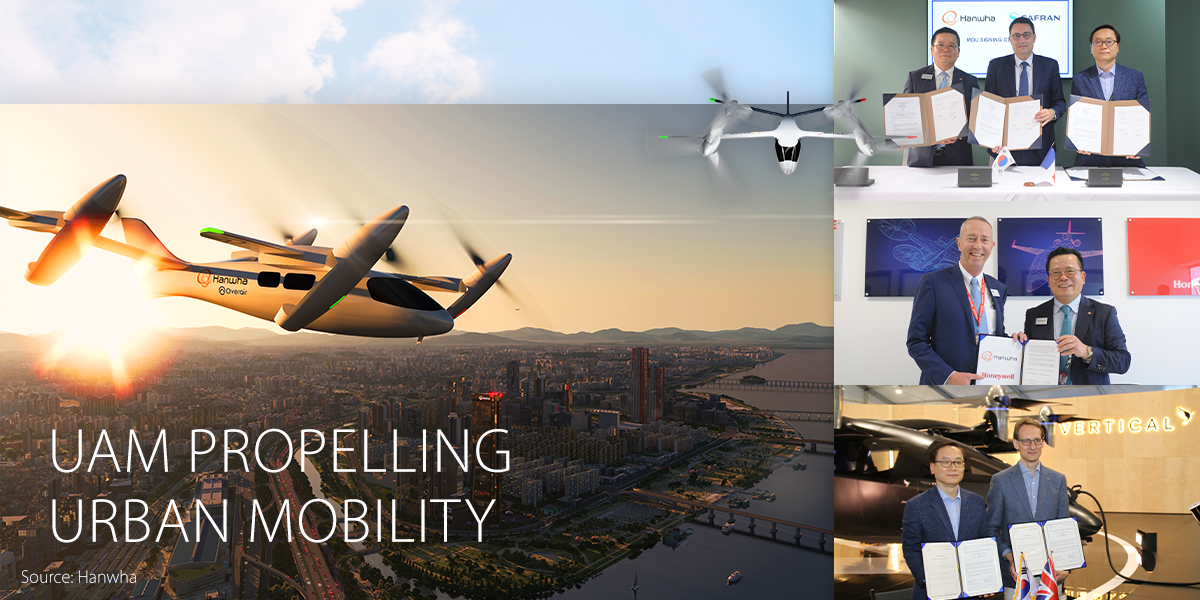 Steering UAM's Past, Present and Future
Since the establishment of both Hanwha Aerospace and Hanwha Systems in 1977, the two Hanwha companies have earned their wings by specializing in disrupting markets with new and emerging technology, best seen in both companies' current developments in UAM.

When dozens of eVTOLs eventually take to the city skies, there will be a need for a new kind of air traffic management. Hanwha Systems, a Hanwha company specializing in ICT technology capabilities, has its sights set on fostering this UAM infrastructure by developing a UAM Traffic Management System and CNSi (Communication, Navigation, Surveillance, information) equipment that will be crucial for the safe operation of UAM. Working with U.K.-based Skyports, a leading advanced air mobility infrastructure provider, Hanwha will provide air traffic controlling technology as the two companies work towards building a seamless UAM passenger experience. Before moving the commute into the air, Hanwha Systems is laying the groundwork with various aviation R&D companies, institutes and governments to establish the technical standards and regulations to help everyone fly safely.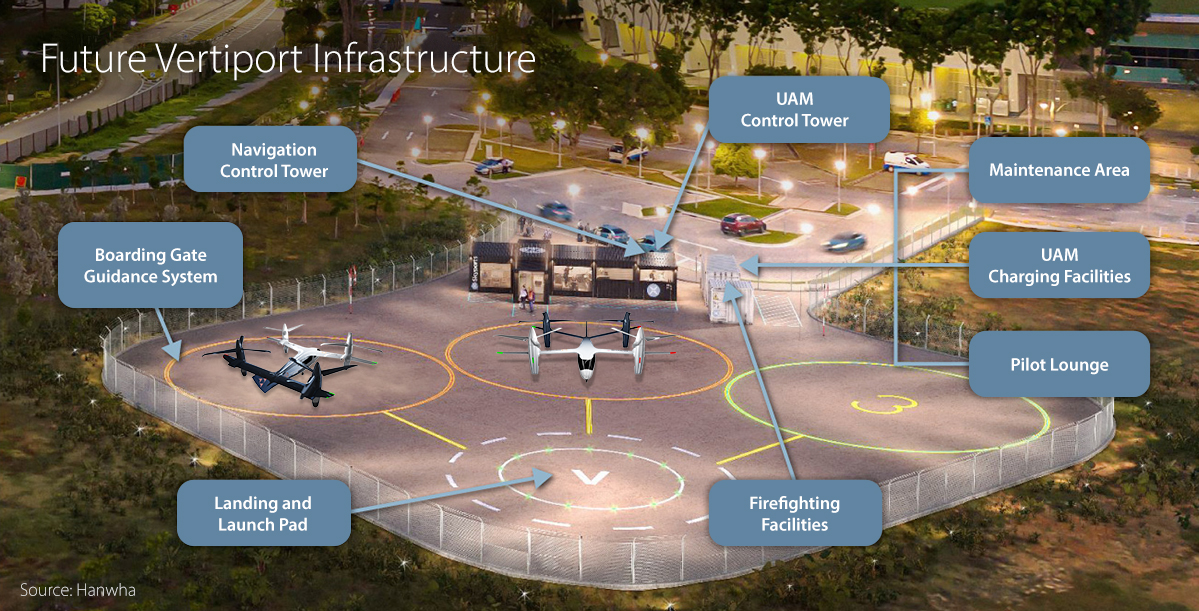 As Hanwha Systems anticipates the new era of electric flight, the company is also exploring new ways to bring commercial UAM to the masses. Building "vertiports," which are UAM take-off and landing sites, and a UAM transport system to drive tourism to Jeju island is one of the ways that Hanwha is test-driving this future technology. Teaming up with SK Telecom and the Korea Airports Corp, the goal is to begin Korea's first UAM service commercial operation by 2025.

Meanwhile, Hanwha Aerospace has been aggressively investing in R&D to grow into a major presence within the engine industry, leveraging its vast experience in aerospace engines and aircraft to explore opportunities in eco-friendly UAM technology.

In August 2022, Hanwha Aerospace signed a USD $165 million contract with U.K. aerospace manufacturer Vertical Aerospace to develop high-performance electromechanical actuators—a core component that converts electricity to mechanical force—for air taxis and flying vehicles. By supplying UAM components to Vertical Aerospace, Hanwha Aerospace will collaborate closely to achieve the highest safety, reliability and performance standards to scale development for both Vertical Aerospace's aircraft prototype and the UAM industry at large—all while keeping sustainability at the forefront.

Though separate entities, Hanwha Systems and Hanwha Aerospace are coming together to take the global UAM market to new heights.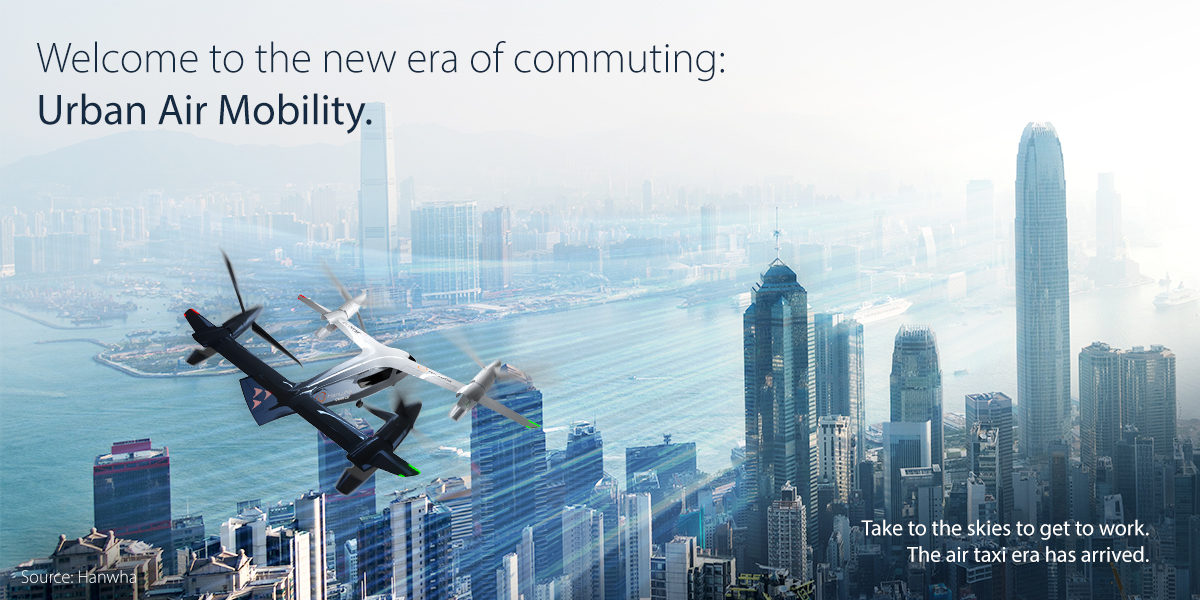 Energizing the Future of Electric Flight
UAM will be a game changer for future mobility services worldwide, with companies like Hanwha opening up city skyways with eco-friendly options for travel and leisure.

By seeking global partnerships with urban air mobility companies like Overair, Vertical Aerospace, Honeywell Aerospace, Safran Group and more, Hanwha is decarbonizing the future of flight and innovating new, convenient travel solutions—coming soon to a city near you.

Through UAM, Hanwha Systems and Hanwha Aerospace will take transportation from the ground to the sky to better link people to cities and regions, offering a whole new level of mobility and connection.