Michelin Star Chefs Impress Luxury Gourmets at THE PLAZA Gala Dinner

THE PLAZA, a luxury boutique hotel of Hanwha Group located in the heart of central Seoul, offers gourmets craving for gastronomical delight an opportunity of haute cuisine pleasure through catering an event by inviting Michelin Guide's celebrity chefs across the globe.
Having invited Michelin celebrity chefs such as Elvin Leung and Nakamura Motokatsu, exhibiting gastronomical feast in pursuit of theme 'Dining in Style,' THE PLAZA's gala dinner promotion 2016 continues once a month from April until June at its representative essence of oriental cuisine 'Taoyuen,' a Chinese restaurant and 'Murasaki,' a Japanese restaurant.
Artful Banquet of Modern Chinese Cuisine: Taoyuen's Gala Dinner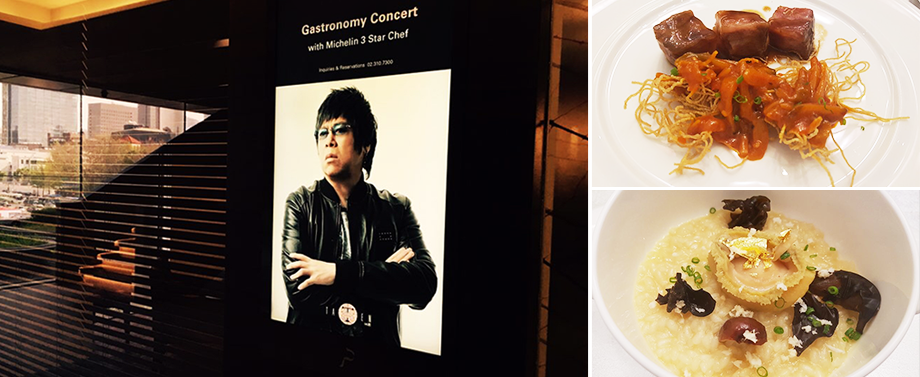 Taoyuen is THE PLAZA's esteemed gourmet Chinese restaurant which has developed longstanding reputation operating for approximately 40 years since opening in 1976. Accompanied with 'Contemporary Chinese Dining' concept, the restaurant promises peerless traits by successfully adopting oil-free recipes including fresh seafood as ingredients in its dishes.
In April, Taoyuen demonstrated gastronomical delight catering 'Gastronomy Concert,' which is orchestrated by renowned chef Elvin Leung from Hong Kong. Leung is the owner of the three Michelin star restaurant named 'Bo Innovation' in Hong Kong and by profound research of elements in molecule proportion and tuning food ingredients into subtle foams and powders, he became guru in the world of 'Molecular Gastronomy.'
During this event, Leung successfully displayed 'X-tream Chinese Cuisine' in basis of concept of 'modern Chinese food encounters Korean food ingredients.' As it made great impression, his scrumptious modern Chinese cuisine offered pure entertainment for gourmets who visited THE PLAZA.
'Murasaki' Gala Dinner Reanimates Essence of Japanese Cuisine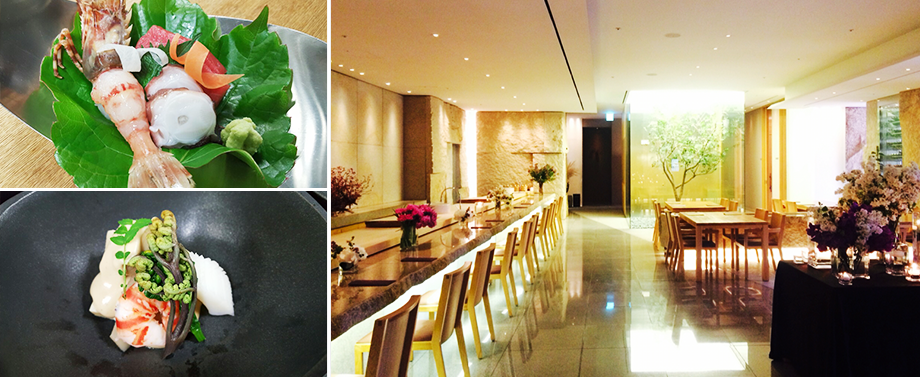 THE PLAZA's distinguished fine dining restaurant 'Murasaki' offers a sensational representative Japanese Kaiseki Meal. Murasaki aims to target 'healthy life' and 'elegant style' by providing healthy Japanese cuisine that utilizes only in-season ingredients to amply natural flavors of dishes. In efforts to systematically discovering new ingredients through arranging a team of food researchers, Murasaki redefines extraordinary home-style cooking and unprecedented haute Kaiseki course menu.
Murasaki hosted Japanese chef Nakamura Motokatsu on May 5th for a special 'Solo Dinner' dining event with great expectation from gourmets. Chef Nakamura is the 6th generation heir of 200 years old Nakamura restaurant which has served Japanese aristocrats and members of the imperial family. He is recognized for his extraordinary culinary expertise and also expression of variety colors and taste while relying on seasonal ingredients, recipes and objects. At his solo dinner event with gastronomical theme of 'Mariage of Kaiseki Meal comprised with best food ingredients from Korea and premium Sake alcohol,' chef Nakamura impressed gourmets in combination of exquisite Kyoto cuisine topped with smooth Sake.
In June 2016, THE PLAZA is planning to host another gala dinner by inviting Ken Hom, an American chef, author and television-show presenter for the BBC. Appointed as an honorary Officer of the Order of the British Empire (OBE) for "services to culinary arts," Hom owns Michelin star restaurant 'Mee.'
THE PLAZA Brings Stylish and Unique Hospitality Experience
THE PLAZA, one of the five-star luxury hotels in Korea, is surrounded by symbolic and historical landmarks as Seoul city hall, Seoul plaza, shopping district, Deoksugung Palace, Gyeongbokgung Palace and Sungnyemun Gate. It is an excellent location for business traveler as the adjacent financial facilities and major corporate offices allow easy access to the business elite.
In November 2011, THE PLAZA underwent major renovations involving equipment of cutting-edge automatic service system and stood tall as innovative icon in design boasting its scale of 410 rooms.
The renovation drew attention since famous Italian designer Guido Ciompi spearheaded the overall process, who is recognized in designing and constructing distinguished hotels and boutique shops across the globe.
In 2015, THE PLAZA signed partnership agreement with Marriott International's luxury lifestyle brand Autograph Collection. Escalating as the region's first 'Autograph Collection Hotel,' THE PLAZA now pleases guests with an upscale hospitality service experience and additional benefits of a global chain hotel brand.
Contact Us
Thank you for your interest in Hanwha.
Please contact us for your inquiries.
Email Us
Information Message
Please enter your email address.
Information Message
Please enter a correct email address.
Success
Keep an eye on your inbox for the latest stories from Hanwha.
Information Message
Your subscription request has already been processed. Thank you.