Prepare for Takeoff: Hanwha Puts UAM in the Driver's Seat of Urban Sustainability
Prepare for Takeoff: Hanwha Puts UAM
in the Driver's Seat of Urban Sustainability
September 14, 2021 (KST)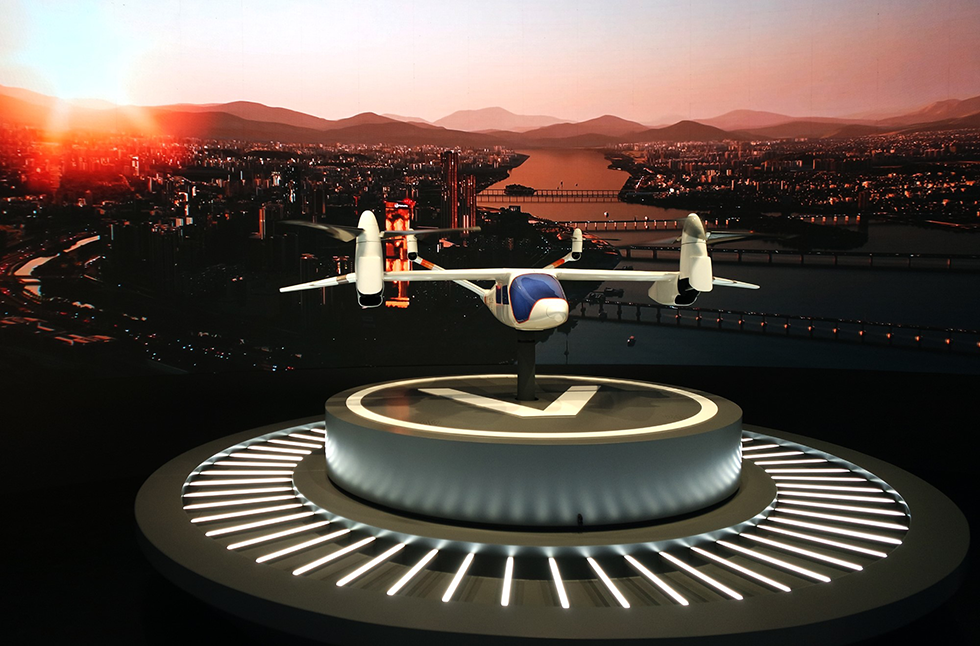 Since the advent of the automobile over 100 years ago, the car has reshaped the urban landscape, giving rise to the vast infrastructure behind the exponential increase in the number of vehicles on-road that is predicted to hit two billion globally by 2040.

The environmental footprint of motorized vehicles continues to grow as more land is replaced with roads, parking lots, and interconnecting urban centers. The result isn't just greater traffic congestion but also pollution as road transport is now responsible for about 16% of all man-made CO₂ emissions.

Another fallout is climate change and it's a major global concern. Forward-thinking cities, in response, are looking to urban mobility in the form of electric cars, air taxis, and other more eco-friendly transportation. Urban air mobility (UAM) in particular is seen as a potential game changer in the mobility space because of its disruptive ability to bypass roadways and eliminate emissions, a way for cities to achieve sustainability.
Looking Forward from the Past of Air Mobility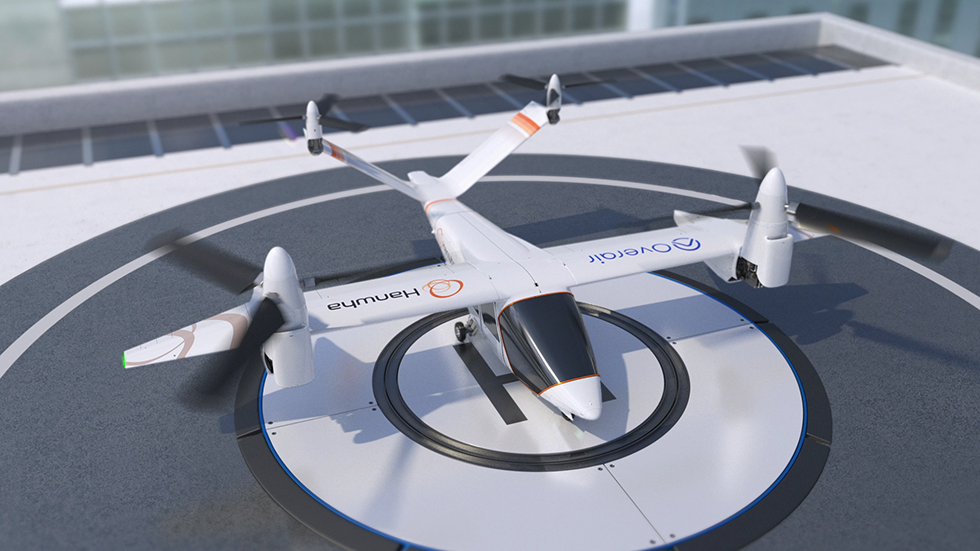 The first so-called flying car, dubbed the "Autoplane", was invented by American aircraft designer Glenn Curtiss. Resembling a Model T with wings, the Autoplane required a runway, emitted copious amounts of pollution and noise, and most notably never achieved full flight.

Since the Autoplane was first displayed at the Pan American Aeronautical Expo of 1917, numerous iterations of the flying car have emerged over the years, but none of them have been successful due to insufficient technology and design. But after decades of failures, modern aircraft developers are now finally making the flying car a reality. The difference today is a confluence of technologies including drone innovation, efficient batteries, and advanced manufacturing techniques.

These propeller-based vehicles can take off and land vertically in urban environments without runways and atop roofs. Today's flying cars, referred to as flying taxis or personal air vehicles (PAVs), can travel medium-to-long distances (30-50 km) in city in under 20 minutes at altitudes of up to 2000 feet. They can leapfrog traffic with significantly less pollution.
Hanwha Lays Down the Groundwork for UAM
Setting up the right UAM infrastructure is a major challenge for any city. Due to the nature of passenger transportation within the confines of urban spaces, UAM landing pads must support vertical takeoff and landing and also be integrated into the existing infrastructure and architecture. Much like a helicopter landing on a helipad, these UAM landing areas provide the same features and support for air taxis and PAVs, in addition to the ability to provide configuration changes based on use and scale.

The smallest UAM landing structure, called a vertistop, is typically deployed in private or lower-use locations. As the structure becomes bigger, the configurations become commensurately more complex and greater in scale to accommodate more passengers. The much larger and full-scale version of the vertistop is a vertiport and it has more final approach and take-off areas (FATOs). A vertiport better serves continual pickups/drop-offs with amenities that include vehicle charging, daily inspections, and minor maintenance, repair, and overhaul (MRO). The largest infrastructure that can support UAMs is the vertihub and it is typically located at international airports to serve as a major dispatch/arrival location.

Helicopters and tiltrotor aircrafts are referred to as vertical take-off and landing aircrafts (VTOLs) because they can take off and land vertically. Add the "e," as in "eVTOL" and the new term indicates aircrafts powered by electricity such as personal air vehicles (PAVs). To meet sustainable standards, these landing infrastructures will be equipped with solar panels for energy generation and charging stations that could power air taxis, and other electric aircrafts.
Establishing UAM Infrastructure

Hanwha Systems has joined forces with Skyports, the world's leading UAM infrastructure provider to collaborate on infrastructure, flight services, and mobility platform projects. Hanwha's experience building smart technology solutions for aerospace industries and its solutions-focused, customer-centric approach will be key to advancing vertiport capabilities. Hanwha Systems and Skyports are partnering to develop seamless technology which will allow passengers to quickly and conveniently embark and disembark from air taxis.

Hanwha Systems will leverage Skyports' best-in-class technical expertise to build a global UAM infrastructure that could support vertical take-off and landing (VTOL) and at the same time, achieve environmental goals.

Passengers at Hanwha-designed vertiports or vertihubs will have instant access to a variety of state-of-the-art amenities including leisure, retail, lodging, and more – all in one place. These include cafes, restaurants, shopping malls, hotels, and even critical infrastructure such as hospitals. All facilities will be designed and built using the latest technologies to ensure convenience and comfort for the on-the-go urban traveler.
Developing Flying Taxis
The Butterfly air taxi contains a sustainable electric propulsion systems with zero Co2 emissions
While the infrastructure planning is underway, Hanwha Systems is partnering with Overair, an American PAV manufacturer. In the U.S., engineers from Hanwha Systems and Overair are working together to develop an electric propulsion system, a core component of air taxis. The 100% electric system is being designed for the air taxi named the "Butterfly" that discharges zero emissions and is capable of pollution-free travel while flying up to 320 km per hour.

The Butterfly is equipped with an energy-efficient optimum speed tilt rotor (OSTR) that combines the vertical lift capability of a helicopter with the speed and range of a fixed-wing aircraft. The Butterfly also boasts Overair's exclusive low-noise technology that is quieter than the most modern helicopters.
Providing a Seamless Boarding Experience
Biometric authentication and automatic security scanners are set to enhance the sustainable UAM experience
Passengers of the Butterfly will be able to experience a fast and convenient boarding process similar to that of the Korea Train eXpress (KTX) or call taxi services using Hanwha's seamless technology. The process begins with an ultra-simple check-in where the passenger's ID and baggage are screened just as the passenger walks through the checkpoint equipped with biometric authentication and automatic security scanners. These scanners can sync with passengers' mobile reservation apps for faster and safer boarding.

The seamless journey continues in the air, as the comfortably seated passenger, aboard the Butterfly, can choose on-ground transit services from an in-flight digital menu so they can finish the last leg of their trip without pause. Passengers will be able to choose from the subway, a bus, a taxi, an uber, or any method of transportation before landing. This way, they won't have to search or wait for their next ride after they've already landed, an inconvenience almost every traveler has faced.

Such a seamless experience is meticulously designed around the passenger to provide ultimate comfort, convenience, decrease stress, and generally improve the quality of life in an often-hectic urban environment. By developing such highly efficient UAM technology and infrastructure, Hanwha is also seeking to dramatically reduce both air and noise pollution as part of its effort to support sustainable cities.
Generating Urban Sustainability with Disruption
Hanwha Systems participated in the 2021 Seoul Smart Mobility Expo to showcase its sustainable systems to combat climate change
Hanwha Systems participated in the 2021 Seoul Smart Mobility Expo (SSME 2021) to showcase and share its readiness to create sustainable urban centers with UAM. The SSME 2021 was held in Mapo-gu, Seoul, Korea from June 10 to 12 where mock-ups of the Butterfly and its vertiport were on full display. Visitors to Hanwha Systems' booth were also able to experience the seamless boarding process in the check-in area, providing a sneak peek into the kind of advanced, customer-centric services and products Hanwha Systems will be bringing to travelers in the very near future.

Urban centers are turning to these kinds of cutting-edge technologies to achieve sustainability as UAM takes its place at the vanguard of a revolution in mobility. UAM is an industry disruptor in the mobility space and is making waves with its potential to drive economic growth. Its technology emits zero emissions while offering unprecedented convenience, allowing travelers to avoid traffic and reach their destinations much faster.

Hanwha is working to establish itself as a major player in the burgeoning UAM market by developing technology for air taxis and planning the infrastructure to support UAM in urban areas. With the advanced capabilities of UAM, Hanwha will be able to offer a wide range of UAM solutions that cities could use to achieve sustainability. In doing so, they'll be able to grow in eco-friendly ways and build a better quality of life for future generations to come.