Solutions for the New Normal: Hanwha Takes Business Agility to the Next-Level
Tab menu

December 10, 2020 (KST)
Going into 2020, few could have predicted the sweeping, global changes the year would bring.

People around the world found themselves having to make fundamental changes to their daily lives, coping with limited movement and social interaction as new terms like "social distancing" and "contact tracing" entered the lexicon. Simultaneously, countless companies and corporations had to rethink the way they work and new tech solutions emerged to meet their needs.

According to an analysis by Boston Consulting Group, 25 percent of those solutions address COVID-19 detection and containment, 20% address healthcare provider enablement, and 21 percent deal with economic resilience.
Share of Use Cases by Category
From 80 use cases representing 61 unique companies across 6 main categories
covering all major regions of the world, the Boston Consulting Group
analyzed new tech has fallen into categories as shown above.
Detection and
containment
Healthcare provider
enablement​

Economic resilience

Information
management​
Treatment
acceleration​

Social cohesion

Cybersecurity
​Source: World Economic Forum 'These 5 COVID-fighting technologies show the power of
global ingenuity' Aug-27-2020, https://www.weforum.org/agenda/2020/08/5-technology-
advancements-during-covid-19-wearables-ai/. All rights reserved; as modified by Hanwha.
New tech has fallen into certain categories,
according to a Boston Consulting Group
analysis, with 25% of solutions taking
on detection and containment, 20% tackling
problems involving healthcare provider
enablement, and another 21% grappling
with economic resilience.
Doing its part, Hanwha is applying its tech capabilities to continue operating its diverse businesses with minimal interruption while helping others continue to stay open.
Smarter checkpoints for safer occupancy
A great majority of businesses are updating their rules and policies to enforce new social-distancing measures and occupancy caps. To assist in these efforts, Hanwha Techwin adapted its 4K artificial intelligence (AI) surveillance cameras to provide business owners with the data they need to keep their employees and clientele safe.

For instance, the company's Occupancy Monitoring Application (OMA) uses deep-learning to track how many people enter and exit a location. If occupancy exceeds a threshold set by a business owner, the OMA can post a message onto connected digital signage to let patrons know they should wait outside. When occupancy drops below that threshold, the OMA will invite patrons inside so they can conduct their business while maintaining social distancing.
The OMA utilizes cameras equipped with edge-based, AI-video analytics operating within a serverless architecture. This is a first in the surveillance industry and allows users to easily monitor large numbers of people. Rather than relying on a central computer for processing, the OMA runs quietly in the background on individual cameras, eliminating the need for a central-processing location. Instead, multiple OMA-running cameras are networked together with one designated as a master unit. The network aggregates and processes the data from its cameras to maintain an accurate and regularly updated occupancy count.

An added benefit to the OMA is that it can be run from cameras installed in traditional surveillance locations whereas other occupancy trackers require cameras specially installed in overhead positions. This allows business owners to use fewer cameras for occupancy tracking, surveillance, and business intelligence – such as customer-heat mapping, conversion-rate calculations, and purchasing-activity tracking.
Face-mask detection: who wore it correctly?
Another major concern for businesses is making sure customers and occupants wear face masks properly. Hanwha Techwin helps its customers enforce mask wearing by way of a firmware update to its AI cameras.

Face-Mask Detection (FMD) uses the deep-learning capabilities of Hanwha Techwin 4K AI surveillance cameras to track faces in real time and see if noses and mouths are properly covered. An FMD-enabled camera can track multiple faces simultaneously within a six-meter radius – depending on the angle at which the camera is mounted.
If the tracking software sees that a face is improperly exposed, the surveillance system can broadcast an automated warning over security speakers or alert someone to follow up on the incident and enforce mask-wearing rules.
"Eyes-on" assistance
In addition to providing other businesses with technological assistance, Hanwha has implemented internal measures to prevent operational disruptions, particularly for jobs and specialties that require an on-site presence.

Hanwha Total Petrochemical, for instance, requires around-the-clock human presence at its plant in Korea's Daesan Industrial Complex to keep the facility operational and safe. In pre-pandemic times, this often required outside experts to fly in and provide technical support.

With international travel severely curtailed, Hanwha Total Petrochemical has turned to wearable technologies and augmented reality to make sure its equipment is properly maintained.

Now, when employees conduct maintenance work around the Daesan plant, they wear the Smart-Glass-Remote-Assistance System – a head-mounted device with an integrated camera, eyepiece, and communication system.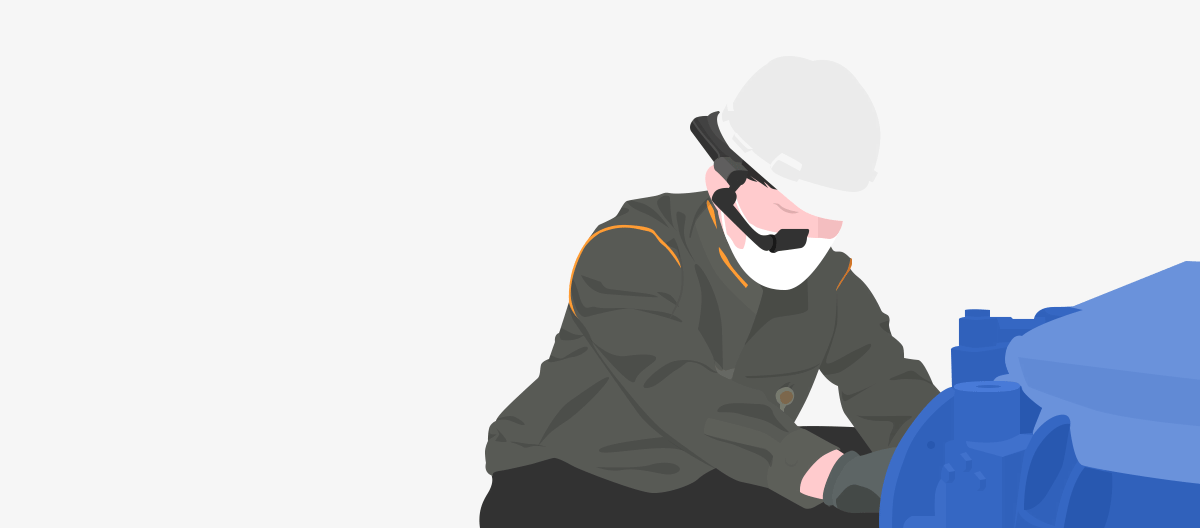 With this system, employees wear smart glasses in the course of their regular duties. These wireless devices allow employees to move freely and use both hands to work while sharing live datalinks with outside experts who provide guidance and technical support in real-time. This is made possible thanks to the in-house, P-LTE network Hanwha Total Petrochemical set up in 2017 – becoming the first Korean petrochemical company to do so – enabling high-speed wireless communication from anywhere in its plant.
Striving for seamlessness in uncertain times
Hanwha's efforts to make sure businesses continue operating with as little disruption as possible extends beyond the surveillance/security and petrochemical industries.

Part 2 of this series will examine how Hanwha is addressing challenges faced by its finance businesses.