Strapped In and Ready for Launch: Hanwha Set to Accelerate in the New Space Race

May 25, 2021 (KST)
The global space industry is rocketing into a new frontier as private enterprises, rather than government agencies, begin to become the main drivers of space development and exploration. The opening of a whole new field of opportunities, high above the Earth's surface, has significant business implications. Now, companies are seeking to establish entirely new business models, including everything from broadband communications and cargo/passenger delivery to space travel and tourism.

The commercialization of space began with Intelsat 1, the first commercial communications satellite, launched in 1965. Since then, privately funded satellites and space vehicles have proliferated. Now, the International Space Station is regularly serviced by commercially launched supply ships and crew capsules.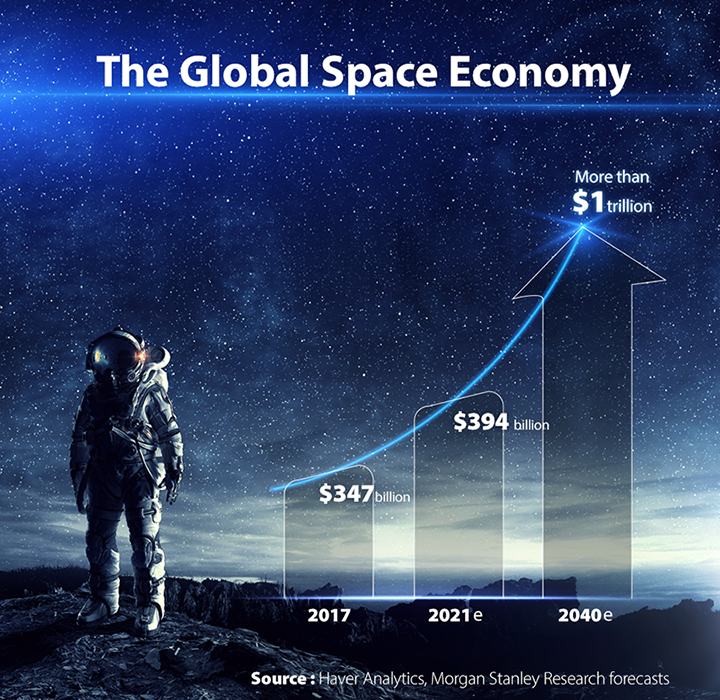 The space market is a lucrative one. According to statistics from Morgan Stanley Research, the global space economy, a term which encompasses the socioeconomics of doing business in space, reached USD 347 billion in 2017. Its growth is expected to continue for the foreseeable future, reaching USD 394 billion in 2021 and exceeding USD 1 trillion by 2040. Costs for space technologies are also decreasing as more players enter the new space race, making it even more profitable to do business beyond the confines of the planet.
Space Hub: a Strategic Control Tower for Hanwha's Aerospace Businesses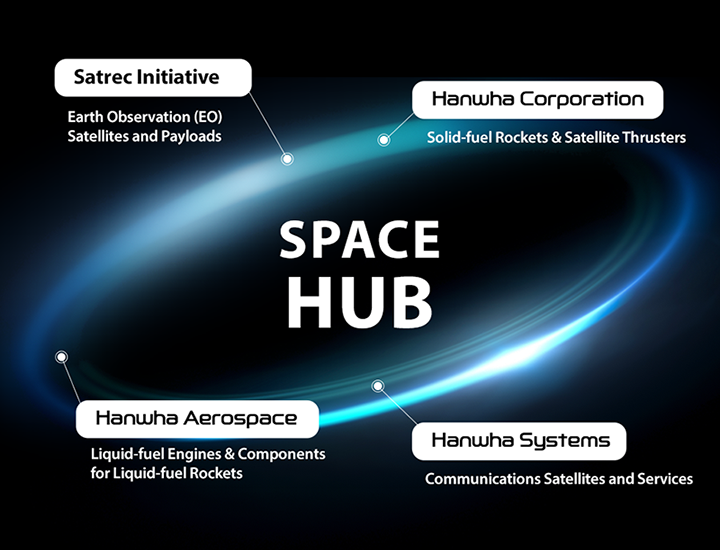 Hanwha views the space industry as one of its new growth engines, and has organized a task force, called "Space Hub," which will orchestrate research, development and investments across a wide spectrum of business areas, including space launch vehicles, satellite-based communications, Earth observation (EO), and renewable energy. These efforts will play a pivotal role in helping Hanwha take the industry to new heights as a global leader in space.
A High-flying History of Space Innovation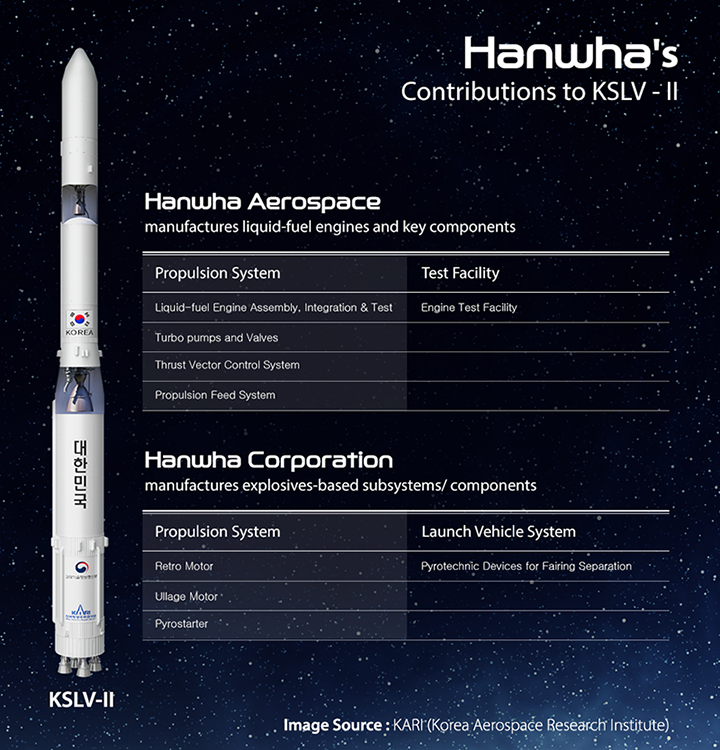 Hanwha has been involved in the space industry since 1994, when it contributed to the development of mono-propellant thrusters for the Korea Multi-Purpose Satellite-1 (KOMPSAT-1, Arirang-1) as part of a development program that was led by the Korea Aerospace Research Institute (KARI). Since then, Hanwha's various aerospace businesses have made crucial contributions to Korea's journey into space.

Hanwha Aerospace has participated in the development of liquid engines for the Korea Space Launch Vehicle (KSLV) series, as well as core components including, but not limited to, fuel feeding systems, turbo pumps and valves, thrust vector control (TVC) systems, and so on. The upcoming launch of Korea's first fully indigenous carrier rocket, the Korea Space Launch Vehicle-II (KSLV-II), also known as Nuri, will be a landmark moment for the Korean aerospace industry. Hanwha Aerospace was involved in the creation of the vessel, having developed and assembled its liquid-fuel rocket engine, manufactured various propulsion components, and built its testing facilities.

Liquid-fuel rocket engines represent a significant advancement, as they allow rockets to accurately position themselves, through repeated ignition and combustion, to reach a desired orbit even after they've launched. Controlling a rocket's thrust after launch is vitally important, and a liquid-fuel rocket engine like Nuri's makes it easy to do so. However, designing and refueling liquid-fuel rocket engines tends to be more complex than doing so with solid fuel, as liquid-fuel rocket engines require components like fuel pumps, combustion chambers and injection systems to be kept separately.

With over 25 years of experience in the Korean space industry, Hanwha Corporation continues to expand its role in Hanwha's space business. The company has gained that experience by taking part in a variety of Korean government-led space programs. Hanwha Corporation was involved in the development of a kick motor and thrust vector control (TVC) system that helped KSLV-I, Korea's first space launch vehicle, head into orbit. Going forward, the company has set its sights on manufacturing rockets for launching satellites, and is building up the technological capabilities to develop a variety of thrusters and propulsion subsystems for satellite attitude and orbit control.
Taking the Industry to New Heights Through Vertical Integration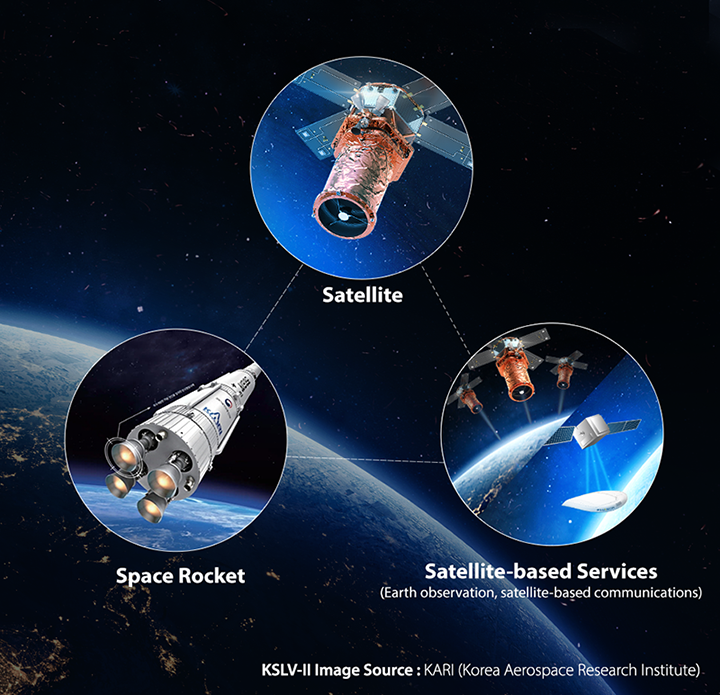 Beyond providing the thrust to break through the Earth's gravitational pull, Hanwha is also taking steps to engage in satellite businesses. For instance, in 2021, Hanwha Aerospace acquired a 30 percent stake in Satrec Initiative (SI), a company that develops high-performance small/medium satellite systems for Earth observation (EO) missions and has contributed to the success of over 30 international and domestic space programs over the past 30 years.

Through this acquisition, Hanwha Aerospace has vertically integrated business areas related to EO. Hanwha Aerospace will launch EO satellites manufactured by SI, which will also provide ground stations for monitoring and controlling satellites. SI's subsidiaries, SI Imaging Services and SI Analytics, focus on providing satellite-based services, such as satellite imagery distribution, as well as artificial intelligence (AI)-based geospatial analytics services.

Hanwha will also take part in the development of SI's flagship SpaceEye series of EO satellites and cost-effective component solutions, which are optimized for system performance and include high-performance electro-optical payloads, star trackers, and so on. SI's proven capabilities in terms of designing, manufacturing and testing EO satellites have earned it a strong track record with customers in the United Arab Emirates, Malaysia, and Spain.

Meanwhile, Hanwha Systems' decades of experience developing electro-optical systems – consisting of cameras for visible, near infrared (NIR) and thermal wavelengths, as well as radars – is creating synergy with the aforementioned vertical integration. A wide spectrum of Hanwha Systems' electro-optical payloads can be utilized for Earth observation, surveillance, and reconnaissance, supporting high-resolution imagery of objects on Earth, even in darkness, and under any weather conditions.

Space-based communications will also get a boost from Hanwha Systems, which acquired the business and assets of Phasor Solutions, a British satellite antenna start-up, in 2020. Hanwha Phasor's technology is geared toward the development and manufacture of electric beamforming antenna systems, which make it possible for people in aircrafts, ships and remote locations to quickly access reliable wireless communications at all times. Hanwha Systems is also partnering with Kymeta, a U.S.-based satellite technology start-up that is developing ways to use light to communicate with satellites, which would greatly miniaturize the equipment needed for global communications.

Moreover, Hanwha Solutions, through the acquisition of U.S. hydrogen tank maker Cimarron Composites LLC, will be able to secure technology for high-pressure carbon composite tanks for hydrogen transport trailers and ultra-high-pressure tanks for filling stations, in addition to existing tanks for hydrogen vehicles. This technology could be used to help make fuel tanks for space launch vehicles, which require structural integrity in high-G conditions, significantly lighter.
Ready for Liftoff
Through various investments, and with a new task force, Hanwha has made it clear that it views space as the next frontier for business growth. As such, it is actively enhancing its existing capabilities, and broadening its expertise through self-funded R&D programs and acquisitions, in an effort to streamline space development and exploration.

Space Hub's recent decision to establish a joint space research center with the Korea Advanced Institute of Science & Technology (KAIST) is an extension of these efforts. The facility, which will focus on the development of Inter-Satellite Links (ISLs), will be the largest research center in the space industry to be established by a private company and a Korean university.

Hanwha's comprehensive value chain, encompassing launch vehicles, satellites, earth observation and satellite-based communications services and more, will be key to seizing this exciting opportunity, which has yet to be properly tapped. Through vertical integration, and drawing from its decades-long history of aerospace innovation, Hanwha will continue to unlock new opportunities within the global space industry that will strengthen its position as a leader in this field.