Hanwha Life's Head of FinTech Dong Won Kim Shared Insights at the Boao Forum Asia
Hanwha Life's Head of FinTech and Head of Innovation Center Dong Won Kim Shared Insights at the Boao Forum Asia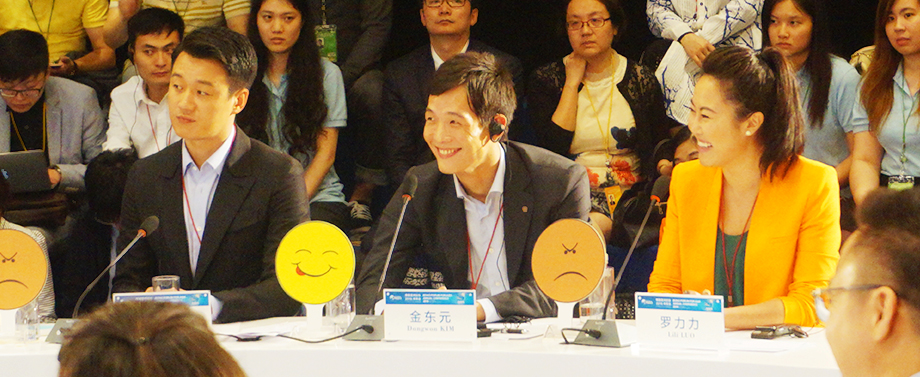 Held from March 22nd to 25th, 2016, in Boao, China, Boao Forum for Asia, also known as the "Davos Forum of Asia" concluded after four days of successful talks that featured world leaders in economics, business and technology. Among the event's many prominent guests, Dong Won Kim, Head of FinTech and Head of Innovation Center of Hanwha Life, was invited as an official panelist to the Boao Forum's Young Leaders Roundtable (YLR) session held on March 22nd.
Mr. Kim took part as a panelist of the YLR session, joining a dozen of young leaders from around the world for an hour-and-a-half open discussion about the theme, "Redefining Distance." During the session, panel members shared their insights into the changes being wrought by the development of mobile technology in interpersonal relationships, among other topics.
Mr. Kim said, "I communicate with my friends through email and messaging services like KakaoTalk and WeChat, but I believe that advances in mobile and artificial intelligence technologies will not change the core values of human relationships," adding that "As human lives involve fundamental values that can be developed only by actually spending time with family and friends, the evolution of advanced technologies should be based on enhancing the shared fundamental values that promote societal prosperity."
The Boao Forum selects key young leaders in politics, society, culture, and finance worldwide for the YLR session. In addition to Dong Won Kim, this year's session was attended by Dubai International Finance CEO Arif Amiri, NetEase (one of China's four major web portal sites) founder and CEO Ding Lei, Ant Financial (Alibaba Group's financial subsidiary) President Jing Xiadong, The Information (a magazine specialized in technology industry) founder and CEO Jessica Lessin, and Eurasian Resources (a resources development and global logistics company) CEO Benedikt Sobotka.
A Discussion on the future FinTech Business prospect with Global Entrepreneurs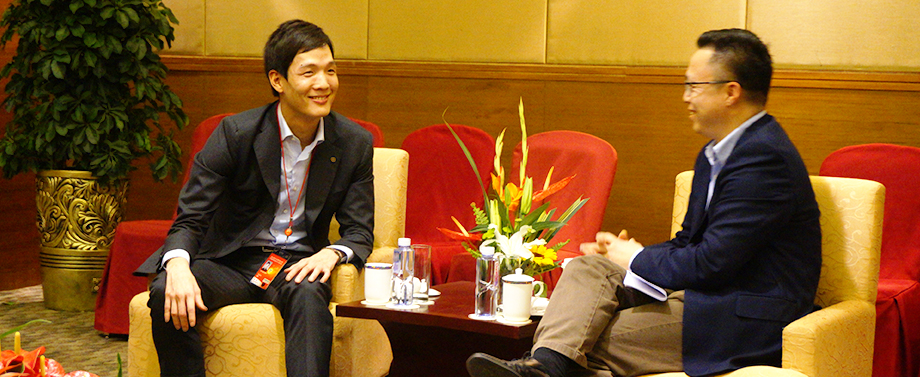 On March 22nd, before the YLR session, Mr. Kim also met with Jing Xiadong, CEO of Ant Financial, a subsidiary of Alibaba which is China's largest e-commerce company and widely known for its "Alipay" service. They discussed the future prospects of the global FinTech industry and its capacity for development, as well as the possibility of a joint expansion into the Southeast Asian FinTech market.
Ant Financial, with an estimated company value of USD 60 billion, operates a broad range of businesses, including crowdfunding, mobile asset management, internet banking, and Alipay. The company plans to go public by 2017.
Partnering with Yida Group to Foster the Next-Generation of FinTech Startups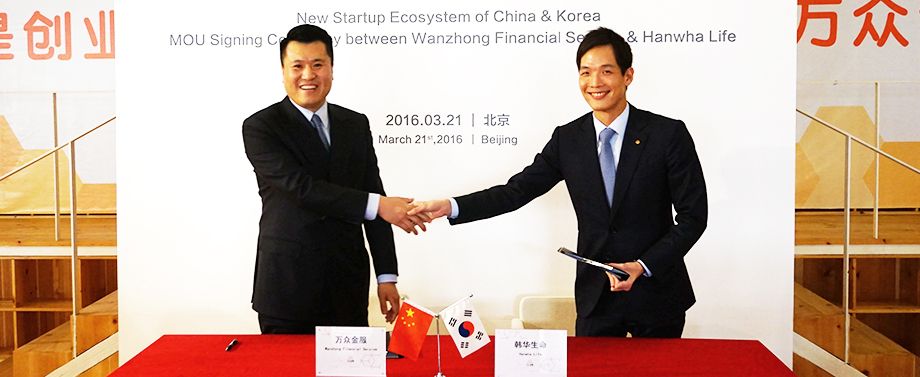 On March 21st, Mr. Kim took part in a ceremony held in Beijing to sign a memorandum of understanding (MOU) between Hanwha Life and the Yida Group, a Chinese real estate developer, for joining forces to develop and support startup companies.
Hanwha Life and Yida Group have agreed to enhance their development program for promising startups in FinTech and other related fields, and work together to boost the growth of the startup ecosystem in the Asian region.
Yida Group is China's main backer of startup companies through investment and development support, managed through its subsidiary "Wanzhong Financial Service." The company has set up startup centers in eight cities across China including Beijing and Shanghai, and has already providing backing for over 100 startup companies.

The latest MOU will allow startup companies being nurtured under Hanwha Group's supportive umbrella to also make use of the startup support centers established by Wanzhong Financial, giving the Korean firms assistance needed to set up their business in the Chinese market or attract local investment.

Contact Us
Thank you for your interest in Hanwha.
Please contact us for your inquiries.
Email Us
Information Message
Please enter your email address.
Information Message
Please enter a correct email address.
Success
Keep an eye on your inbox for the latest stories from Hanwha.
Information Message
Your subscription request has already been processed. Thank you.