Refining a Sustainable Architecture

"Environmentally-friendly architecture" describes architectural structures designed to enable humans and nature to coexist in mutual harmony. Important tools for minimizing environmental pollution include energy and resource conversation, and energy regeneration including the use of new and renewable energies. Let's take a look at some success stories of using solar power, a key renewable energy, to achieve sustainable and eco-friendly architecture.
Beijing's Fangcaodi, China's Pioneering Eco-friendly Building

Fangcaodi, a shopping complex in Beijing, China, has drawn the attention of the architecture community and received a number of top awards including "Best Green Building" at the 2010 MIPIM ASIA, the world's leading property exhibition hosted in Hong Kong, China.
This structure was the first in China to receive the highest "platinum" rating by the American system for certifying green buildings, thanks to the introduction of an eco-friendly system called "building-integrated photovoltaics", or BIPV.
BIPV is a system that uses solar-power modules to act as both a building material and a source for power generation. This technology is applied to materials used for windows, walls, balconies and rooftops, and can be used by the building to generate its own electricity and power itself. By not requiring additional external power, BIPV can considerably reduce environmental pollution.
Hanwha Engineering & Construction Builds Renewable Energy Landmarks
Hanwha E&C is taking part in these efforts to help humans and nature coexist. In 2012, Hanwha E&C developed BIPV technology in cooperation with Hanwha Q CELLS, the largest solar cell and one of the biggest module manufacturers in the world. This breakthrough technology was introduced to maximize energy efficiency in two of Korea's best-known eco-friendly buildings—the Sangnok-gu District Office and the Changwon Solar Tower.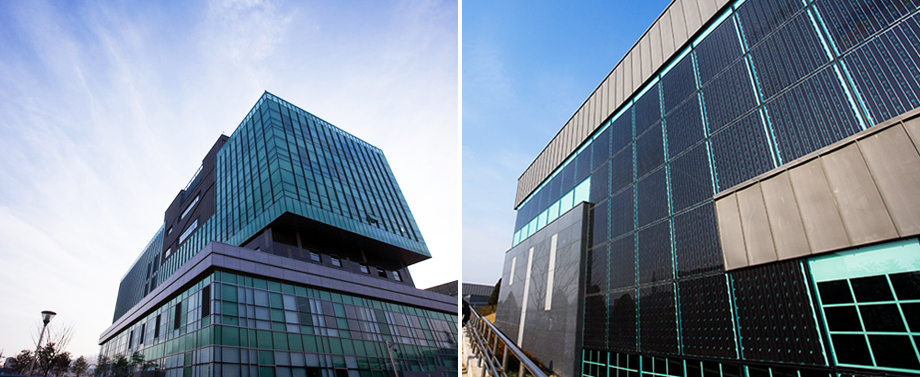 The Sangnok-gu District Office building, located in the city of Ansan, South Korea, uses solar power modules installed on its exterior walls to generate electricity. By making its own power, the building helps reduce energy consumption and prevent global warming, and has become a government institution that actually helps save taxpayer money.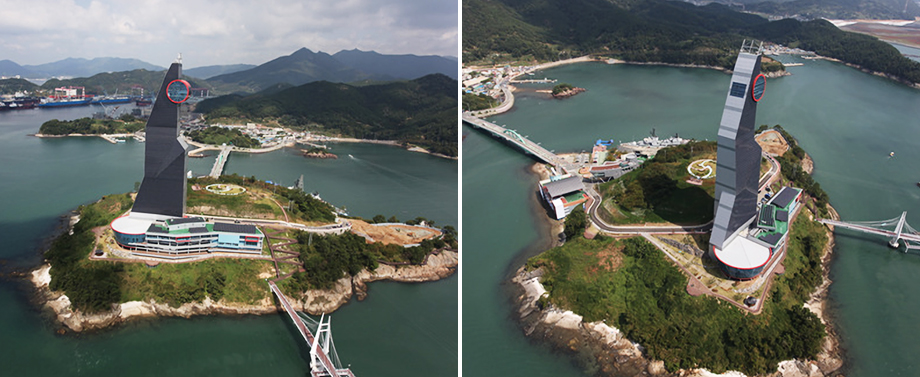 Solar Tower, located in the Changwon Marine Park, takes the form of a solar power tower as its name implies. Photovoltaic modules are installed on the exterior of the building, shaped like a giant unfurled sail, to generate 1,264kW of electricity per day, enough to power 200 households. This building has been widely recognized for its contribution to boosting energy efficiency and revitalizing the local economy, and is considered to be one of Korea's top renewable energy landmarks.
These are just a few examples that show us that in the future, we can expect to see solar power generation systems that are integrated into buildings to not only help make electricity but provide the structures with specular and innovative designs.
Contact Us
Thank you for your interest in Hanwha.
Please contact us for your inquiries.
Email Us
Information Message
Please enter your email address.
Information Message
Please enter a correct email address.
Success
Keep an eye on your inbox for the latest stories from Hanwha.
Information Message
Your subscription request has already been processed. Thank you.