Going Solar with Hanwha
Top-performing Solar Panels Ensure a Return on Investment
Recent years have seen a surge in the use of rooftop solar systems for the common household. With electricity prices rising and constant pressure to maintain a green environment, citizens of the world have turned to the power of the Sun for a solution. A sustainable future is now within grasp and the future looks brighter than ever.
Why Solar?
- In the face of global warming and depletion of natural resources, solar energy preserves the health of our globe
- Solar is an alternative source of energy for the environmental betterment of our future
- Solar energy is not only eco-friendly but is also a socially responsible investment for future generations

Household Use
Electricity prices are on the rise and it does not seem as though prices are coming down anytime soon. With the advent of renewable energy sources, one's power supply can be secured for the future. Reliable, sustainable and inexpensive energy is available for everyone and it is made possible through the power of the Sun.
Bill-Free Future
In the era of solar energy, "electricity bill" is an oxymoron. In other words, households that have installed rooftop solar PV systems can reduce electricity bills down to zero.
This means that households are freed from the tyranny of increasing electricity prices and can now focus more on the important things in life.
Pays For Itself
The secret to attaining a bill-free future is in the cost effectiveness of the rooftop solar PV system. Investing in a solar-powered future will cost no more than the standard electricity charges from the local supplier.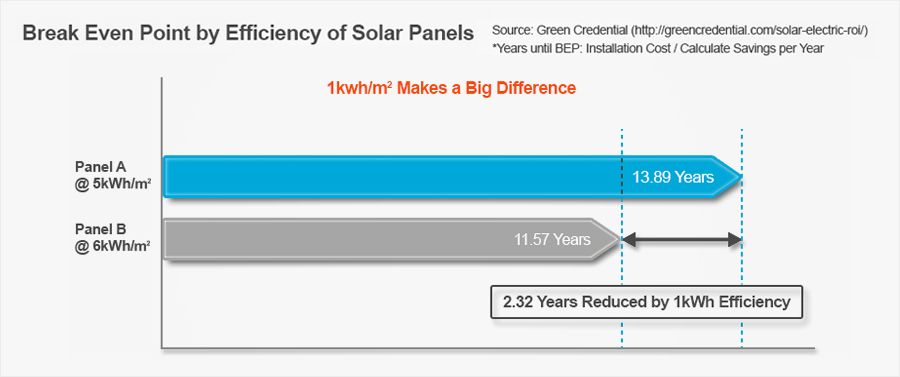 Top-tier Performance
Hanwha modules have been announced as the top-performer compared to modules in the same class for generating electricity during an independent test conducted by the Desert Knowledge Australia Solar Centre (DKASC).
Hanwha modules performed anywhere from 2% – 10% better than competing system configurations.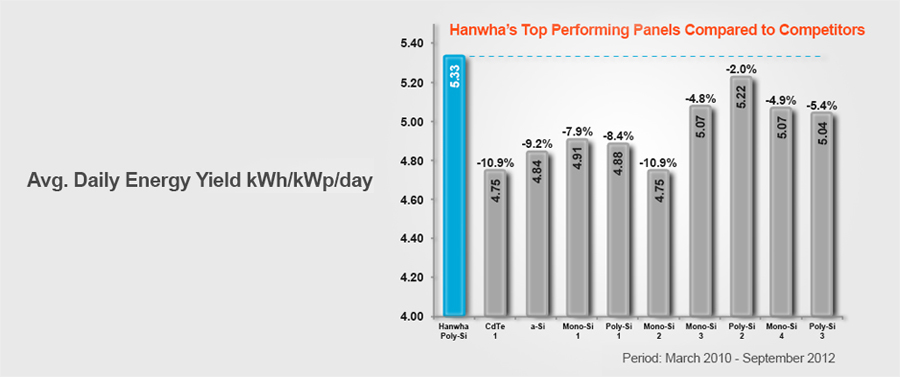 Trust in the Sun
Hanwha draws on quality expertise gained through experience in the field. Technicians ensure the most optimal use of rooftops for system installations. Whether designing a system for a garage, a rooftop, building facades or BIPV (Building-integrated Photovoltaic), Hanwha provides the ideal solution for long-term ROI and LCOE (Levelized Cost of Energy).
And as the world turns to alternative energy sources to sustain an eco-friendly globe, Hanwha will continue to provide reliable energy solutions for a greener earth and a brighter future.
Contact Us
Thank you for your interest in Hanwha.
Please contact us for your inquiries.
Email Us
Information Message
Please enter your email address.
Information Message
Please enter a correct email address.
Success
Keep an eye on your inbox for the latest stories from Hanwha.
Information Message
Your subscription request has already been processed. Thank you.