Hanwha Chemical's ECO-DEHCH Plasticizer Finds a Home with Wallpaper Manufacturers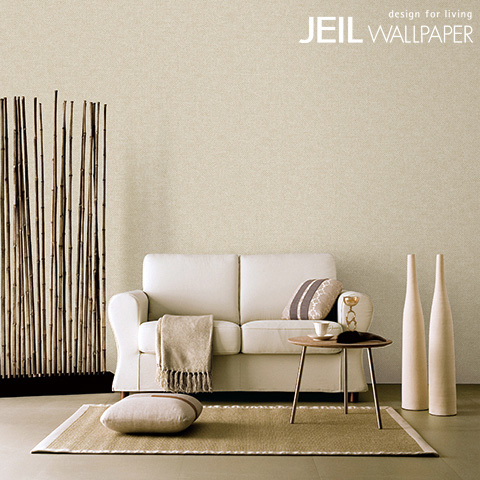 Hanwha Chemical's ECO-DEHCH plasticizer became commercially available only from June of 2017 but it has already built a loyal following. ECO-DEHCH has rapidly gained popularity among Korean wallpaper manufacturers for its ability to strengthen the durability and eco-friendliness of PVC-based wallpapers. This new compound is fundamentally different from most other plasticizers available on the market and it can also be used in everything from construction materials to food-grade plastic wraps.

ECO-DEHCH was developed by Hanwha Chemical, in association with the Korea Advanced Institute of Science & Technology, in response to consumer demand for plastic that is both safe and durable. Traditional phthalate-bonded plastic, while strong and lightweight, can cause long-term health issues in humans and its use has been strictly curbed by government safety agencies. Most non-phthalate plasticizers adopted as replacements, on the other hand, are safe for humans but not as effective.
Safe, Durable, and Aesthetically Pleasing
Jeil Wallpaper, Seoul Wallpaper, and Hanwha Living & Creative are among the companies that have adopted ECO-DEHCH-bonded plastic to provide their customers with safer products. Subsequently, they're able to label their products "Phthalate Free" and meet the demands of the growing number of discerning consumers who expect safer products.
"It is our mission to provide customers with wallpaper that is both beautiful and eco-friendly," says Yoon Mu Yeol, Director of Seoul Wallpaper. "ECO-DEHCH allows us meet the expectations of our customers and we are only too happy to oblige by incorporating it into our products."
Hanwha Chemical bridged the gap between durability and safety with ECO-DEHCH, a hydrogen-based compound that is completely different from most non-phthalate plasticizers available on the market. ECO-DEHCH's chemical properties make it ideal for applications where aesthetics are as important as safety and durability.
The compound bonds more efficiently to plastic than other non-phthalate plasticizers and will not molecularly separate over time. This results in ECO-DEHCH-bonded wallpaper remaining flexible rather than becoming brittle and cracking. The molecular bond between plastic and non-phthalate plasticizers also breaks down when exposed to sunlight, resulting in wallpaper that will gradually turn yellow. ECO-DEHCH has an entirely different molecular structure to those plasticizers, so wallpaper made with the compound will not yellow in the same way.
Rising to the Challenge
Hanwha Chemical is the only Asian company, and one of only three companies in the world, that has the necessary resources to develop and produce a plasticizer that uses hydrogen-bonding instead of phthalates or terephthalates. The limited number companies that use hydrogen-bonding is partly due to the product's incredibly high barrier to entry. Extremely high precision is required and the technology isn't readily available.
"ECO-DEHCH is optimized to catalyze with maximum efficiency," says Yoon Kyong Jun, the Chief Researcher who led ECO-DEHCH's development at Hanwha Chemical. "We had to manage the chemical reactions very carefully in order to create a product that is both high in quality as well as stable."
In recognition of his leadership in the creation of ECO-DEHCH, the Korea Industrial Technology Association presented Chief Researcher Yoon with the "Engineer of Korea Award" for June of 2016.
ECO-DEHCH has already been tested by the Food and Drug Administration (FDA) in the US and the General Society of Surveillance (SGS) in Switzerland. It has also been certified as an eco-friendly plasticizer. And as ECO-DEHCH continues to exceed expectations and gain more certifications around the world, Hanwha Chemical is expecting its popularity and adoption for use in everyday products to grow exponentially. Fast forward to the very near future, Hanwha Chemical will easily become recognized as the pioneer in chemicals that has set the standard for performance and eco-safety.
Hanwha Chemical
Established in 1965, Hanwha Chemical is a total solutions chemical company with streamlined production systems for polyethylene (PE), polyvinyl chloride (PVC), and chlor-alkali (CA). As South Korea's leading petrochemical company, we dominate the nation's chemical industry with high-quality PVC, CA, and linear low-density polyethylene (LLDPE) that we offer at competitive prices.

For more information, visit: hcc.hanwha.co.kr/en
Hanwha Group
Founded in 1952, Hanwha has grown quickly by anticipating and responding to changing business environments with a balanced business portfolio that includes energy & materials, aerospace, finance and retail & services. Our expertise and synergy in key areas have catapulted us into the seventh-largest business in South Korea and a Fortune Global 500 company. Hanwha continues to grow rapidly as we strive to pursue global leadership in all of our businesses. We are building a robust foundation for sustainable development and a brighter future for everyone.

For more information, visit: www.hanwha.com
Contact Us
Thank you for your interest in Hanwha.
Please contact us for your inquiries.
Email Us
Information Message
Please enter your email address.
Information Message
Please enter a correct email address.
Success
Keep an eye on your inbox for the latest stories from Hanwha.
Information Message
Your subscription request has already been processed. Thank you.