Why Hanwha Supports a Green New Deal

November 29, 2020 (KST)
A Green New Deal?
With Earth's surface temperatures, extreme weather events, and sea levels all on the rise, the evidence of climate change has become undeniable. As people become increasingly aware of and affected by climate change's long-term effects, they are taking action to reduce their environmental impact with sustainability campaigns being enacted around the world. But there's so much more that can be done to call the public to action and help the environment.

Because of this, governments and corporations around the world are proposing that action be taken under a banner that is easy to understand: a "Green New Deal".

Harkening back to the New Deal public works projects, financial reforms, and regulatory changes enacted by U.S. President Franklin D. Roosevelt in the 1930's, the concept encompasses loosely connected proposals that lay out a plan to definitively tackle the effects of climate change.
An all-encompassing change
Implementing a Green New Deal would require the adoption of operational models that reduce resource consumption and greenhouse-gas emissions while boosting renewable-energy production, switching to sustainable-transport solutions, and improving recycling capabilities. Achieving this will require significant investments and large-scale-infrastructure projects that will stimulate national economies and create new jobs.
Reduce resource
consumption and
greenhouse-gas
emissions

Switch to sustainable-
transport solutions

Boost renewable-energy
production

Improve recycling
capabilities
Look at what's happening around the world
There isn't a single Green New Deal. Instead, the term is used to describe a collection of proposals put forward by governments, NGOs, and private corporations, each aimed at reducing humanity's environmental impact in significant ways.

Green New Deal proposals being put forward around the world include:
The EU already has many plans and projects underway to become carbon neutral through green technology, sustainable industry and transportation, and pollution reduction.
Greenhouse-gas emissions were already cut by 23% between 1990 and 2018. The EU economy grew by 61% in that time.
Eco-friendly products help EU households save EUR 150 per year, on average, in energy costs.
New rules will cut the utilization of single-use plastics, which make up 70% of the trash found on European beaches.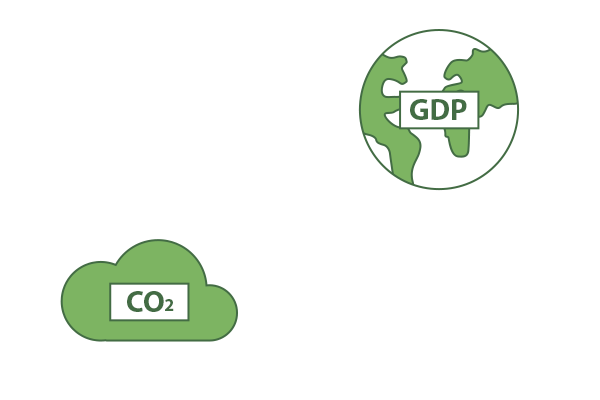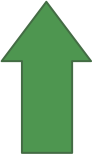 EU GDP
UP 61%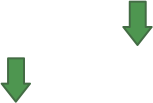 Greenhouse-Gas
Emissions
DOWN 23%
1990-2018
A proposed plan calls for the creation of a "10-Year Mobilization".
During this time, the U.S. would shift to sourcing 100% of its electricity from renewable and zero-emission sources.
Buildings would be upgraded to be more energy efficient and the national transportation system would be overhauled to rely more on electric vehicles and high-speed rail.
Job-training and economic-development projects would be enacted to prepare people for the new, proposed-economic model.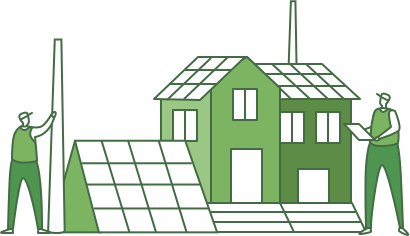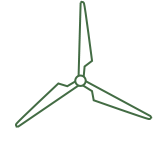 100% of the nation's
power demand met through
renewables by 2030.

10 million new jobs in
the first 10 years.
Plans are on the table for an extensive shift in Korean infrastructure, cities, and economic models.
More than 100 projects are being developed for the eco-friendly management of cities and infrastructure.
The Korean government will promote green industries and eco-friendly manufacturing by selecting five industries and 100 enterprises to play a leading role in Korea's Green New Deal.
The government will also promote low-carbon and distributed-generation technologies, such as advanced smart grids that use decentralized solar-energy generation to reduce the need for traditional fossil-fuel-powered electric grids.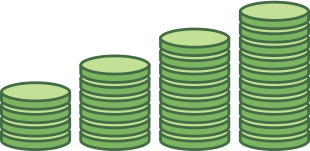 Total of around
KRW 12.9 trillion
(USD 1.15 billion)
will be invested in
Korean Green
New Deal by 2022.
All-hands-on-deck for
Hanwha is a firm supporter of sustainable technologies and renewable energy. As Green New Deal policies and projects get set up around the world, Hanwha is establishing a new and sustainable infrastructure network and developing new technologies to help clean up the global environment.

Hanwha Solutions Q CELLS Division is a comprehensive solar solutions provider. Taking a leading role in the expansion of sustainable energy, Q CELLS manufactures solar-energy equipment (including cells, modules, and energy-storage systems), operates power plants, and trades retail energy.
Hanwha Solutions Chemical Division is developing efficient and economic electrolysis technologies to produce green hydrogen from water. Through this work, it aims to help create a net-zero-carbon ecosystem that gets 100 percent of its energy from renewable sources.
Hanwha Solutions Advanced Materials Division develops specialty composite materials that it then uses to manufacture safe and durable high-pressure tanks that allow for the storage and transportation of hydrogen around the world.
Hanwha Power Systems manufactures power-generation equipment that recycles waste heat and pressure from industrial processes into eco-friendly electricity, which offset carbon emissions and decentralizes electricity production. It also produces solutions that compress hydrogen for storage and use in refueling stations.
Hanwha Impact is making considerable effort to develop low-carbon energy solutions like solar-power plants and invest in eco-friendly businesses, such as those related to the hydrogen economy, around the world. These new technologies and business models will help transition the world from fossil-fuel-powered downstream energy solutions.
To demonstrate its commitment, Hanwha participated in the 2020 Green New Deal Expo held in Seoul, Korea, where it displayed the new eco-friendly products and technologies – including green hydrogen production and renewable energy generation – it has in development. Central to Hanwha's booth at the event was a large model city that showed how its proposed new green infrastructure will operate.
Hanwha's booths at the 2020 Green New Deal Expo in Seoul showcased the company's next-level plans for combatting climate change
Time to act for a greener future
People around the world are becoming increasingly aware of the strain fossil fuels and single-use products are placing on the environment. There is increased pressure, now, for governments and corporations to act for the benefit of the world's ecosystems.

As Green New Deals take shape and unfold, Hanwha and its businesses will be at the forefront, spearheading positive changes to create a cleaner and safer environment for future generations.