Plugging into the Sun: How Hanwha is Leading with Innovations in Solar Energy
Plugging into the Sun:
How Hanwha is Leading with Innovations in Solar Energy
January 11, 2022 (KST)
While an array of eco-friendly, green energy options are available today, solar power has evidently become a clear favorite in recent years, as seen by the double-digit growth in total PV capacity year over year across the last ten years. In 2020 alone, 709,000 MW of solar power capacity was installed worldwide.

Solar energy producers are seeking the next generation of solar-power technology and propelling the industry to even greater heights. Improved efficiencies in silicon solar cells, the discovery of unique installation sites, and the application of green processes are all helping to advance the industry. As a leader in this industry and in the innovation of sustainable solutions, Hanwha Solutions' Q CELLS Division (Hanwha Q CELLS) is paving the way to transform solar power into an energy source that is truly green.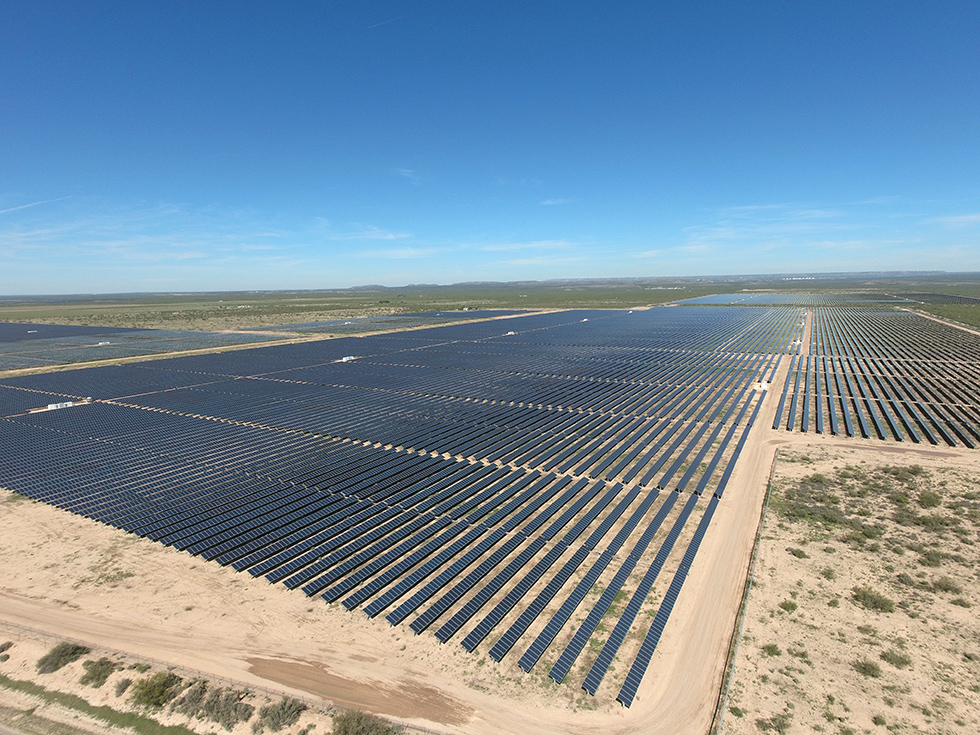 An Array of Installation Opportunities
When imagining a solar power plant, what comes to mind? Most people probably only picture solar modules occupying a single plot of land. How about these same modules sharing space with crops and livestock? Or how about these modules covering building exteriors in a busy downtown area, or not even on land at all? What might have been unfathomable in the early aughts for solar power plants is now taking a new turn—new locations for solar modules are appearing across land, water, and infrastructure, and each new approach is optimizing precious square footage in a remarkable way.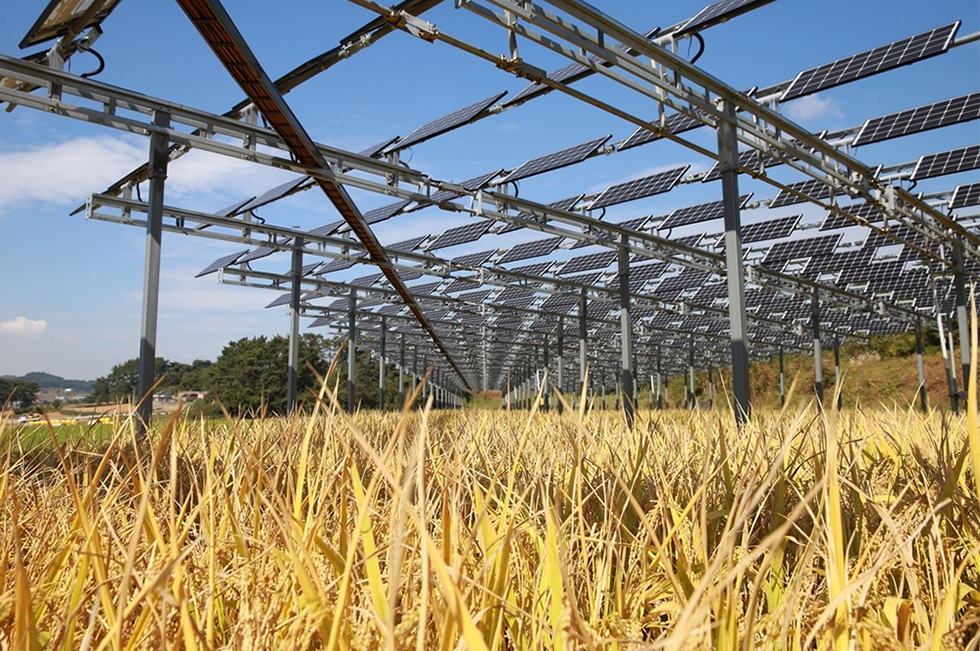 On land, the solar power industry is finding unique ways to leverage spaces already in use, whether it is across vast prairie land or densely packed urban centers. Solar modules, installed above both grazing fields and crops, generate power while protecting livestock and vegetation with a cooler, shaded environment. And, as they're above ground, rice-planting machines and combines can continue to make their way through fields unimpeded.

An essential consideration in agrivoltaics, the coupling of solar power generation and farming, is the size of the module that can be installed above farmland. Hanwha Q CELLS' solar modules are only about half the size of traditional solar modules, so they do not get in the way of crops and still allow in just the right amount of sunlight for crops to grow.

Recently, the Korean government selected Hanwha Q CELLS as a partner in the Agrivoltaic System Standardization Project. In collaboration with Yeungnam University and a small Korean enterprise, Hanwha Q CELLS will conduct research to develop advanced agrivoltaic systems for Korean rice paddies, farm fields, and orchards.
Incorporating building-integrated photovoltaics (BIPV) into new constructions or renovations helps businesses reduce their buildings' carbon footprints. At the same time, due to the colorful nature of the material, BIPV offer a great opportunity for businesses to incorporate unique color elements into their buildings' exteriors. Even amidst clouds, BIPV can generate electricity with only a 10° of irradiation angle as these systems are less sensitive to incidence angle and solar radiation.

Hanwha's headquarters in Seoul was recently renovated with Hanwha Q CELLS' BIPV. The renovation was done three floors at a time to minimize disruption to the building's occupants, and when the work was complete, it received the Renovation Award of Excellence from the Council on Tall Buildings and Urban Habitat (CTBUH) in 2021. The award celebrates the project's threefold approach to sustainability: environmental, economic, and social. Three hundred modules cover the south and southeast façades from the 8th to the 27th floor, allowing the building to self-generate power—a testament to Hanwha's active pursuit of its sustainability goals.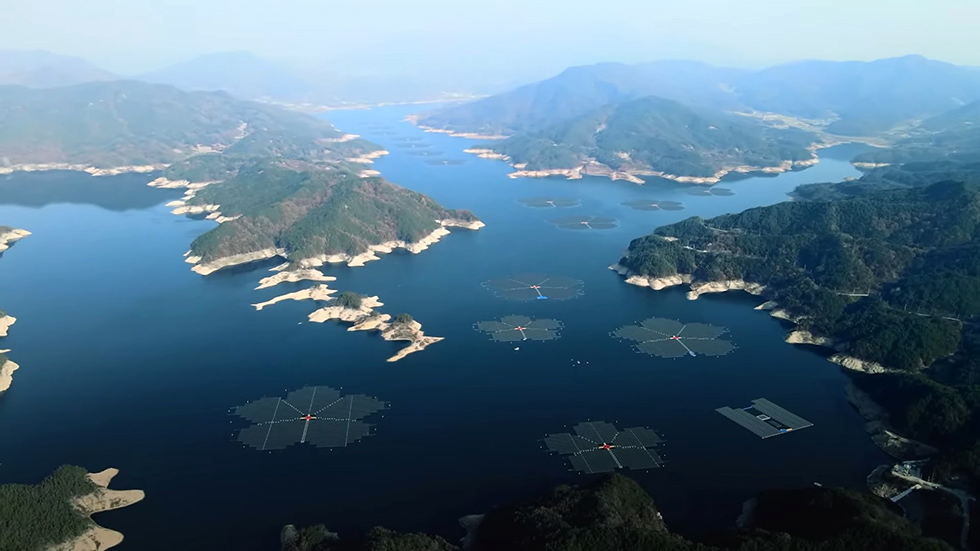 Solar PV has also found its way to being installed on water too—on rivers, lakes, and reservoirs. Demand for floating PV is expected to rise in the coming years. According to the World Bank Group, floating PV systems will become the third pillar of photovoltaics after ground-mounted and rooftop PV. Floating PV systems, leveraging marine technology, have proven particularly efficient as deep water under modules can act as a coolant, increasing energy production by approximately 10%. The rising local and global market demand for floating solar solutions is one approach for land-scarce developed nations to invest in renewable energy projects. Hanwha's floating solar farms at the Hapcheon Dam, one of the largest in the world, offer an innovative way to help Korea reach its sustainability goals, as noted by Bloomberg News.
Investing in the Latest Solar Technology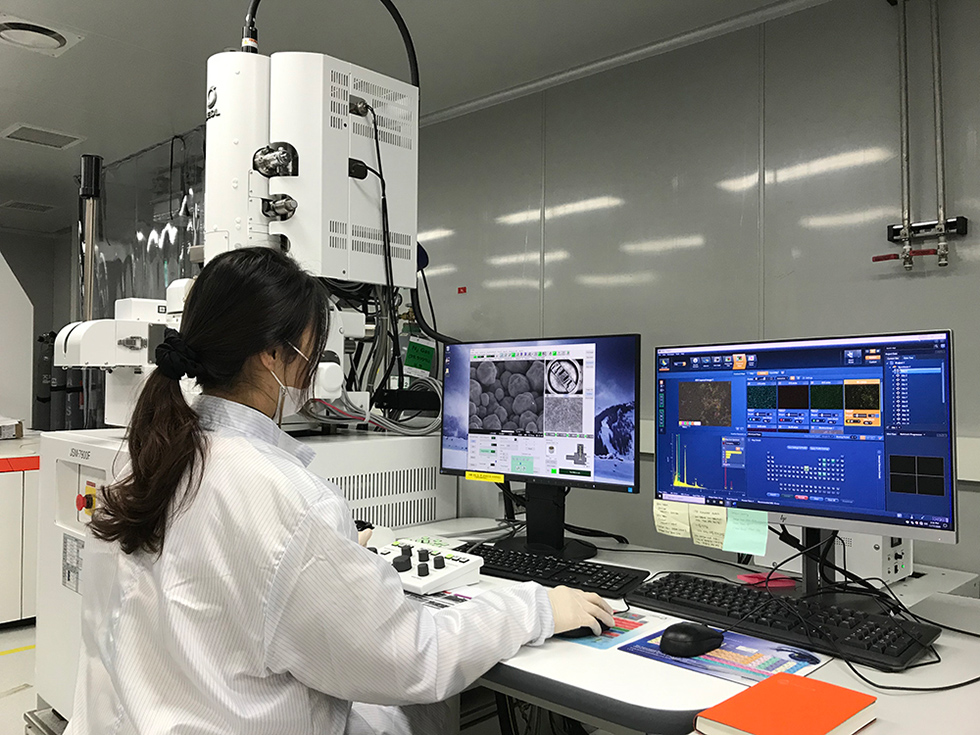 Advancements in solar energy materials create additional opportunities for the renewable energy industry. The most recent breakthrough, tandem cells, pairs two different PV films together to improve module conversion. These stacked solar cells place perovskite, a next-generation photovoltaic material, on top of existing silicon to increase light absorption efficiency. When the materials are combined, these tandem solar cells can absorb both short- and long-wavelength light and increase solar conversion efficiency to nearly 44% compared to silicon-only PV cells, whose theoretical efficiency limit is only 30%.

Hanwha Q CELLS is heavily investing in research and development for the next generation of solar power technologies and products, including tandem cells. The company is currently seeking to invest KRW 1.5 trillion (USD 1.2 billion) into research and manufacturing facilities by 2025. This investment will increase the company's cell and module production capacity to 7.6 GW per year—a volume capable of powering homes for roughly 12 million people annually in Korea. Hanwha Q CELLS' commitment to developing the next-generation technology puts the green energy solutions provider on a sure path to commercialize tandem cells.

In parallel, Hanwha Solutions also seeks to further solidify its position in the U.S. market by expanding its offerings to include electricity management software solutions. In November 2021, the company announced its investment of USD 100 million in Lancium Technologies (Lancium), a Texas-based startup that provides renewable-based electricity management services for energy-heavy devices such as high-performance computing equipment. Using Lancium's proprietary software technology, Hanwha Solutions plans to accelerate its transition into a complete energy solutions provider with flexible energy demand solutions.

"With the renewable energy market heating up globally, enhancing software capabilities for electricity management has become more crucial than ever before," Lee Koo-yung, Chief Executive Officer at Hanwha Solutions' Q CELLS Division, said. He added, "Based on decades-old industrial expertise in the global photovoltaic business, we're expanding our clean-energy business to include a software-based electricity management solution for data centers."
Setting the Standard in Eco-friendly Module Manufacturing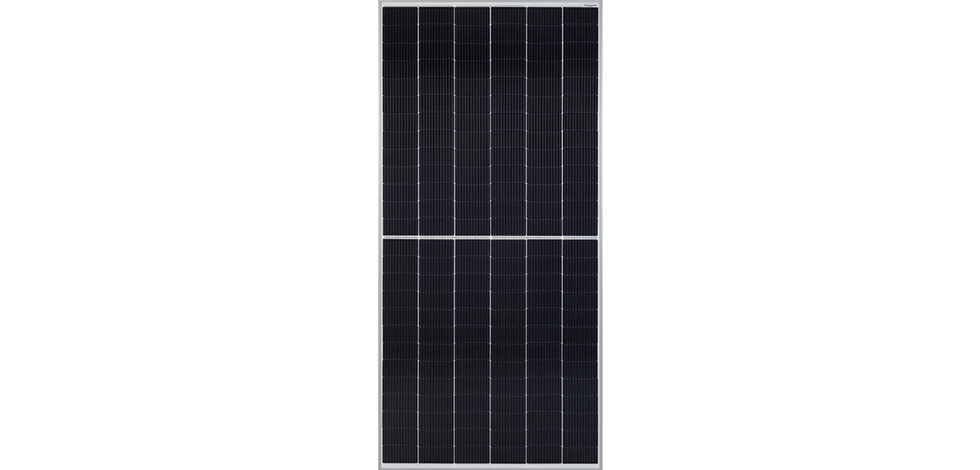 Developing solar energy as a genuinely sustainable energy offering requires producers to infuse green practices into the production process. Hanwha is constantly striving to make its manufacturing practices even greener by eliminating the use of non-renewable energy sources to further reduce carbon emissions.

Recently, Hanwha Solutions announced a strategic investment in REC Silicon ASA (REC Silicon), a global polysilicon manufacturer in the U.S. Hanwha Solutions' 16.67% stake in the company has effectively secured access to low-carbon polysilicon, a key component in solar-cell production. REC Silicon manufactures most of its polysilicon through a process that utilizes hydro-based clean energy and emits no greenhouse gases.

In 2020, seven of Hanwha Q CELLS' Q.PEAK DUO series PV modules attained the Class I Solar Module Carbon Footprint for Product (CFP) certification from Korea's Ministry of Trade, Industry and Energy—becoming the first and only in the industry to achieve the landmark designation. The Solar Module CFP Certification system measures the amount of carbon dioxide emitted throughout a solar PV producer's manufacturing lifecycle. Hanwha Q CELLS' Class I grade is the highest-level certificate attainable in Korea. Receiving a Class I grade is not only a recognition of Hanwha's important efforts to reduce greenhouse gas emissions but also a testament to the company's commitment to it.

In Europe, CFP certifications are increasingly sought after. The CFP certification has become a distinction that is an essential evaluation criterion to the French government. Any public PV facility project tenders over 100-kW in the country now require a CFP score. Hanwha Q CELLS sets itself apart from the competition as the only Korean company to have received the CFP certificate in France, aiding its foray into the French market.

Further, Hanwha Q CELLS is also the first Korean green energy solutions provider to join the K-RE100 program, another demonstration of its commitment to combat climate change. As part of the program, the Hanwha Q CELLS will increase its purchase of energy sourced from renewables and self-generate eco-friendly power for its offices in Korea. By 2050, Hanwha Q CELLS aims to acquire 100% of its power from sustainable energy sources.

As individuals, businesses, and governments unite to combat the climate crisis, demand for green energy is soaring. For many years, Hanwha Q CELLS has been at the forefront of solar power generation and innovating sustainable solutions. Hanwha's sustainability journey continues as it transitions to become a total green-energy-solutions provider by expanding into wind and green hydrogen energy.

Through continually pursuing meaningful innovations, Hanwha Q CELLS intends to bring about the next generation of solar power through materials, manufacturing, and installations.