Products & Services > Affiliates > Hanwha Asset Management
Hanwha Asset Management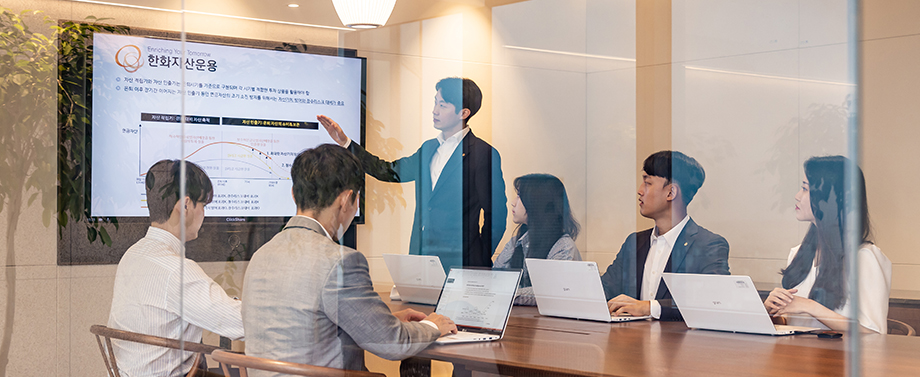 Founded in 1988, Hanwha Asset Management has grown into a comprehensive asset management company offering a full range of financial instruments, including stocks, bonds, MMFs, fund of funds, social overhead capital, derivatives, real estate, ETFs, special assets and PEFs in both domestic and overseas capital markets. Our professional staff have unparalleled expertise in operating highly organized systems across all areas, including product development, research, compliance and risk management. All of our products and services cater to customer needs because we strictly adhere to the principle and management philosophy of placing customers above all else. Building on our capabilities in South Korea, we are growing into a global asset management company by operating local subsidiaries in the US, Singapore and China.
At the end of 2022, we were one of South Korea's top asset management companies with USD 78.63 billion in assets under management (AUM). By demonstrating our outstanding expertise in both alternative investment and traditional investment, we achieved the No. 1 position among comprehensive asset management companies in the overseas infrastructure investment fund category. In 2021, as part of expanding into digital finance, we launched the PINE app, a platform for direct sales of funds for individual investors. The app has gained recognition from investors, particularly Millennials and Generation Z, for its user-friendly interface, low sales commission, and valuable investment information. Additionally, we have obtained a REITs AMC license from South Korea's Ministry of Land, Infrastructure and Transport, and entered the REITs business in the first quarter of 2023.
These diverse efforts earned us the Best Overseas Equity Fund at the 2022 Korea Fund Awards by Money Today news media, the Top Prize in global bonds at the 2021 KG Zeroin Korea Fund Awards and the Grand Prize in real estate funds at the 2021 Herald Fund Awards of the Korea Herald news media. Looking ahead, we will continue to build the foundation for future growth with a focus on the retirement plan market and alternative investments. We are also actively promoting global businesses and digital financial platforms as we become a comprehensive asset management solutions provider and top–tier asset management company in Asia.
For more information, please visit: