Products & Services > Affiliates > Hanwha Advanced Materials
Hanwha Advanced Materials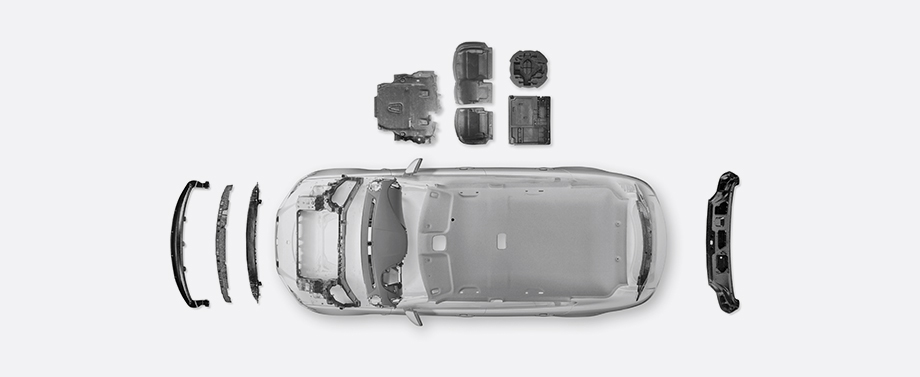 Founded in 1965, Hanwha Advanced Materials has developed an innovative line of environmentally conscious products and technologies that meet the needs of our customers around the world. We developed local production plants and R&D centers in South Korea, the US, Europe and China. In December 2022, we were spun off from Hanwha Solutions to enhance our business expertise and operational efficiency. With our lightweight composite materials and solar materials, we are recognized as a global advanced materials specialist.
Since entering the automotive materials business in 1986, we have launched a diverse portfolio of products for automobile structures and interiors. We now utilize original technologies to build high–strength, super–lightweight materials and parts. Our product line includes: StrongLite (Glass fiber Mat reinforced Thermoplastics), SuperLite (Lightweight Reinforced Thermoplastics), Expanded Polypropylene (EPP), Sheet Molding Compound (SMC), Long Fiber Reinforced Thermoplastics (LFT) and Continuous Fiber Reinforced Thermoplastics (CFRTPC). As the only company in the industry that produces multiple types of materials and molded products, we are well prepared to provide various components and solutions.
Being a global supplier, we have manufacturing factories in Alabama and Virginia in the US; in Beijing, Shanghai and Chongqing in China; in the Czech Republic in Europe; and in Mexico in North America. We are a major supplier to global automakers, including Hyundai, Kia, BMW, Daimler, Volkswagen, GM, Ford and Toyota. With superior technology and quality, our StrongLite and SuperLite materials claim to have the highest market shares worldwide in their respective categories.
To lead the changing industry as the automotive market emphasizes the lightweight trend, Hanwha Advanced Materials is continuously strengthening our R&D system. We are focused on researching thermoplastic and thermosetting composite materials, as well as designing and developing new applications. We are also developing new materials and manufacturing methods to offer improved functionality and innovative plastic hybrids that represent the latest technologies in the market. Currently, we are tracking the transition in the automotive market as smart cars and electric vehicles take larger roles. With specialized technology capable of designing various physical properties, such as high strength, ultralight weight and eco–friendliness, we are in strong position to expand into new businesses.
In solar materials, we have secured a stable market chain in the supply of raw materials sales with our vertical integration and Hanwha's solar value chain. With production knowhow gained from three decades of experience, we have developed independent technology to produce EVA sheets and backsheets for modules as we expand our market into Europe, America and Southeast Asia. Being the only company capable of producing large–scale products using the Calender and T–Die method, we are demonstrating outstanding performance in the global market.
Hanwha Advanced Materials will expand businesses by growing in the North American market and becoming an inimitable global No. 1 company in the high–performance lightweight composite materials business.
For more information, please visit: