Products & Services > Affiliates > Hanwha Defense Systems
Hanwha Defense Systems

Hanwha Defense Systems was established in 1937, and in 2016, it became an affiliate of Hanwha Group. Hanwha Defense Systems' goal is to become a global top-tier company in the defense industry. To achieve this goal, we're leveraging our state-ofthe-art production facilities to build a comprehensive suite of defense solutions including infantry fighting vehicles, air defense weapons, guided weapons, and launching systems. We believe in developing practical solutions with innovation and technology.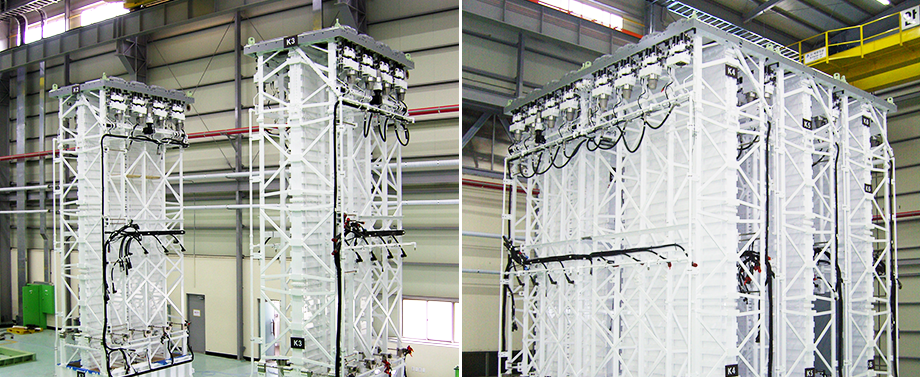 In 1984, we began supplying weapons systems to the South Korean military with the K200, an Armored Personnel Carrier (APC) built independently and commercialized in South Korea. Since then, we've also developed the CHUNMA (our flagship surface-to-air guided system), BIHO (an air defense weapon), K21 Infantry Fighting Vehicles (IFV), and CHUNMU (a multiple rocket launcher). In 1993, we exported the K200 to Malaysia, marking our first large-scale overseas export as a South Korean defense company. In 2007, using our original technology, we developed the K21, a vehicle that can operate on water. We developed the BIHO (an air defense weapon) and the Tigon (a wheeled armored vehicle). We market our products worldwide including in the Middle East and Southeast Asia.
We have seven specialized infantry fighting vehicle models that use the K200 as the base: the K277 (for command post), the K281/K242 (mortar-equipped), the K216 (aka CBR - Chemical, Biological, and Radiological), the K288 (rescue), the K221 (smoke grenade launchers), and the K263A (self-propelled 20mm Vulcan). Since 2009, we have produced the K21, a world-class IFV with improved firepower, survivability, and maneuverability for high-speed operations.
We provide a lineup of air defense and guided missile solutions that are optimal for a range of operations to combat mid- and low-altitude aerial threats. The CHUNMA is South Korea's first surface-to-air guided system, an effective weapon system against low-altitude aerial threats on core assets. In 2015, we massproduced the BIHO to allow the mounting of conventional weapons. Its use has boosted the anti-air defense capabilities of the South Korean armed forces. Because of its excellent maneuver capability, the BIHO can be highly effective in various air defense operations such as in mechanized infantry.
Hanwha Defense Systems is exceptional at producing a range of launching systems that leverage advanced technology and augments that with deep experience. These systems include launching platforms, command and fire control systems, ammunition systems, and ammunition carrier vehicles. Our flagship system is the multiple rocket launcher CHUNMOO. As with the BIHO, the CHUNMOO was co-developed with a partner's R&D. We also produce more than 40 other launching systems. Our land launchers include the CHUNGOONG that can effectively eliminate enemy threats at medium altitudes. Our Blue Shark is a launcher that can be mounted on a ship to launch torpedoes. The HAESUNG is a ship-to-ship guided missile launcher that can precisely strike enemy ships from 150km away.
Hanwha Defense Systems is South Korea's premier defense company. Through hard work and strong R&D investments, we are also becoming a leader in the global defense industry and gaining recognition for developing reliable defense solutions. We're creating synergy with our defense affiliates. Together, we will develop comprehensive defense systems that will transform Hanwha into a top 10 global defense company.
For more information, please visit: