Products & Services > Affiliates > Hanwha Defense
Hanwha Defense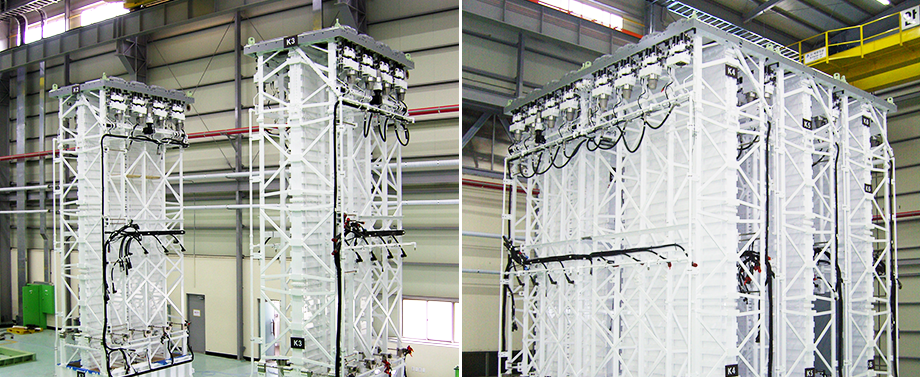 Hanwha Defense is expanding its global business and establishing itself as a total defense solution provider by building on the strengths of its portfolio that include artillery systems, armored vehicles, air defense systems, and unmanned ground systems.
Over the years, we've been constantly evolving, learning from end-users and working to develop superior technology to offer global-leading solutions. We already have market leadership in the SPH category. Our wide range of products have expanded to include artillery systems, armored vehicles, air defense systems, and unmanned ground systems. At the same time, we're gaining recognition. Hanwha weapon systems are world-renowned for performance and purposefully designed to serve as defense solutions for the future.
Hanwha Defense has developed its expertise in artillery systems, in part, from its experience from having produced more than a thousand K55 Self-Propelled Howitzers (SPH). And by continuously investing in R&D, we have developed next-generation SPHs that push the boundaries of performance like the worldclass K9 Thunder SPH artillery system and the K55A1 and K9A1 with advanced capabilities. Innovation is also the forefront of what we do. For example, the K9, is the world's first fully operational automated ammunition support system. Its successor, the K10 Ammunition Resupply Vehicle, further improves upon K9's advanced capabilities. Hanwha Defense also manufactures more than 40 land-based launcher systems and naval launchers, including the Chungung (surface-to-air missile launcher), and the Korean Vertical Launching System (KVLS).
Hanwha Defense is proud to offer a diverse portfolio of armored vehicles that are highly effective in Multi-Domain Operations (MDO). Key products include the 120mm self-propelled automatic mortar system which boasts superior combat distance and firepower than conventional mortars; seven types of specialized armored vehicle models that leverage the technologies from the K200 Armored Personnel Carrier such as the NBCRV (Nuclear, Biological, Chemical Reconnaissance Vehicle); and the K21, a world-class infantry fighting vehicle. We are also developing a South Korean-style amphibious bridging vehicle, and the KAAV-II (Korean Amphibious Assault Vehicle) – the primary armored personnel carrier for the South Korean Marine Corps.
Hanwha Defense is leveraging the latest technologies to develop best-inclass systems that are optimized to respond to and defend against various aerial attacks. The Hybrid BIHO selfpropelled air defense system is renowned for its high efficacy and has even been credited for elevating the air defense level for the nation of South Korea. The system includes powerful anti-aircraft guns and guided missiles that are capable of engaging low-flying targets and delivering optimal lethality. Our Anti-Aircraft Gun Wheeled Vehicle System (AAGW) includes low-cost, high-efficiency 30mm twin air defense guns and is expected to be used in the South Korean military starting in 2021. What's more, the CHUNMA is South Korea's first surface-toair guided system to counter low-altitude aerial threats against any major facility.
Hanwha Defense is leading the development of unmanned ground systems domestically. These solutions include the technologically advanced Tactical Unmanned Ground Vehicle, the Remote-Controlled Weapon Station (RCWS) for various platforms, and the lithium-ion battery system for submarines that provide double the life cycle of lead-acid battery systems with higher operation speed and better efficiency.
Hanwha Defense has strengthened its reputation in the global market due in no small part to its advanced technology and consistent product quality. Since the export of the K200 armored vehicles to Malaysia in 1993, marking the first large-scale overseas sales by a South Korean defense company, Hanwha Defense has been expanding its global footprint by exporting the K9 SPH and K10 ARV. In addition, global marketing activities are under way to promote the Hybrid BIHO air defense system, the Tigon wheeled armored vehicle, and the Redback – a next-generation infantry fighting vehicle.
With continuous innovations and sustainable R&D investments, Hanwha Defense is providing a comprehensive set of defense solutions whose differentiating capabilities positions us to become the market leader.
For more information, please visit: