Products & Services > Affiliates > Hanwha Defense
Hanwha Defense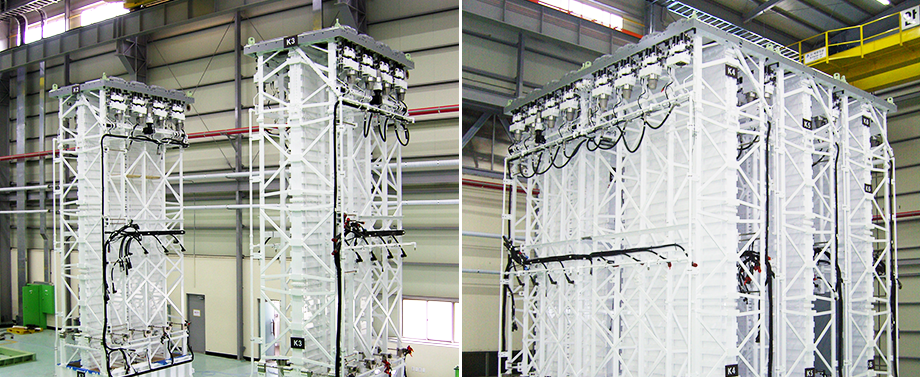 Hanwha Defense is expanding its global business as a total defense solutions provider with highly competitive offerings in artillery systems, armored vehicles, air defense systems, and unmanned ground systems.
In January 2019, Hanwha Land Systems merged with Hanwha Defense Systems to become Hanwha Defense. This merger secures our highest capability in all areas of artillery systems, armored vehicles, air defense systems, and unmanned ground systems. By strengthening our product competitiveness with the combined benefits of the technology, experience, and outstanding talents of both companies, we are firmly established as a sustainable global defense company.
In artillery systems, we're developing artillery solutions for modern warfare based on our experience and technology in the defense industry. We have applied our experience in producing more than a thousand K55 self-propelled howitzers. We developed the K9 self-propelled howitzer, the world's top-quality howitzer with overwhelming firepower, high maneuverability, and survivability. Our K10 ammunition resupply vehicle is the world's first fully automated ammunition resupply system equipped with a K9 self- propelled howitzer. Our EVO-105 evolved wheeled self propelled howitzer is a new-concept weapon system. It comes with a 105mm towed gun and an automatic fire control system on a vehicle.
Our armored vehicles have been recognized for their outstanding maneuverability and adaptability. We have seven specialized armored vehicle models that use the K200 or Armored Personnel Carrier as the base, including the NBCRV (Nuclear, Biological, Chemical Reconnaissance Vehicle) and 120mm self-propelled automatic mortar. We also produce the K21, a world-class IFV.
We provide a lineup of air defense and guided missile solutions that are optimal for a range of operations to combat mid- and low-altitude aerial threats. Our Gun and Missile Air Defense System BIHO is used in air defense operations. The BIHO has boosted the anti-air defense capabilities of the South Korean armed forces. Because of its excellent maneuver capabilities, the BIHO can be highly effective in various air defense operations, such as in mechanized infantry. The CHUNMA is South Korea's first surface-to- air guided system, an effective weapon system against low-altitude aerial threats on core assets. We also produce more than 40 other land-based launcher systems and naval launchers, as well as other related products.
In unmanned ground systems, we are aggressively driving the effort to bring the Fourth Industrial Revolution to the defense industry with innovative and cutting-edge solutions for future battlefields. Our products include the Tactical Unmanned Ground Vehicle, a remote-controlled weapon station, and a lithium battery system for submarines.
We have become a trusted partner in global markets by successfully incorporating advanced technology without compromising reliability or quality. We have exported the K200 to Malaysia in 1993, marking our first success in large-scale overseas exports by a South Korean defense company. We are also exporting our K9 self propelled howitzer and K10 ammunition resupply vehicle overseas. In addition, we developed the BIHO (Gun and Missile Air Defense System) and the Tigon (a wheeled armored vehicle), which secure our technological competitiveness for export as we actively engage in overseas marketing.
Hanwha Defense is South Korea's leading defense company. Through hard work and strong R&D investments, we are also becoming a leader in the global defense industry and gaining recognition for delivering reliability and quality in the same solution.
For more information, please visit: