Products & Services > Affiliates > Hanwha Defense
Hanwha Defense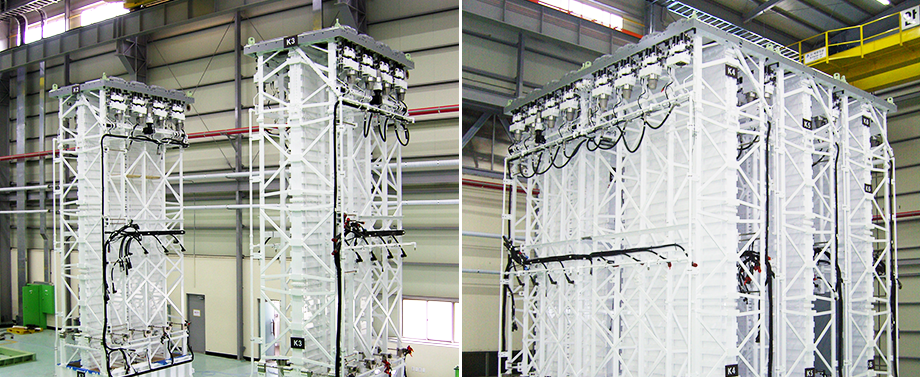 Hanwha Defense was launched on January 2019 from the merger of Hanwha Land Systems and Hanwha Defense Systems. With the merger, Hanwha Defense has acquired state-of-the-art technology in firepower/maneuverability/anti-aircraft and unmanned systems based on outstanding technology, extensive experience and talented human resources pooled from both companies.
Hanwha Defense is currently the supplier of many weapons systems to the South Korean Armed Forces, including the K9 self-propelled howitzer, the K105HT self-propelled howitzer, the K21 armored infantry fighting vehicle, the 30mm self-propelled anti-aircraft defense system 'BIHO,' CHUNMOO launcher/ammunition transport vehicle and 105 short range surface-to-air missile system, 'CHUNMA.'
For firepower systems, we have developed artillery solutions for modern warfare, based on our long standing experience and technological expertise in the defense industry and the successful execution of major national projects of South Korea. The K9 self-propelled howitzer was developed based on our experience of having produced more than 1,000 units of the K55 self-propelled artillery. The K9 self-propelled howitzer is widely recognized globally as being top-of-the-line, based on its higher rate of fire, higher mobility and increased battlefield survivability. The K10 ammunition resupply vehicle is an armored vehicle that has the world's first automated control system and operates in conjunction with the K9 self-propelled howitzer. The K105HT self-propelled howitzer features the existing 105mm traction howitzer mounted on a vehicle with an automated gunfire control system, all of which were developed as part of Hanwha Defense's new weapons system.
For maneuvering weapon systems we offer 7 types of armored cars including the K200, K277 (for command post), K281/K242 (mortar equipped), K216 (CBR), K288 (rescue) and K221 (smoke grenade launchers). Since 2009, we have been producing the world's best quality K21 armored infantry fighting vehicle with significantly improved firepower, battlefield survivability and mobility that enable high-speed maneuver warfare capability.
In the anti-aircraft system, we are guarding South Korea's sovereign airspace at mid-to-low altitudes through an optimized weapons system lineup, segmented by type of air defense operations. The 30mm self-propelled anti-aircraft defense system 'BIHO' can protect and defend mechanized infantry while supporting different types of air defense operations. The 30mm self-propelled anti-aircraft defense system 'BIHO,' in production since 2015, features a missile mounted on the previous BIHO model, and has greatly contributed to advancing South Korea's military air defense system. CHUNMA is the South Korean Armed Forces' first short distance surface-to-air missile and a highly effective weapons system against low-altitude aerial threats on core assets. Based on the technological expertise and experience acquired by the development of our launcher systems, command and gunfire control systems, ammunition systems and ammunition transportation vehicles, we currently produce over 40 different types of launchers including Chungoong M-SAM medium range surface to air missile launcher as well as ground and marine launcher systems such as Red Shark and Blue Shark launchers. As a leading defense industry player we are also paving the way for the Fourth Industrial Revolution by focusing our efforts on developing cutting edge products for future warfare - such as defense robots, remote gunfire control systems and lithium battery systems for submarines.
Hanwha Defense continues to expand its business globally based on its premium technology and trusted quality. We currently export our top of the line K9 self-propelled howitzer developed with our own technology, to Turkey, Poland, Finland, India and Estonia expanding our presence in the global market. In 2017, we exported our first K9 self-propelled howitzers and K10 ammunition resupply vehicles to Norway. In 1993 our K200 export to Malaysia marked South Korea's first major large-scale overseas defense export. We have recently completed the development of the self-propelled anti-aircraft weapon 'BIHO' and TIGON (APC)-gaining the technological expertise needed to boost exports and pro-actively target global markets in the Middle East and Southeast Asia.
As befits a pioneer in South Korea's defense industry, Hanwha Defense is offering a "Total Defense Solution" based on trust built through strong investment, and R & D.
For more information, please visit: