Hanwha Ocean
Newly integrated as part of Hanwha Group in 2023, Hanwha Ocean will be at the forefront of building a green energy value chain, combining our existing strengths as a global leader in energy production facilities and transportation, with Hanwha's expertise in energy and materials, such as hydrogen, wind power, LNG, and ammonia. We will also leverage Hanwha's cutting-edge green technology, such as advanced marine systems and eco-friendly energy storage system (ESS) technology, and integrate that with our ship, offshore plant, and specialty ship businesses to create new synergies and expand our markets.

Over the past half-century, Hanwha Ocean has emerged as a leading global company with extensive expertise and experience in the shipbuilding and offshore industry. Since its inception in October 1973, our shipyard near the Port of Okpo in South Korea's Geoje, Gyeongsangnam-do has played a crucial role in our growth as a world-class shipbuilder. With a focus on advanced technology and innovation, we have continuously pioneered new businesses and now produce a vast range of vessels, including commercial ships, drillships, floating oil production facilities, and specialty ships, such as submarines and destroyers. We are also committed to securing new growth engines by anticipating market trends and enhancing our competitive strengths.
Equipped with top-notch facilities that span roughly 4.9 million square meters in Geoje, including the world's largest 1-million-ton dock and 900-ton Goliath crane, Hanwha Ocean produces high-quality ships and offshore plants. We are also developing green solutions, such as energy-saving devices (ESD) and propulsion technologies that use environmentally friendly fuels. By automating and mechanizing the shipyard, we have improved working conditions and achieved cost savings. In addition, we are working to produce technologies that provide the latest marine and energy infrastructure solutions to our customers with cutting-edge R&D in infrastructure. With our IT-based systematized shipbuilding technology, advanced offshore plant construction capabilities, large-scale plant management capabilities, and expertise in submarine and destroyer construction technology, we offer leading services in the shipbuilding and offshore sectors as a total solutions provider.

While continually expanding our field of business globally since 2000, we have achieved numerous world-firsts: delivering the world's first and only LNG regasification vessel (LNG RV) that supplied natural gas to disaster areas in the aftermath of Hurricane Katrina in the U.S. in 2005; constructing the world's first floating LNG (FLNG) facility in 2016; delivering the world's first LNG carrier with a full regasification system (FRS) in 2018; and delivering 15 icebreaking LNG carriers for Arctic operations in November 2019. Hanwha Ocean also delivered the world's largest 23,000 TEU container ship in 2020, among other accomplishments. These achievements were produced by strong integration and cooperation among our two plants in Korea, an overseas subsidiary, and nine overseas branches, as well as by our expansion in exports to global markets, and improved customer service. Building on this success, as of January 2023, we hold the third-largest backlog of ship orders in the world by Compensated Gross Tonnage (CGT), according to Clarksons Research.

Hanwha Ocean's flagship commercial ship business leads the global market with unrivaled technology. Our LNG carriers are the world's most competitive, thanks to our expertise in LNG-related technology, including a self-developed fuel gas supply system (FGSS) and partial regasification system (PRS). Our LPG carriers, built with eco-friendly and highly efficient technology, have set the industry's global standards for accurate delivery and first-rate technological prowess. With about a 20% share, Hanwha Ocean ranks No. 1 in the world for very large crude carriers (VLCCs) in operation. We have also built special tankers, such as shuttle tankers and oil carriers with differentiated technology. All of our tankers are next-generation eco-friendly vessels, featuring high-efficiency engines and the latest fuel-saving technology, which meet environmental regulations set by the International Maritime Organization (IMO). Since winning an order from Maersk in 2011 for 20 Triple-E class container ships with a capacity of 18,000 TEU, our ongoing technological advancements have given us the competitive edge to lead in the eco-friendly mega-container ship market.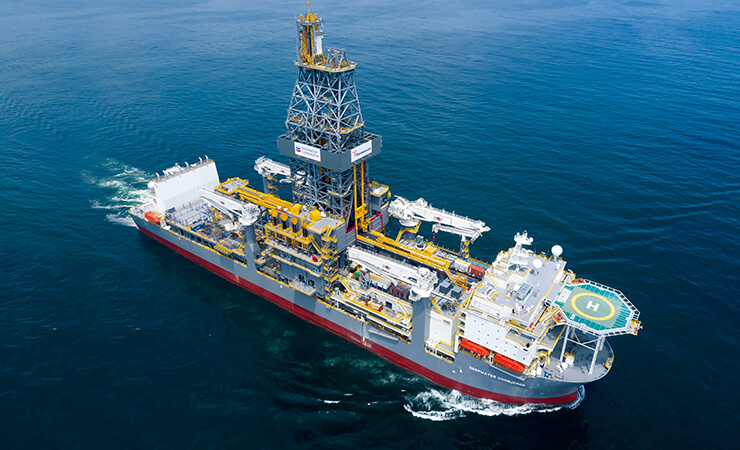 In the field of offshore plants, we specialize in developing and producing advanced facilities and platforms optimized for harsh marine environments by using the best available production systems and facilities. Combining our expertise in LNG production, refining, and transportation, we built and delivered the world's first FLNG facility for Petronas. We provide one-stop solutions for top and bottom structures, including floating production, storage, and offloading (FPSO) and fixed platforms as well as produce cutting-edge drilling equipment for offshore and deep-sea oil exploration, such as drillships and rigs, which open up new possibilities in related industries.
To ensure a dominant position in the fast-growing offshore wind power market, we are actively pursuing the ultra-large wind turbine installation vessel (WTIV) business. In 2022, we secured a WTIV order from Monaco-based Eneti and installed our cutting-edge, eco-friendly technologies, including the self-developed smart ship system (DS4). The vessel has received positive customer feedback and continues to generate interest from those within the industry.

Moving forward, Hanwha Ocean is committed to utilizing advanced technology to provide solutions that will drive change and help the world fight climate change. We will work to usher in a new era for the industry by extending the reach of digital transformation into our shipyards, bringing to life smart yards, and delivering low-and zero-carbon solutions that can power the energy transition. In addition to improving our competitive edge in the LNG carrier business, we will pioneer future markets and help realize carbon neutrality by developing eco-friendly vessels equipped with green ship solutions, such as high manganese steel tanks and rotor sails; creating new types of ships to carry LCO2 (liquified CO2), LH2 (liquified H2), and LNH3 (liquified NH3); developing zero-emission ships; and leading the market for next-generation offshore wind turbine installation vessels. We will also continue to strengthen our core competitiveness by creating autonomous cargo ships that run on smart ship platforms with autonomous navigation, among other innovations. By focusing on eco-friendly and smart digital technology, Hanwha Ocean will deliver new value to its customers and be at the forefront of transforming the ocean and marine energy ecosystem to one that is sustainable for future generations.
For more information, please visit: