Products & Services > Affiliates > Hanwha Precision Machinery
Hanwha Precision Machinery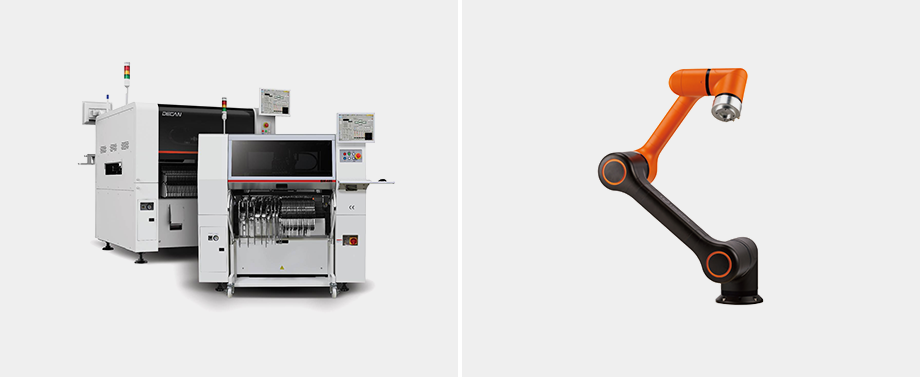 After developing the first chip mounter in 1989, Hanwha Precision Machinery has become a leading worldwide Smart Factory solutions provider, offering Surface Mount Technology (SMT) mounters, semiconductor equipment, insertion and assembly automation equipment, collaborative robots, industrial automation equipment, and integrated software solutions.
We have two primary product lines. Since launching in 2013, our SM series has continuously evolved. It boasts the best performance in its class and is our bestselling product line. In 2017, it achieved the No. 1 market share in the global medium-speed chip mounter market. Our new flagship product line, the DECAN series, is a high-speed mounter that can claim to be the world's only modular conveyor system where key components can be replaced.
Hanwha Precision Machinery's T-Solution is a comprehensive SMT production line solution designed for Smart Factories. It connects all assets in a production line and utilizes Big Data analysis to provide seamless operations, better quality control, and the ability to operate remotely. T-Solution, recently launched, embodies the principles of Industry 4.0 in terms of interoperability, connectivity, and autonomy. It yields higher production efficiencies, greater installation accuracies, zero defects, and lower maintenance costs.
Leveraging our unmanned automation technology and experience, we launched South Korea's first collaborative robot in April 2017. Robots that can perform basic tasks and supplementary work enable us to maximize efficiencies in many industries, including automotive, electronics, food, and medicine.
Our solutions that include the T-Solution, SMT mounters, and collaborative robots, are just some of our products that represent our commitment to innovate continuously and our ability to overcome the toughest challenges. We do this to develop customer-oriented solutions that deliver greater efficiency, versatility, and value. We do this because ultimately, as partners, when our customers succeed, we succeed.
For more information, please visit: