Products & Services > Affiliates > Hanwha Precision Machinery
Hanwha Precision Machinery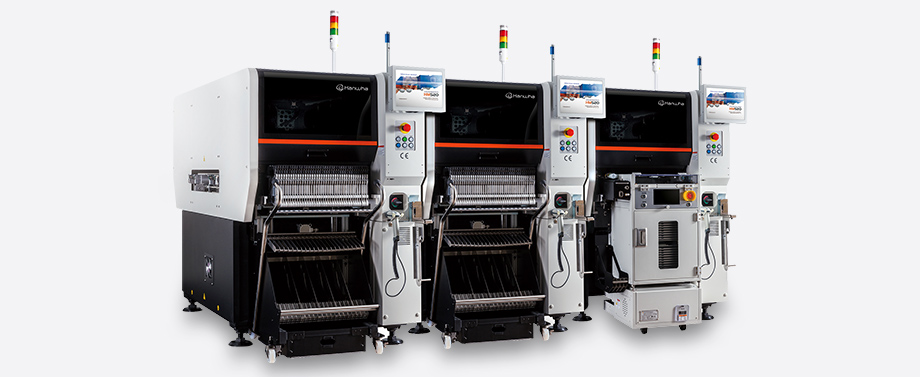 Hanwha Precision Machinery is a Smart Factory total solutions company driving the development of the next-generation products in the manufacturing industry. We are leveraging our subject-matter expertise built over the years and continuously innovating to provide a comprehensive portfolio of products to deliver meaningful customer value.
After developing the first chip mounter in 1989, Hanwha Precision Machinery has become a leading worldwide Smart Factory solutions provider, offering Surface Mount Technology (SMT) mounters, semiconductor equipment, insertion and assembly automation equipment, machine tools, collaborative robots, industrial automation equipment, and integrated software solutions.
After launching in 2013, our flagship DECAN series has continuously evolved. It is now a high-speed mounter that is arguably the world's only modular conveyor system whose key components can be replaced. The SM Series is our bestselling product line with best-in-class performance. In addition, our newly developed high-speed mounter HM520 boasts world-class productivity and is recognized by global customers for its modular head and various production modes.
Hanwha Precision machinery's T-Solution is a comprehensive SMT production line solution designed for Smart Factories. It connects all assets in a production line and utilizes Big Data analysis to provide seamless operations, better quality control, and the ability to operate remotely. T-Solution, recently launched, embodies the principles of Industry 4.0 in terms of interoperability, connectivity, and autonomy. It yields higher production efficiencies, greater installation accuracies, zero defects, and lower maintenance costs.
We've been in the machinery business for over 50 years and, in that time, continuously built up our expertise and improved our technology. Our success can be seen in our machine tools business that commands a technical advantage in the market by producing South Korea's first multitasking automatic lathes and turret-type lathes. Our machine tools are custom built to meet customer feature requirements and production lines – they've allowed us to capture the largest market share in CNC automatic lathes in South Korea.
Leveraging our unmanned automation technology and experience, we launched South Korea's first collaborative robot in April 2017. Robots that can perform basic tasks and supplementary work enable us to maximize efficiencies in many industries, including automotive, electronics, food, and medicine.
Our solutions that include the SMT mounters, machine tools, and collaborative robots, are just some of our products that represent our commitment to innovation and our ability to overcome the toughest of challenges. We do this to develop customer-oriented solutions that deliver greater efficiency, versatility, and value. We do this because ultimately, as partners, when our customers succeed, we succeed.
For more information, please visit: