Products & Services > Affiliates > Hanwha Advanced Materials
Hanwha Advanced Materials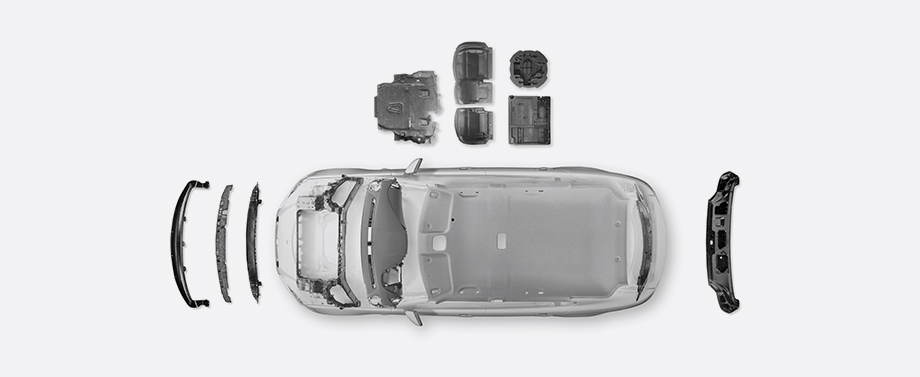 Founded in 1965, Hanwha Advanced Materials' vision is "A high-tech materials company that protects the values of humanity and the environment." To achieve this vision, we're developing an innovative line of products and technologies that are more environmentally conscious while catering to the needs of our customers around the world. We produce lightweight composite materials and thermoformable components for automobiles, highly efficient advanced film for solar energy, and high-performance coating films for mobile phones and display. We have also developed local production plants and R&D centers in South Korea, the US, Europe, and China. Our global sales continue to rise.
Since entering the automotive materials business in 1986, we have launched a diverse portfolio of products for automobile structures and interiors. We now leverage original technologies to build high-strength, super-lightweight materials and automotive parts. Among the materials we produce are: StrongLite—Glass fiber Mat-reinforced Thermoplastic (GMT) and SuperLiteLight—Weight Reinforced Thermoplastic (LWRT). They've captured the highest market shares globally, in their respective categories. We are a major supplier to global automakers including Hyundai, Kia, BMW, Daimler, Volkswagen, GM, Ford, and Toyota. As a global supplier, we have manufacturing factories in Alabama and Virginia in the US, Beijing, Shanghai, and Chongqing in China, the Czech Republic and Germany in Europe, and in Mexico where the largest number of cars are produced for North America. By relying on our 10 production sites around the world, we can anticipate the needs of global automakers for parts standardization and global sourcing.
In 2015, we launched the Lightweight Composite Materials R&D Center that will help our R&D to be more globally competitive and help us to lead the global trend toward lighter parts. Our research focuses on thermoplastic for automobiles, thermosetting composite materials, and on designing and developing new applications. We also develop new materials and manufacturing methods, offering improved functionality and innovative plastic hybrids that enable the latest technologies in the market. We are actively tracking paradigm shifts in the automotive market, as represented by smart cars and electric vehicles. While keeping up with the rapidly expanding electric vehicle market in China, we are also exploring sales opportunities for battery cases in electric vehicles.
We offer products built with in-house technologies we've been refining for sheet manufacturing for the last 30 years. In 2010, we succeeded in developing and mass-producing EVA sheets and back sheets used in photovoltaic modules. We operate a plant for 7.5GW EVA sheets and 2.5GW back sheets in South Korea but we're expanding the business to Europe, America, and Southeast Asia.
We are especially competitive in the high functional film market. Currently, we produce electronic circuits such as coverlay film (insulation film), Flexible Copper Clad Laminate (FCCL), bonding sheet (adhesive sheet), and Electro-Magnetic (EMI) shielding film. Our flagship FCCL LinkTron is used as a key component material for precision electronic products such as smartphones and tablet PCs. We are now expanding into manufacturing circuit materials used in automotive electronics.
For more information, please visit: