Products & Services > Affiliates > Hanwha Solutions
Hanwha Solutions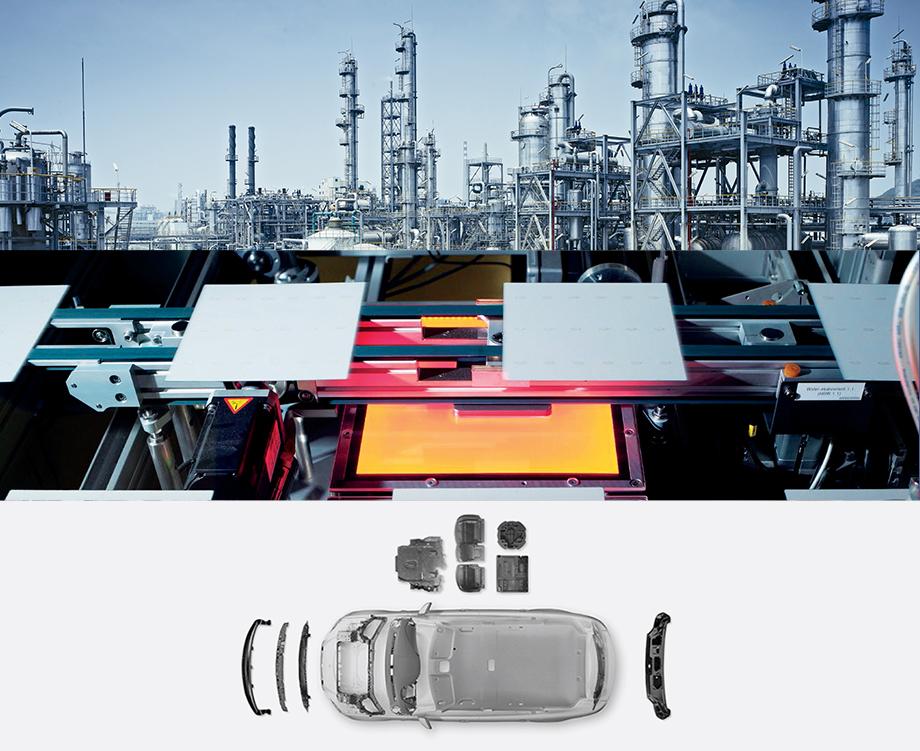 Hanwha Solutions provides a range of solutions in various fields through differentiated technology and innovation. We are growing as a global leader in responding to climate change with smart eco-friendly energy solutions and customer-focused materials. We are committed to enriching the future with sustainable solutions for all.
Established in 1965, Chemical Division is a total solutions chemical company with streamlined production systems to offer Polyolefin (PO), Polyethylene (PE), Polyvinyl Chloride (PVC), Chlor-Alkali (CA), and Toluene Diisocyanate (TDI). And as South Korea's leading petrochemical company, we dominate the nation's chemical industry with high-quality and eco-friendly products that we offer at competitive prices.
In 2003, we successfully commercialized high-density ethylene vinyl acetate (EVA) for the first time in South Korea. Just four years later, we localized the production of chlorinated polyvinyl chloride (CPVC), enhancing the quality of our PVC. We obtained the New Technology Certification from the Korean Agency for Technology and Standards. And starting in 2017, we have been producing up to 30,000 tons of CPVC annually. We also expanded our line of specialty products. In 2019, our entry into the high-quality adhesives market was led with the construction of a plant and its commercial production. This new plant could produce up to 50,000 tons of dicyclopentadiene (DCPD) hydrogenated petroleum resins annually. Hanwha partnered with three universities to set up centers such as the Institute of Chemical Process at Seoul National University, Yonsei-Hanwha Chemical Innovation Technology Center, and the KAIST-Hanwha Chemical Future Technology Research Center. It was a significant step forward in our commitment to make quality a top quality while accelerating the pace of innovation to develop high-value-added and eco-friendly products.
We continue to improve production efficiency and cost competitiveness while meeting the growing demand for our products around the world. Our PVC plant, completed in 2011 in Ningbo city of China's Zhejiang province, was built to produce up to 360,000 tons of PVC annually. Today, with continuous improvements in the production process, the plant is producing 350,000 tons of PVC each year. In Bang Phli, Thailand, we built an alkali soluble resin plant with an annual capacity of 17,000 tons. This facility serves as an important base of operations as we enter other markets in Southeast Asia.
Hanwha Solutions was the first South Korean petrochemical company to tap into new business opportunities in the Middle East. We signed joint venture contracts with International Polymers Company, a private petrochemical company in Saudi Arabia, and Gulf Advanced Cable Insulation Company back in 2009. Then in 2015, we achieved cost reductions and economies of scale as our joint venture with International Polymers began to produce EVA and LDPE. With Gulf Advanced Cable Insulation, we produced wire and cable compounds.
In 2016, through a strategic acquisition of Hanwha Fine Chemical company, we were able to achieve maximum synergy in production processing of CA and vinyl chloride monomer (VCM) while enhancing our production efficiencies with TDI, a raw material for polyurethane products.
Our facilities at our Chemical Division deploy advanced technologies that produce high-value-added products, such as ECO-DEHCH, an eco-friendly premium plasticizer, while developing South Korea's first localization of high-purity xylyl diisocyanate (XDI), a raw material for high-end optical lenses. We are also developing a circular economy system, in which decomposed plastic waste can be recycled into naphtha, the raw material for petrochemical products. They represent our commitment to a better environment for a better future. In addition, we established the Hydrogen Technology R&D Center to secure core technologies for responding to climate change and advancing the net zero initiative. Through collaborative efforts with research institutes at home and abroad, we are focused on developing commercial-hydrogen production via anion-exchange-membrane (AEM) electrolysis. We are now poised to become a leading global company in the hydrogen energy market. They represent our commitment to a better environment for a better future.
Q CELLS Division is a total energy solution provider worldwide. Our business scope ranges from the midstream of cells and modules to downstream solar solutions for residential, commercial and industrial buildings, and large solar power plants. We are already a global leader but with our expertise and strategy optimized for worldwide energy market trends and policies, we're poised for greater growth.
Since our foray into the solar energy business in 2010, the Hanwha has transformed its Q CELLS Division into the world's leading producer of solar modules. Q CELLS Division has a total capacity 12.4GW as of the end of 2021 and its current production network spans across China, Malaysia, South Korea, and the US. Bolstered by strong revenue and driven to stay ahead of the growing worldwide demand, we're continuing to invest in R&D and manufacturing innovations. Our Malaysia plant alone was able to produce more than 1GW of Q.ANTUM cells annually in 2015, the first of its kind in the industry. In Q1 2019, we penetrated the US market and began our acceleration to expand across the country starting with the construction of a 1.7GW capacity solar module plant in the state of Georgia.
Our Q.ANTUM technology is based on PERC cell technology, providing mono-crystalline efficiency for multicrystalline module cells. The multicrystalline Q.ANTUM module, Q.PLUS, won the Module Manufacturing Innovation award at Solar Industry Awards 2015 in Hamburg, Germany. For two consecutive years, Q CELLS Division has won the Intersolar Award in the Photovoltaics from Intersolar, the most prestigious solar energy conference and exhibition in Europe. In 2017, our Q. PEAK RSF L-G4.2 steel-frame module also won in the Photovoltaics category. The following year, in June 2018, our Q.PEAK DUO-G5 solar module also won in the Photovoltaics category, earning high praise for its 120 half-cell, six-bus bar monocrystalline module that the Intersolar jury panel called "the new standard for residential and commercial rooftops." Q CELLS Division was selected as one of the best PV manufacturers by local installers, winning the Top Brand PV Seal 2020 from EuPD Research for the eighth time in a row in Europe and for the sixth time in Australia.
Our technology infrastructure enables differentiated technology innovations. Our R&D headquarter is located in Thalheim, Germany and our R&D network is located across China, Malaysia, and South Korea. Our R&D centers all receive Hanwha's continuous support and investments to develop solar technology, including Anti-LID, Anti-LeTID, Tra.Q, and more.
By employing our cutting-edge technology and economies of scale, Q CELLS Division has been able to take advantage of the growing demand for solar power around the world. We have been able to offer higher quality products at competitive prices. In 2014, we entered the rooftop solar power equipment market in Japan and Europe and large-scale power plant markets in the US, Thailand, Chile, and Latin America. In the same year, we secured a series of large solar projects across Europe—in the UK, France, and other countries. In 2015, we partnered with US-based NextEra Energy to manufacture 1.5GW of modules, accelerating our entry into one of the world's largest solar markets. We also capture the biggest market shares across the US (residential and commercial markets), Germany, the UK, and Japan.
Q CELLS Division has been recognized for its business capabilities, original technology, strategic investments, and job creation in South Korea. We were awarded the Presidential Award at the 16th Annual Korea New Growth Management Award event in 2019.
Founded in 1965, our Advanced Materials Division has developed an innovative line of environmentally-conscious products and technologies that meet the needs of our customers around the world. We developed local production plants and R&D centers in South Korea, the US, Europe, and China. Our global sales continue to rise.
Since entering the automotive materials business in 1986, we have launched a diverse portfolio of products for automobile structures and interiors. We now leverage original technologies to build high-strength, super-lightweight materials and parts. Among the materials we produce are: StrongLite—Glass fiber Mat-reinforced Thermoplastic (GMT), SuperLite—Low Weight Reinforced Thermoplastic (LWRT), Expanded Polypropylene (EPP), Sheet Molding Compound (SMC), Long Fiber Reinforced Thermoplastics (LFT), Continuous Fiber Reinforced Thermoplastics (CFRTPC), and Ultra-High-Pressure Hydrogen Tanks. Advanced Materials Division's StrongLite and SuperLite materials captured the highest market shares globally, in their respective categories.
Currently, there is a global trend toward lightweight automotive parts. Advanced Materials Division anticipated this and it's why we had strengthened our investments in R&D years ago so that we could lead in the changing industry. We have been focusing our research on thermoplastic, thermosetting composite materials, and on designing and developing new applications. We've also been developing new materials and manufacturing methods, offering improved functionality and innovative plastic hybrids that represent the latest technologies in the market. We are actively tracking paradigm shifts in the automotive market, evident in the emergence of smart cars and electric vehicles. While keeping pace with this rapidly expanding electric vehicle market, we are exploring opportunities for manufacturing battery cases for electric vehicles. We've helped to commercialize our hydrogen fuel cell technology by developing a hydrogen tank that uses an ultra-light composite material made of carbon fiber wrapped in high-strength plastic liner. In addition, we are accelerating the expansion of our green hydrogen business through the acquisition of Cimarron, a US startup that possesses the world's best high-pressure tank technology. We are also developing future mobility markets, such as eco-friendly automotive vehicles, hydrogen-powered ships, personal air vehicles (PAVs), and aerospace.
We are especially competitive in the high functional film market. Currently, we produce components for Flexible Printed Circuit Boards (FPCB) such as coverlay film (insulation film), 3-layer Flexible Copper Clad Laminate (FCCL), bonding sheet (adhesive sheet), and Electro-Magnetic (EMI) shielding film. Furthermore, we are actively responding to the 5G market by successfully developing ion-resistant materials for microcircuit patterns, such as low dielectric materials and OLED displays. And we are expanding into manufacturing materials used in automotive electronics and electronic battery sensors for electric vehicles.
For more information, please visit:
Related Affiliates
Hanwha's businesses span chemicals & materials, aerospace & mechatronics, solar energy, finance,
leisure & lifestyle, and construction. Through the integration of our growing number of affiliate enterprises worldwide, we are harnessing the power of sustainable, quality growth to continually increase the value we bring to our customers.