Hanwha Solutions
Hanwha Solutions provides a range of solutions in several fields through differentiated technology and innovation. We are growing as a global leader by responding to climate change with smart eco–friendly energy solutions and customer–focused materials. We are committed to enriching the future with sustainable solutions for all.
Chemicals

Established in 1965, Chemical Division is a total solutions chemical company with streamlined production systems that offer Polyolefin (PO), Polyvinyl Chloride (PVC), Chlor–Alkali (CA) and Toluene Diisocyanate (TDI). As South Korea's leading petrochemical company, we dominate the nation's industry with high–quality PVC, CA and linear low–density polyethylene (LLDPE) that we offer at competitive prices. We are growing into a global green company by increasing product value, enhancing cost competitiveness and developing eco–friendly products.

In the PO business, we succeeded in producing LPDE for the first time in South Korea in 1972, and once again, in 1985, we were the nation's first to start producing high– density ethylene vinyl acetate (EVA) and developed the nation's first wire and cable resin for power transmissions and distribution cables. We now produce adhesives for hygiene products and hydrogenated hydrocarbon resins.

Beginning with South Korea's first successful PVC production in 1966, our PVC business localized production of chlorinated polyvinyl chloride (CPVC) in 2016, improving the quality of our PVC. In 2014, we developed ECO–DEHCH, a premium eco–friendly plasticizer, another first in the nation. We are moving to expand our CA business in the global market while holding South Korea's No. 1 market share in producing chlorine and caustic soda. In the TDI business, we are increasing global competitiveness in the polyurethane business by localizing high–purity XDI, a raw material used for high–refractive lenses, as we were the second to develop the technology. We obtained three New Technology Certifications from the Korean Agency for Technology Standards for CPVC, ECO–DEHCH and XDI.

We continue to improve production efficiency and cost competitiveness while meeting growing demand for our products around the world with production bases in China, Thailand and Saudi Arabia. Our PVC plant, completed in 2011 in Ningbo city in China's Zhejiang province, is producing 360,000 tons of PVC each year with continuous improvements in the production process. In Bang Phli, Thailand, we built an alkali soluble resin plant with an annual production capacity of 17,000 tons. This facility serves as an important operational base as we expand into other Southeast Asia markets. In 2009, we signed a joint venture contract with International Polymers Company (IPC) a private petrochemical company in Saudi Arabia. In 2015, we achieved cost reductions and economies of scale as our joint venture with International Polymers Company (IPC) began to produce EVA and LDPE.

At the same time, our R&D Center is focusing on strengthening the competitiveness of existing businesses and advancing into new technologies. We partnered with three universities to set up research centers, including the Institute of Chemical Processes at Seoul National University, Yonsei–Hanwha Chemical Innovation Technology Center and the KAIST–Hanwha Chemical Future Technology Research Center. This significantly supported our commitment to top quality while accelerating the pace of innovation in developing high value–added and eco–friendly products.

In addition, we are building a plant to produce high–purity cresol using our proprietary eco–friendly process and adsorption technology for gas separation. The plant is slated to begin operating in 2023. We plan to increase value in the industry by developing high–performance super engineering plastics such as PEKK (polyetherketoneketone) and specialty phthalic anhydride, which are used in carbon fiber composites for the aerospace industry, implants for the human body and high– performance small electronics components.

We are moving toward a circular economy system so decomposed plastic wastes can be recycled into naphtha, the raw material for petrochemical products, through carbon dioxide conversion. Our rPE material, made from recycled polyethylene sourced from waste plastic, has earned GRS certification, demonstrating our commitment to eco-friendly materials. This is part of our commitment to building a better environment for a better future. We established the Hydrogen Technology R&D Center to secure core technologies to respond to climate change and advance the net zero initiative. Through collaborative efforts with research institutes at home and abroad, we are focused on developing commercial–hydrogen production via water electrolysis. We are now poised to become a leading global company in the hydrogen energy market.

We've also helped to commercialize our hydrogen fuel cell technology by developing a hydrogen tank that uses an ultra–light composite material made of carbon fiber wrapped in high–strength plastic liner. Our specialized lightweight composite material technology offers manufacturing advantages, from small hydrogen tanks for drones to extra–large ones for hydrogen transportation and storage. In addition, we are accelerating expansion of our green hydrogen business through the acquisition of Cimarron, a US startup that possesses the world's best high–pressure tank technology.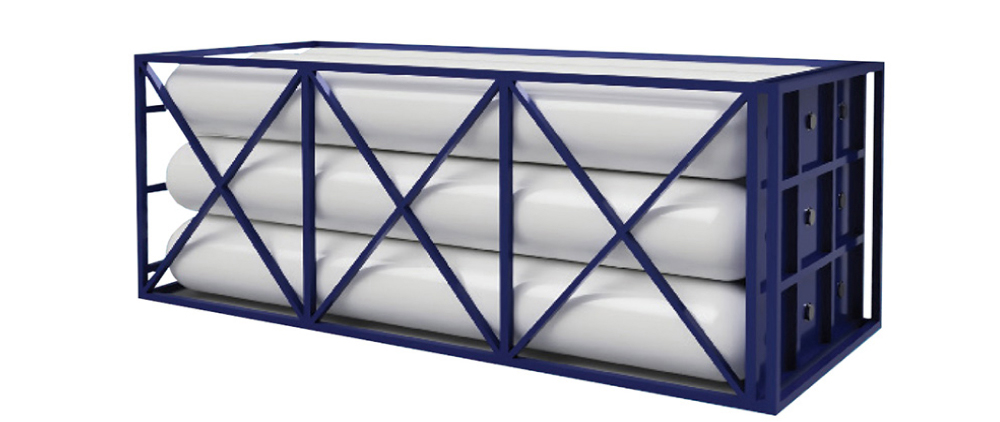 Chemical Division is strategically providing materials and solutions to help solve the issues we face today. We aim to build a diversified and sustainable business structure to work toward this goal. While sharpening competitiveness by advancing the petrochemical business, we will actively respond to paradigm shifts, such as the move toward carbon neutrality, as we develop next–generation new businesses for energy storage and efficiency as well as electrical, electronics and functional materials.
Qcells

Qcells Division is a complete energy solutions provider worldwide. With cutting-edge technology and excellent quality, we are leading the global solar industry by providing the midstream of cells and modules to downstream solar solutions through ESS (Energy Storage System), power plants and energy retail. We operate manufacturing facilities in China, Malaysia, South Korea and the US. Our R&D headquarters is located in Thalheim, Germany and our R&D networks across China, Malaysia and South Korea collaborate to lead solar technology worldwide.

We are expanding cell and module plants at home and abroad. As of 2022, our annual cell production capacity is 10 GW and module production capacity is 12.4 GW. In the US, our large-scale expansion investments will result in a total module capacity of 8.4 GW by the end of 2023, giving us the largest capacity for silicon cell-based modules in North America. Electricity generated by that capacity will be able to power about 1.3 million homes for a year.

Our US solar production line will utilize polysilicon sourced from REC Silicon, a Norway–based US clean polysilicon manufacturer acquired by Hanwha Solutions. Beginning in 2024, our new plant will be fully operational, making us the only company in North America with a complete five-stage value chain production line that spans polysilicon to finished modules.
Q Energy

An experienced partner to clients across the value chain of renewable energy downstream projects, Q ENERGY Division provides holistic green energy solutions for renewable power plants in Europe. Headquartered in Berlin, Germany, Q ENERGY Division is comprised of the holding company Q ENERGY Solutions SE and two subsidiaries, Q ENERGY Europe GmbH (Berlin) and Q ENERGY France SAS (Avignon).

We offer more than 20 years of experience and more than 2 GW of successfully completed renewable energy assets. We operate an active development pipeline of approximately 14 GW of green energy projects in Spain, Portugal, France, Germany, the Netherlands, Italy, and the UK. Our portfolio covers photovoltaic and onshore and offshore wind power as well as large-scale energy storage projects. We are also planning green hydrogen projects. We provide expertise along the entire value chain of green energy projects: from green-field development, engineering, procurement, and construction (EPC) to operations and maintenance (O&M) and creating value for green energy investors to operating as an independent power producer (IPP).

To help propel Hanwha's growth, we combine the strength of a global player with the reliability of a trusted local partner. We aim to create value for communities and landowners, project developers and green energy professionals, investors and off-takers as well as for our employees and society.
Insight

Since it was established in 2001, Hanwha Solutions Insight Division has been recognized as the leading private developer of high–tech industrial complexes. By merging into Hanwha Solutions in 2021, we set a new foundation for enhancing business competencies and maximizing management efficiency. In January 2022, we renamed our division Insight Division from the City Development Division, while integrating Qcells Division's Korea Green Energy Solution business and Hanwha Galleria's premium lifestyle business. After reorganization, we are currently providing differentiated solutions through comprehensive development and financing for projects such as cities, smart green industrial complexes, renewable energy, premium real estate and premium content.

By leveraging the experience and knowledge gained from developing high–tech industrial complexes, the City Development Business offers regional development models that provide forward–looking convergence and helps to revitalize local economies. With our success in Daedeok Techno Valley, additional projects followed, such as the Asan Techno Valley project, the Seosan Techno Valley project, the Gimhae Techno Valley project, the Gyeonggi Hwaseong Bio Valley project and Yongin Techno Valley. We are now following up with projects such as Anseong Techno Valley, Seoochang Techno Valley, a 2nd Yongin Techno Valley as well as Hwaseong H– Techno Valley, Ulsan KTX Station Area Complex, Changwon Pungho–Jangcheon Urban Development and Anseong Smart Logistics Center Development. We will continue to develop large–scale complexes that contribute to local economies by improving the industrial environment, attracting companies and creating jobs.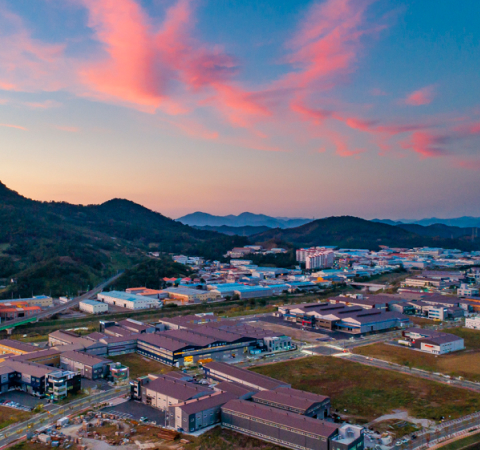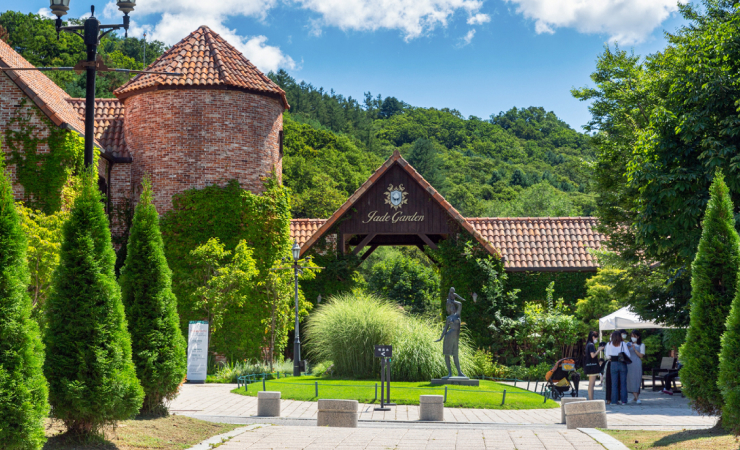 With the nation's highest EPC (Engineering · Procurement · Construction) capabilities, our Energy Solution business presents an eco–friendly total energy solution that develops, invests in and constructs solar power while helping to achieve the goals of RE100, a nonprofit global renewable energy initiative. We are growing into South Korea's No. 1 energy supplier with utility–level EPC business, such as the nation's largest scale Hapcheon floating solar power plant, Goheung floating solar power plants, Taean Anmyeon Clean Energy as well as domestic salt farm parallel solar power system development. We will contribute to achieving RE100 and revitalizing local economies by developing business models that include local residents.

In the Premium Lifestyle business, we are an integrated developer that plans, develops and operates a luxury lifestyle platform focused on premium residential and recreational facilities. After acquiring the transfer of business rights from Hanwha Hotels & Resorts in 2022, we have begun the process of renewing Jade Palace, the prestigious membership golf clubs in Chuncheon and Jade Garden. We are also developing a nearby private villa complex. In addition, we are promoting various kinds of premium development projects, such as vacation homes, private villas and residences in downtown areas and resorts at home and abroad, including luxury condos in Niseko, Japan's well–known ski resort, scheduled to open in 2023.

Moving forward, the Insight Division will focus capabilities on ongoing projects for urban development, the Energy Solution salt farm parallel solar power development and Niseko condos and Jade Villas. We plan to continually discover new businesses to secure mid– to long–term growth engines.
For more information, please visit:
Related Affiliates
Hanwha's businesses span aerospace , ocean & mechatronics, materials, green energy, finance, retail & services. Through the integration of our growing number of affiliate enterprises worldwide, we are harnessing the power of sustainable, quality growth to continually increase the value we bring to our customers.