Products & Services > Affiliates > Yeochun NCC
YEOCHUN NCC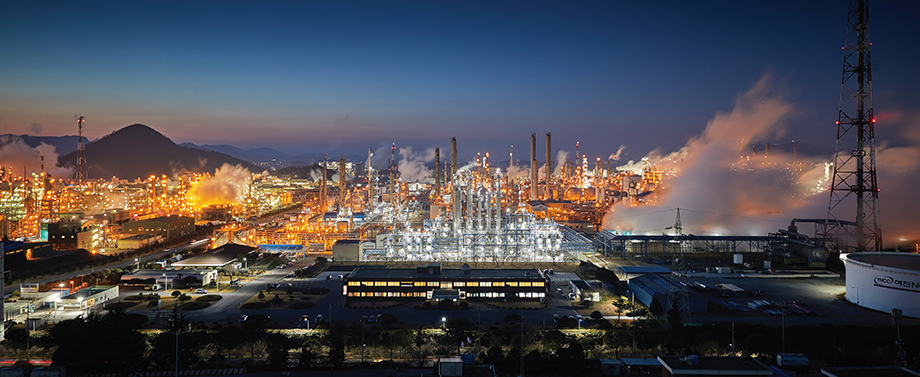 YEOCHUN NCC produces high-purity petrochemical base materials. We are enhancing customer value with our advanced production facilities, cutting-edge technology, and domain expertise.
YEOCHUN NCC operates the world's leading naphtha-cracking facility in the Yeosu National Industrial Complex. The facility was built in 1999 and is located on the southern tip of the Korean Peninsula. YEOCHUN NCC represents a fifty-fifty joint venture between Hanwha and Daelim, two South Korean conglomerates that own naphtha-cracking facilities. The facility annually produces 2.29 million tons of ethylene, 1.28 million tons of propylene, and 6.20 million tons of various petrochemical base materials, including benzene, toluene, xylene, styrene monomer, and butadiene.
With fully automated and optimized processes producing high-purity feedstocks, this state-of-the-art facility gives Hanwha affiliates a competitive edge to produce high-quality downstream petrochemical products.
Although our production facilities are already technologically advanced with large-scale production capacities, we're continuing to make improvements. We attribute our improvements and growth each year to loyal customers, the use of a sophisticated management system, and sound financial structure. Additionally, our professional and highly skilled employees effectively combine industry expertise with cutting-edge technology, truly making our workforce a key differentiator.
Supported by steady flow of investments, product specialization, facility expansion, and business focus, we're one of the top Naphtha Cracking Center (NCC) companies in the world backed by a steady stream of investments and continuing to expand our footprint. We are, however, focused and as we continue efforts to improve our capabilities, our expansion will take us across the globe.
For more information, please visit:
Related Affiliates
Hanwha's businesses span chemicals & materials, aerospace & mechatronics, solar energy, finance,
leisure & lifestyle, and construction. Through the integration of our growing number of affiliate enterprises worldwide, we are harnessing the power of sustainable, quality growth to continually increase the value we bring to our customers.