Chairman Seung Youn Kim Met Former President
of The Heritage Foundation Edwin J. Feulner, Jr.
- Discussed issues in international politics including the U.S. presidential election and bilateral economic issues as part of a non-governmental interchange
- Explained about Bismayah New City Development Project of Hanwha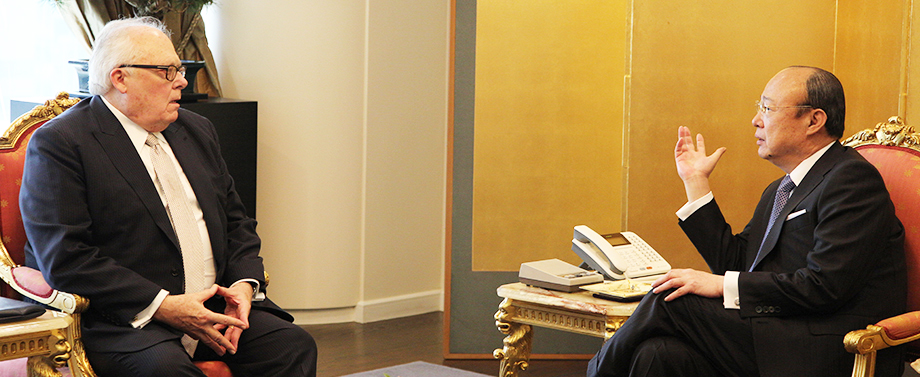 [05 February, 2016] Hanwha Group Chairman Seung Youn Kim met Chairman of the Asian Studies Center of The Heritage Foundation (former president of The Heritage Foundation) Edwin J. Feulner, Jr. at the Group headquarters on February 4 to discuss an array of issues, including Korea-U.S. economic relations, prospects on the U.S. presidential election, the current situation on the Korean Peninsula as well as Hanwha Group's key businesses, as part of his efforts to pursue non-governmental diplomacy.
Chairman Feulner displayed particular interest in the Bismayah New City Project (BNCP) in Iraq, the first and the biggest city development project throughout the history of Iraq through which Hanwha will build 100,000 residential units on a total area of 1,830 hectare. Chairman Kim remarked, "BNCP is progressing safer and more smoothly than at any other site. Besides apartment complexes, we have been building urban infrastructure, including shopping centers, since early 2015."
Chairman Kim and Chairman Feulner, former president of The Heritage Foundation, have maintained
a strong bond that has lasted decades, especially through dialogue on Korea-U.S. relations and the international economic and political orders as well as cooperation in non-governmental interchanges.
Founded in 1973, The Heritage Foundation is one of the most influential conservative think tanks in the United States, developing policies on politics, economy, foreign affairs, and national security. As the foundation's former president, Chairman Feulner is considered one of the most prominent power elites who have influence on America's political circle.
In 2011, to thank Chairman Kim for his contribution to bilateral non-governmental diplomacy, the foundation named the conference center on the 2nd floor of the Heritage Foundation Pennsylvania Avenue Building in Washington, D.C., the "Kim Seung Youn Conference Center."

Hanwha Group
Hanwha Group, founded in 1952, is one of the Top-Ten business enterprises in South Korea
and a "FORTUNE Global 500" company. Hanwha Group has 56 domestic affiliates and 226 global networks in three major sectors: manufacturing and construction, finance, and services and leisure.
With more than 60 years track record of industrial leadership, Hanwha's manufacturing and construction businesses encompass a broad range of fields from chemicals & materials, aerospace & mechatronics, total solar energy solutions, and global construction. The finance network, covering insurance, asset management and securities, is the second largest non-bank financial group in South Korea. The services and leisure sector offers premium lifestyle services with retail and resort businesses.

For more information, visit: www.hanwha.com