Hanwha Advanced Materials Wins Electric Car Parts Order from SAIC Volkswagen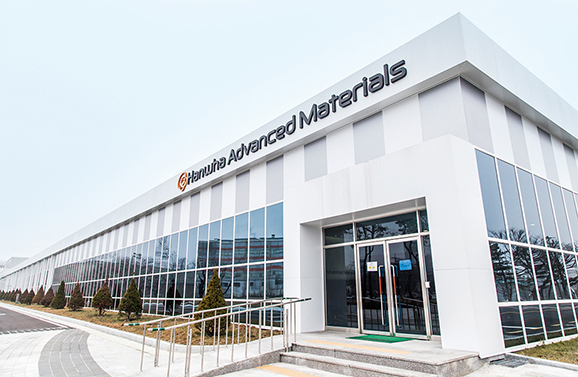 [June 16, 2017] Amidst the shifting paradigm in the automotive industry, Hanwha Advanced Materials has come into the spotlight having moved aggressively into the future car market of smart cars and electric vehicles.
The company has already been producing battery cases to LG Electronics since last October. Hanwha has optimized sheet molding compounds (SMCs) to better protect the battery pack in the event of an impact from a collision. These batteries protected with Hanwha's battery cases are being supplied to the Chevy Bolt, GM's next-generation all-electric vehicle. Now, the Shanghai subsidiary of Hanwha Advanced Materials has won the contract to supply battery cases for the E-Lavida, an all-electric vehicle to be mass-produced starting in the second half of next year by SAIC Volkswagen Automotive Co., Ltd. SAIC Volkswagen Automotive Co. is a joint venture between SAIC Motor Corporation Limited and Volkswagen. The deal is indeed timely in that the growth of the Chinese e-vehicle market is picking up pace.
Hanwha Advanced Materials' SMC-based Battery Case
In 2011, Hanwha Advanced Materials heavily invested in research and development on battery cases for electric vehicles using SMC. In 2015, the company succeeded in developing an SMC with excellent dimensional stability, watertight property and improved mechanical behavior, making it the ideal material for mass-producible battery cases for electric vehicles. SMC is a thermoset resin impregnated with glass fiber. It is, therefore, outstanding in strength, resistant to scratches, protected from damage, and possesses electrical insulation. The material also has superb plasticity making it an easy compound to work with to build automotive parts.
E-Lavida is a sedan specifically targeting the Chinese market. It is an all-electric vehicle powered by a lithium-ion battery. When fully charged, it has a range of about 200 kilometers.
Hanwha Advanced Materials' Shanghai subsidiary is producing the battery cases for 66,000 E-Lavidas every year, starting August of 2018.
Additionally, Hanwha Advanced Materials is aggressively engaging in activities to win more orders to expand its supply of the e-vehicle battery case to global joint-ventures based in China (GM and BMW) and keep pace with the growing e-vehicle market in the country.
Hanwha Advanced Materials
Founded in 1965, Hanwha Advanced Materials is operating businesses in areas of lightweight composite materials & molded parts for automobiles, high-functional films for mobile display, and high-efficiency film materials for solar power plants. Our company vision also defines: "A high-tech materials company that protects the values of humanity and the environment." With our innovative line of products and technologies, we have built local production and R&D networks in South Korea, the US, Europe, and China. Our sales in global markets continue to rise.

For more information, visit: www.hwam.co.kr/en/index.do
Hanwha Group
Hanwha Group, founded in 1952, is one of the Top-Ten business enterprises in South Korea
and a "FORTUNE Global 500" company. Hanwha Group has 56 domestic affiliates and 226 global networks in three major sectors: manufacturing and construction, finance, and services and leisure.
With more than 60 years track record of industrial leadership, Hanwha's manufacturing and construction businesses encompass a broad range of fields from chemicals & materials, aerospace & mechatronics, total solar energy solutions, and global construction. The finance network, covering insurance, asset management and securities, is the second largest non-bank financial group in South Korea. The services and leisure sector offers premium lifestyle services with retail and resort businesses.

For more information, visit: www.hanwha.com