People at Hanwha

Jin Haihua
Hanwha Chemical (Ningbo) Co.,LtdManagement Support Team
My corporate life is driven
by the observance of
our spirit – trust and loyalty
Hanwha Chemical Ningbo is a key facility for Hanwha's chemical business that produces up to 350,000 tons of polyvinyl chloride (PVC) every year. PVC today is an indispensable synthetic plastic polymer, used in applications such as household appliances, and building and construction.
As the Administrative Manager of the Management Support Team at Hanwha Chemical Ningbo, Jin Haihua has a very important job. Responsible for the welfare and safety of the hundreds of employees working at the facility, she works on looking after everything from employee housing and staff cafeteria to facility security and safety at the workplace - the job of keeping the employees happy, safe and productive.

Jin first moved to Ningbo city to work at Hanwha Chemical Ningbo about 10 years ago. On her very first day, she was told that her job would not be as easy as most people think that it would be. Looking after the most important asset of the facility – the people – is a challenging task that requires a delicate balance of adhering to the rules and compassion for people's emotions.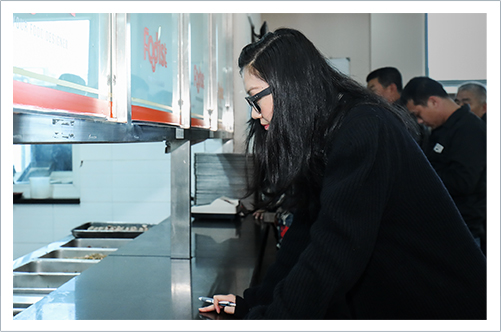 When faced with challenges, Jin has done a great job in sticking to her work principles. Guided by Hanwha's spirit of trust and loyalty, she is methodical in resolving any difficult situations. When she faces a particularly tough situation, she also remains calm under pressure. She prioritizes what the important tasks are at hand, formulates the best solutions and puts them into action.
The proof is in the pudding as they say. Adopting an innovative integrated management model, Jin and her department has achieved numerous successes internally. In 2015, Hanwha Chemical Ningbo's Sunshine cafeteria was selected as an exemplary staff cafeteria. Her department was also selected as the pilot department and advanced group for public order and security affairs in 2017.
Jin is very proud to have worked for over a decade at Hanwha because she feels that despite being a Global Fortune 500 company, it still retains a family-like environment in its corporate culture. She plans to continue to do well in her role to support the employees of Hanwha Chemical Ningbo, creating a pleasant work environment for them. As she continues to develop herself professionally, she would like to share Hanwha's spirit of trust and loyalty with more people around the world.
More stories on people at

Hanwha