Hanwha Group Chairman Visits
Hanwha Q CELLS Factory in Qidong, China
Hanwha Group Chairman Seung Youn Kim predicts that "Hanwha's Solar Energy business will get stronger, better and lead globally"
After being acquired by Hanwha, the Qidong Factory achieved the lowest module failure rate in its history and the best cost competitive advantage in the market
Hanwha Group Chairman Seung Youn Kim attended the Korea-China Business Forum held on December 13th in Beijing
Hanwha Group's businesses in China make significant economic contributions to the Chinese economy as well as to Korea's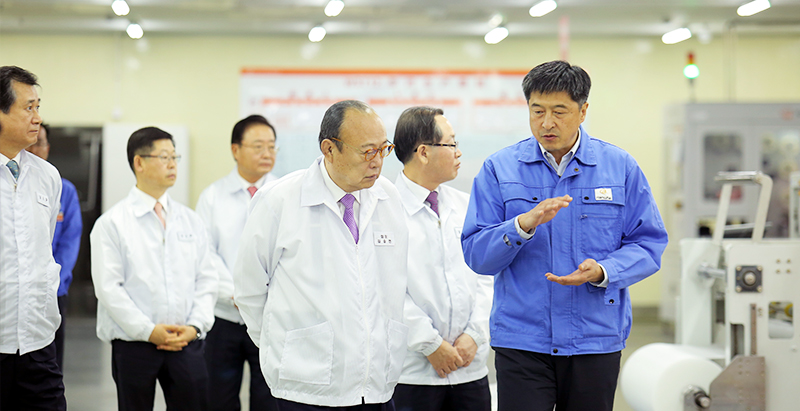 On December 11th, Hanwha Group Chairman Seung Youn Kim began his trip to China by visiting the Hanwha Q CELLS factory in Qidong, located in Nantong City of Jiangsu Province. The Qidong plant is central to Hanwha Group's solar energy business in China. The purpose of his trip was to reaffirm the group's commitment to the employees and to their goal to produce the highest quality solar products in the world.
After touring the operations at the Qidong plant, Chairman Kim praised everyone for overcoming the challenges that the company faced soon after the acquisition. He commended the workers' perseverance, to which he attributed Hanwha's position today as a leading company in the global solar power industry.
"We will increase our global competitiveness while mass-producing the highest quality products using our in-house technology, right here in Qidong," said Chairman Kim.
He added, "We must continually manufacture the most competitive photovoltaic products in the industry. We need to source only quality parts produced not just in Korea but also in Malaysia, China and beyond." He went on to say, "There is a Chinese saying, The waves of the Yangtze River drive the next set of waves forward. Coincidently, the Qidong Factory is located at the Yangtze River, and like this famous verse, it can be our giant wave that pushes our solar business forward."
Hanwha Q CELLS (Qidong) Co., Ltd. was acquired by The Hanwha Group in August 2010, as part of Hanwha Q CELL's strategy to foray into solar energy business. Since then the Qidong Plant has been instrumental in Hanwha's rise to become the world's leading solar energy company.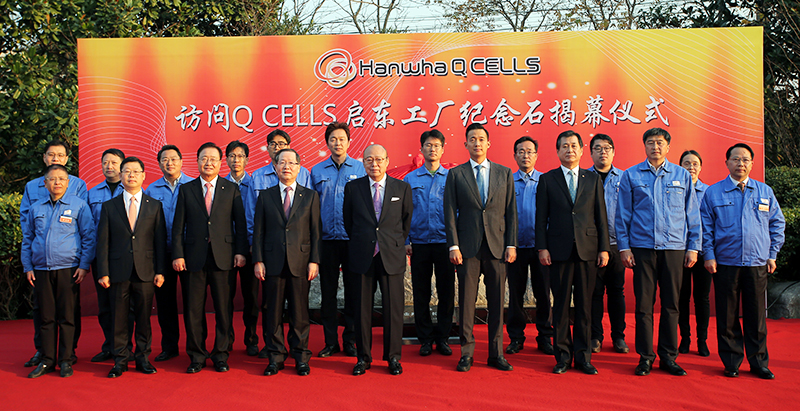 The original production volume was 500MW for cells and 800MW for modules. Today, the Qidong plant, under Hanwha's leadership, produces a volume of 2.5GW for cells and 2.5GW for modules. In addition, after acquiring the German Q CELLS in 2012, Hanwha has actively infused advanced technology into the plant and dramatically improved the quality. The Qidong plant has reduced its module failure rate by 60% - the lowest in China. And by increasing its productivity, the company has successfully achieved a cost competitive advantage in its market.
Chairman Seung Youn Kim visited Hanwha Q CELLS (Qidong) Co., Ltd to praise the company for becoming one of China's top solar company for the first time since Hanwha had acquired it 8 years ago.
Chairman Kim expressed special interest and affection towards the solar energy business and said, "Our long-term plan is for the Hanwha Group to develop the business and cultivate renewable solar energy for mankind. We will also work to make the solar energy industry in Korea, its leading industry."
Last July, Chairman Kim had also visited the solar cell manufacturing facility in Jincheon where heavy investment continues to be made, and emphasized that such investment will "increase domestic employment and foster the growth of the solar industry."
Chairman Kim also urged executives and employees to "continue their efforts to build mutually beneficial relationships with other corporations and clients in China while working to fulfill Hanwha's corporate social responsibilities in China."
As part of President Moon's economic delegation to China, Chairman Kim also visited Beijing to attend the Korea-China Business Forum on the 13th and meet with other political financial figures in China.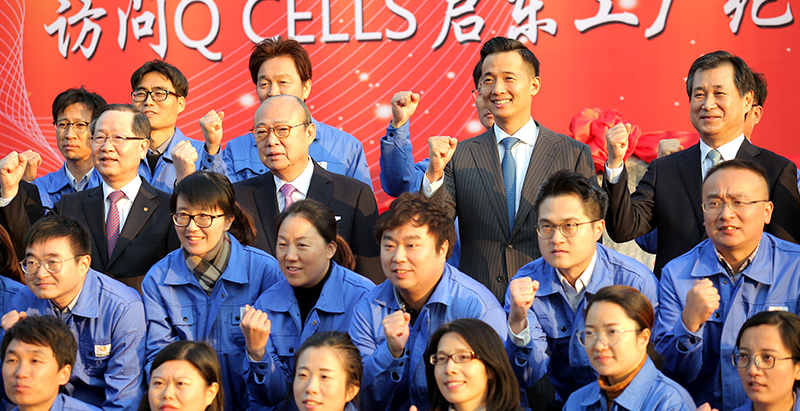 During his visit to Beijing, Chairman Kim made a stop at Hanwha Advanced Materials. Hanwha Advanced Materials also has two other corporate locations in Shanghai and Chongqing. The company supplies lightweight automotive materials to Chinese companies and other global automakers, including Hyundai and KIA.
Besides Hanwha Q CELLS and Hanwha Advanced Materials, Hanwha has other manufacturing companies in China including Hanwha Techwin, Hanwha Chemical, Hanwha Total Petrochemical, and most recently, Hanwha Life Insurance.
The Hanwha companies collectively generate approximately USD 1.8 billion dollars in China alone. Hanwha Group also plays a vital role in the economic exchanges between Korea and China with trade valued at more than USD 5.5 billion dollars per year.
Hanwha Group
Founded in 1952, Hanwha has grown quickly by anticipating and responding to changing business environments with a balanced business portfolio that includes energy & materials, aerospace, finance and retail & services. Our expertise and synergy in key areas have catapulted us into the seventh-largest business in South Korea and a Fortune Global 500 company. Hanwha continues to grow rapidly as we strive to pursue global leadership in all of our businesses. We are building a robust foundation for sustainable development and a brighter future for everyone.

For more information, visit: www.hanwha.com
Contact Us
Thank you for your interest in Hanwha.
Please contact us for your inquiries.
Email Us
Information Message
Please enter your email address.
Information Message
Please enter a correct email address.
Success
Keep an eye on your inbox for the latest stories from Hanwha.
Information Message
Your subscription request has already been processed. Thank you.