Chairman Seung Youn Kim Wishes Korea Shooting Team Success at Rio Olympics
Chairman Kim attended the 2016 Hanwha Chairman's Cup to meet and encourage the Korea Olympic team
The Hanwha Chairman's Cup is Korea's leading shooting competition, founded by Hanwha Group in 2008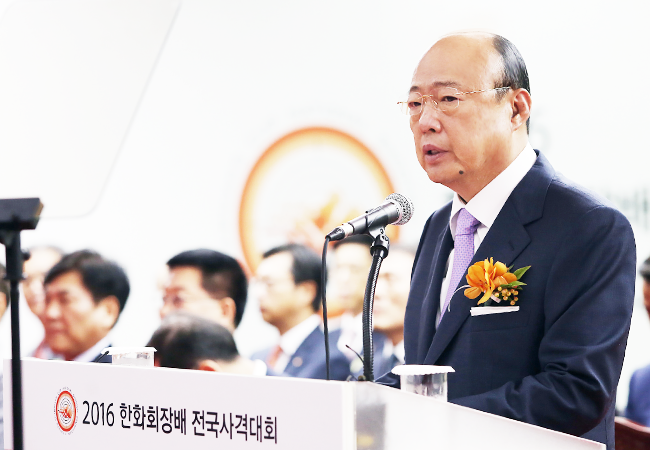 On July 5th, the Hanwha Group Chairman Seung Youn Kim, the governor of Chungbuk, the mayor of Cheongju, the chairman of the Korea Shooting Federation (KSF), the CEO of Hanwha Galleria Hwang Yong-deuk, the vice-chairman of the KSF and other members of Korea's shooting community attended the 2016 Hanwha Chairman's Cup National Shooting Competition at the Cheongju Shooting Range in Chungbuk, Korea. The Hanwha Chairman's Cup National Shooting Competition is an important prelude to the Olympic Games and the final opportunity for Team Korea to prepare as it looks to repeat its shooting success back in the 2012 Olympics in London.
The Hanwha Group has served as the main sponsor of KSF since June 2002, providing over $10.8MM in funding and taking the lead to boost the interest in shooting sports in Korea.
Thanks in large part to these efforts, Team Korea took gold in shooting for the first time in 16 years at the 2008 Beijing Olympics with a win by Jin Jong-oh, followed by a record-setting 13 gold medals at the 2010 Guangzhou Asian Games. And in the 2012 London Olympics, Korea's shooting team posted its best Olympic performance ever by bringing home three gold medals.
Now in its ninth year, the Hanwha Chairman's Cup is one of Korea's five major shooting competitions and the first and only contest organized by a private-sector business. Established in 2008 by Chairman Kim, the Hanwha Champions Cup aims to build enthusiasm for professional shooting sports across Korea.
Special care was taken for this year's event to precisely duplicate the range facilities, indoor shooting match environment and scoring standards of the upcoming Rio Olympics to allow participants to better prepare for the games.
"Korea's shooting team has reached new heights following its best-ever performance at the 2012 London Olympic Games," said Chairman Kim. "We hope our athletes will challenge themselves to outperform and exceed expectations once again at the Rio Olympics."
KSF Vice-chairman Cho Jeong-hui said, "Hanwha Group's strong support not only allowed Korea to assemble one of the world's best shooting teams, but also was key to further cementing Korea's reputation as a global sports and athletic powerhouse."
Hanwha Group
Founded in 1952, Hanwha has grown quickly by anticipating and responding to changing business environments with a balanced business portfolio that includes energy & materials, aerospace, finance and retail & services. Our expertise and synergy in key areas have catapulted us into the seventh-largest business in South Korea and a Fortune Global 500 company. Hanwha continues to grow rapidly as we strive to pursue global leadership in all of our businesses. We are building a robust foundation for sustainable development and a brighter future for everyone.

For more information, visit: www.hanwha.com
Contact Us
Thank you for your interest in Hanwha.
Please contact us for your inquiries.
Email Us
Information Message
Please enter your email address.
Information Message
Please enter a correct email address.
Success
Keep an eye on your inbox for the latest stories from Hanwha.
Information Message
Your subscription request has already been processed. Thank you.