Explore a virtual world of Hanwha Q CELLS products and services with new digital platform, Q CELLS SMART CITY
Newly-launched virtual platform, Q CELLS SMART CITY, invites customers to take an online tour of a sleek Q CELLS-themed world to discover the company's latest products and services and learn more about its solar-powered energy transition.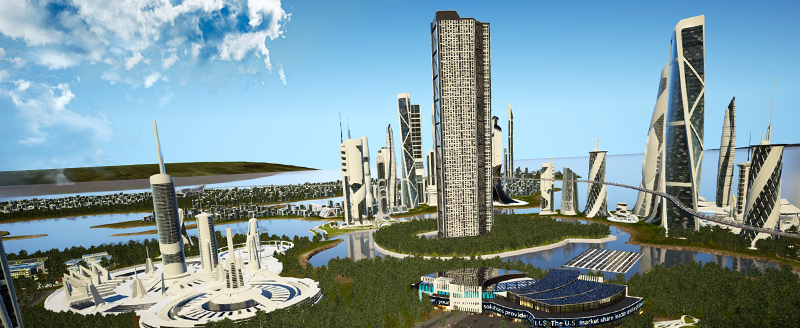 Hanwha Q CELLS, a renowned total energy solutions provider in solar, energy storage, downstream project business and energy retail, launched its new virtual online marketing platform, Q CELLS SMART CITY .
This expansive virtual world invites Hanwha Q CELLS customers and Q.PARTNERs on a journey of discovery where they can learn about the company's latest products and services, engage with virtual online exhibitions, and tour a beautifully-rendered solar cityscape.
The imposing virtual convention center is the centerpiece of the Q CELLS SMART CITY. It is in this space that guests can digitally engage with a full portfolio of Hanwha Q CELLS' solar modules for North America markets such as the United States, including soon-to-be-launched zero-gap module series, the Q.PEAK DUO-G9 Series. During the forthcoming Solar Power International (SPI) virtual exhibition – of which Hanwha Q CELLS is an exhibitor – the Q CELLS SMART CITY convention center will play host to a stylish virtual booth, showcasing a full suite of solar modules, energy storage solutions, EPC and project development capabilities, and so much more. The convention center will also be adapted in the future to exhibit the portfolios for various Hanwha Q CELLS markets, including Europe, Australia and Japan, throughout the solar calendar.
Let's go outside
When touring Q CELLS SMART CITY, guests can also choose to visit the towering Hanwha Q CELLS HQ, a gleaming skyscraper where visitors can learn about the company's history, ethos and vision.
The creation of the Q CELLS SMART CITY complements the company's journey of transition into becoming a total energy solutions provider. Hanwha Q CELLS' entire business scope increasingly caters for a wider audience, and the SMART CITY offers visitors an opportunity to discover in great detail the additional business divisions that Hanwha Q CELLS has created and nurtured over the past few years.
By developing and designing a virtual world of Hanwha Q CELLS' offerings in the time of COVID-19, the company is once more proactively expanding its services to ensure that it never fails to meet the needs of its global customers.
Hanwha Q CELLS CEO, Mr. Hee Cheul (Charles) Kim said, "Q CELLS SMART CITY will be a milestone for Hanwha Q CELLS to provide market stakeholders with a greater understanding of solar energy solutions. I believe this platform, which boasts Hanwha Q CELLS innovations, products and services throughout its entire virtual landscape, will help to provide engaging digital experiences to our customers online – whether on the go or from their home or office. Q CELLS SMART CITY adds to the company's ever-growing range of innovative solutions towards making the world a cleaner, greener place."
Hanwha Qcells
Hanwha Qcells (Hanwha Solutions Qcells division) is one of the world's leading clean energy companies, recognized for its established reputation as a manufacturer of high-performance, high-quality solar cells, and modules, a portfolio of intelligent storage systems, and a growing international pipeline of large-scale renewable energy projects. Hanwha Qcells also provides renewable electricity retail services and packages to end customers the world over. The company is headquartered in Seoul, South Korea (Global Executive HQ) and Thalheim, Germany (Technology & Innovation HQ) with its diverse international manufacturing facilities in the U.S., Malaysia, China, and South Korea. Hanwha Qcells strives to offer Completely Clean Energy through the full spectrum of photovoltaic products, storage solutions, renewable electricity contracting, and large-scale solar power plants. Through its growing global business network spanning Europe, North America, Asia, South America, Africa, and the Middle East, Hanwha Qcells provides excellent services and long-term partnerships to its customers in the utility, commercial, governmental, and residential markets.

For more information, visit: www.qcells.com/us/
Safe-Harbor Statement
This press release contains forward-looking statements. These forward-looking statements can be identified by terminology such as "will," "expects," "anticipates," "future," "intends," "plans," "believes," "estimates" and similar statements. Among other things, the quotations from management in this press release and Hanwha Q CELLS' operations and business outlook, contain forward-looking statements. Such statements involve certain risks and uncertainties that could cause actual results to differ materially from those expressed in or suggested by the forward-looking statements. Except as required by law, Hanwha Q CELLS does not undertake any obligation to update or revise any forward-looking statements, whether as a result of new information, future events or otherwise.

Contact Us
Thank you for your interest in Hanwha.
Please contact us for your inquiries.
Email Us
Information Message
Please enter your email address.
Information Message
Please enter a correct email address.
Success
Keep an eye on your inbox for the latest stories from Hanwha.
Information Message
Your subscription request has already been processed. Thank you.