Global Networking at the Boao Forum
for Asia Annual Conference 2019
Hanwha Life speaks on the digital transformation of the finance industry at the Boao Forum
Hanwha explores the future of the finance industry through active discussions with government, business, and academic leaders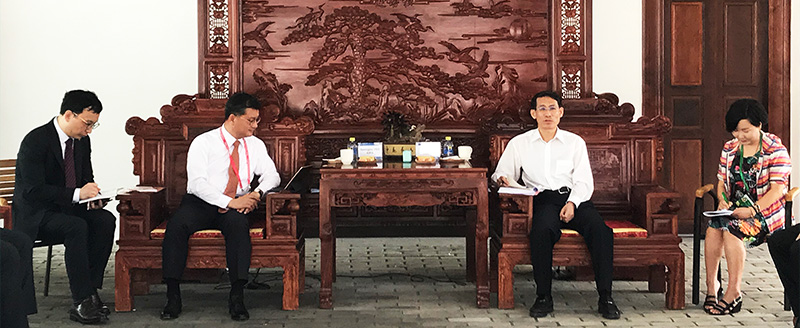 Senior executives of Hanwha Life attended the Boao Forum for Asia Annual Conference 2019 in the city of Chunghai from March 26 through the 29. Hanwha officers met with Chinese political and business leaders to share opportunities of the digital era and investment strategies against the backdrop of the changes in the finance industry.
Hanwha participated in the "China & Korea CEO Dialogue" – a topic held for the first time at this year's Boao Conference. The meeting was co-chaired by Choi Jong-gu, Chairman of Korea's Financial Services Commission, and Long Yongtu, former PRC vice-minister of Foreign Trade and Economic Cooperation. In the meeting, leading business figures from Korea and China engaged in lively debates over several topics. Attendees included Yunmo Sung, the Korean Minister of Trade, Industry, and Energy, Jong-kyu Yoon, Chairman of KB Financial Group, Tae-seung Sohn, Chairman of Woori Financial Group, Heenam Choi, CEO of Korea Investment Corporation, Jia Kang, former head of the Research Institute of Fiscal Science at the Chinese Ministry of Finance, and Professor Chi Fulin, Dean of the China Institute for Reform and Development.
"Traditional financial companies need to work together in order to flexibly address technological advances, different market conditions, and rapidly changing customer needs," said Hanwha Life CEO Seungjoo Yeo after the meeting. "Financial companies must constantly pursue open innovation so that they can leverage one another's strengths with startups, private equity funds and venture capitalists, academics, government agencies, and even global partners."
On March 27, a discussion between Hanwha Life and the Vice Governor of Hainan Province Shen Danyang took place, allowing the two sides to exchange ideas and explore the possibility of establishing a free trade zone in the Hainan province where Hanwha Life could pursue investment opportunities.
Hanwha Life also held meetings with senior representatives from other companies including JD.com (a leading China e-commerce company), JingDong Anlian General Insurance, Senstaim (a company leading the field of facial recognition), Hainan Airlines Group, and JP Morgan Chase & Co. China. In these meetings, Hanwha Life shared its views on how the financial industry and investment strategies were changing, driven by the availability and adoption of Big Data. Hanwha advocated for the industry to embrace these changes and create new value.
In addition to the China & Korea CEO Luncheon, Hanwha Life attended a meeting between representatives from major corporations, also organized by Chinese Premiere Li Keqiang. Participants at this meeting discussed Asia-focused development opportunities and financial innovations.
Earlier in 2019, Hanwha Life attended the Money20/20 Asia conference in Singapore, a major event in the fintech industry. At the conference, Hanwha had extensively hosted meetings with major fintech players such as Barclay's, Speedinvest, and tryb Group to discuss the future of the financial industry and potential collaborations opportunities.
Hanwha Life
Established in 1946, Hanwha Life is not only a leading South Korean life insurance company but also the first and oldest in the nation. For the past 75 years, Hanwha Life has played a critical role in developing the industry and expanding the country's economic growth. In 2021, Hanwha Life reported total assets of USD 112.76 billion, demonstrating its sound structure and firm commitment to adding innovative products and services that meet a wide range of customer needs.

For more information, visit: www.hanwhalife.com/en

Contact Us
Thank you for your interest in Hanwha.
Please contact us for your inquiries.
Email Us
Information Message
Please enter your email address.
Information Message
Please enter a correct email address.
Success
Keep an eye on your inbox for the latest stories from Hanwha.
Information Message
Your subscription request has already been processed. Thank you.