Hanwha Aerospace USA Earns 'Supplier Gold' Certification from Pratt & Whitney
The Supplier Gold certification is Hanwha Aerospace's latest accolade, following a recent Product Part Approval Process (PPAP) certification from Rolls-Royce.
The certification was awarded to Hanwha Aerospace for its flawless quality control and strict adherence to deadlines.
Additional orders for high-pressure turbine cases for Pratt & Whitney's state-of-the-art engines have also been secured.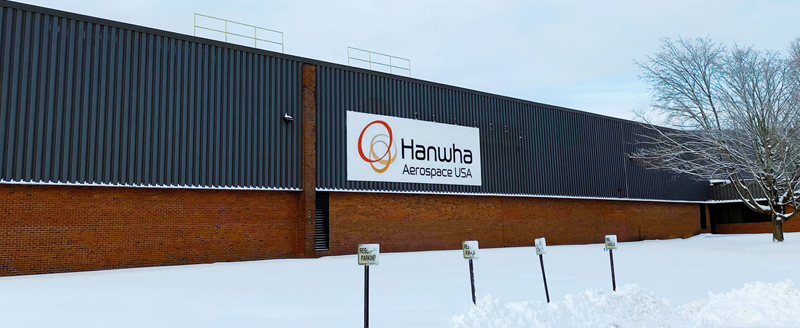 On March 11th, Hanwha Aerospace announced that its American subsidiary, Hanwha Aerospace USA (HAU)¹, had recently received a Supplier Gold certification from the world-renowned aircraft engine manufacturer Pratt & Whitney (P&W).
The certification is the product of a partner evaluation program known as RTX Supplier Gold, which is run by P&W's parent company, Raytheon Technology Corporation (RTX)². It is awarded only to exceptional partners who have not missed deadlines or exhibited any quality control issues for 12 consecutive months, while exhibiting continuous improvements and satisfying customers.
"We are pleased to see that our unwavering commitment to quality and customer satisfaction has been recognized," said Dongwan Yoo, CEO of Hanwha Aerospace USA. "The Supplier Gold certification is a testament to our position as a strategic partner of P&W, and will serve as the foundation for our business's expansion."
Hanwha Aerospace also recently became the first company in the world to receive Rolls-Royce's Product Part Approval Process (PPAP) quality certification. This authorization to perform PPAP inspections is significant, as it grants Hanwha Aerospace the authority to verify the quality of newly developed aircraft engine components and approve them for mass production.
Together, Hanwha Aerospace's PPAP and Supplier Gold certifications are viewed within the aviation industry as further evidence of the company's world-class quality competitiveness.
In recognition of Hanwha Aerospace's outstanding quality control capabilities, P&W recently decided to increase orders for Hanwha's high-pressure turbine cases. The turbine cases are utilized in P&W's state-of-the-art PW-1100G-JM GTF (geared turbo fan) aircraft engine.
A Hanwha Aerospace official emphasized the importance of P&W's move, stating that "The aviation industry is undergoing a crisis due to several factors, including the COVID-19 pandemic. P&W's decision to increase orders in these difficult times speaks to the confidence it has in the technological prowess and quality control capabilities that Hanwha has accumulated over the last 40 years."
"Thanks to our elevated status as P&W's risk and revenue sharing partner (RSP) on global aircraft engine development projects, we recently secured large orders from the world's top three engine manufacturers," added the official. "In 2019, we reached a long-term deal worth $1.7 billion (KRW 1.9 trillion) with P&W to supply components for cutting-edge GTF engines, and signed agreements with Rolls-Royce and GE that were worth $1 billion (KRW 1.2 trillion) and $300 million (KRW 350 billion), respectively. We still have an order backlog that is worth roughly KRW 24 trillion, which means that our business has strong potential for growth."
Building on its RSP status with P&W, along with its competitiveness in terms of both manufacturing and quality, Hanwha Aerospace plans to continue expanding its business in the aircraft engine sector by reinforcing its partnerships with the world's three largest engine makers: GE, P&W, and Rolls-Royce.
Established in 1979 as a company that specialized in gas turbine engine depot maintenance, Hanwha Aerospace has since expanded its portfolio to include aircraft engines. As of this year, it is the only gas turbine engine manufacturer in South Korea with a cumulative production of more than 9,000 engines. Having set its sights on strengthening its aerospace offerings at home and abroad, the company recently acquired a stake in Satrec Initiative, a South Korea-based firm that specializes in satellite business solutions.
¹In October 2019, Hanwha Aerospace acquired EDAC Technologies, an aircraft engine component manufacturer based in Connecticut, before renaming the company Hanwha Aerospace USA (HAU). HAU produces integrally bladed rotors (IBRs) and cases for state-of-the-art aircraft engines, among other engine components. Its key customers include P&W and General Electric.
²Raytheon Technology Corporation (RTX) is a global leader in cutting-edge technologies and services in the commercial aviation market. It is also a global powerhouse in defense manufacturing and architecture. As a business division of RTX, P&W produces engines for military and commercial aircraft.
Hanwha Aerospace
Hanwha Aerospace began operations in 1977, producing aircraft engines and film cameras. Since then, it has aggressively invested in R&D to grow into a major presence within the aircraft/gas turbine engine industry. Hanwha Aerospace's dramatic evolution was made possible by the successful development of industry leading and proprietary technologies that give it the competitive edge needed to succeed around the world. In addition to technological advancement, Hanwha Aerospace also focuses on developing industry expertise and the ability to comprehensively address changing market demands as well as the ability to anticipate future market shifts.

For more information, visit: www.hanwhaaerospace.com
Contact Us
Thank you for your interest in Hanwha.
Please contact us for your inquiries.
Email Us
Information Message
Please enter your email address.
Information Message
Please enter a correct email address.
Success
Keep an eye on your inbox for the latest stories from Hanwha.
Information Message
Your subscription request has already been processed. Thank you.