Hanwha Announces Comprehensive Battery Partnership with LG Energy Solution
Hanwha Solutions' Qcells Division, Hanwha Aerospace and Hanwha Corporation/Momentum sign an MOU for future collaborations in battery business with LG Energy Solution.
The companies pledge to make a joint investment in building Energy Storage System (ESS) battery production facilities in the United States.
The announcement will ensure a stable supply of affordable batteries and boost efforts to develop advanced battery technology.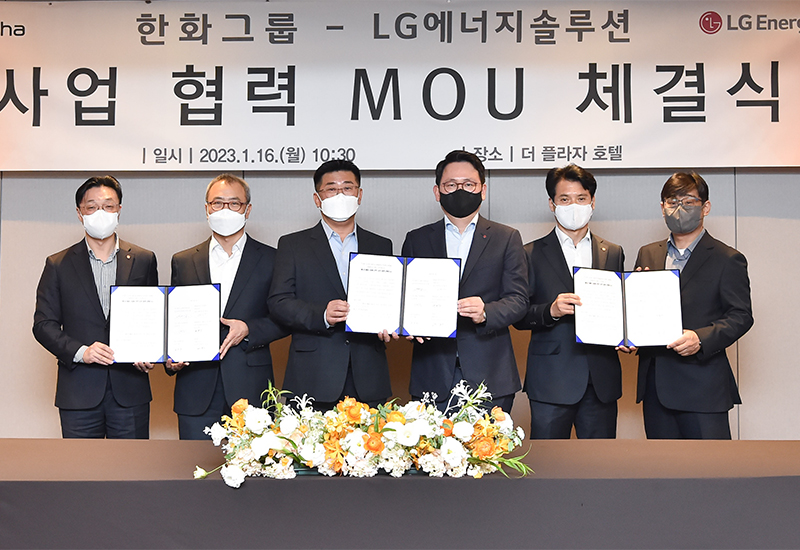 Hanwha Group and LG Energy Solution (LGES) announced on January 16 they will invest in building battery production facilities in the United States. The joint investment will pave the way for Hanwha to lead the rapidly growing energy storage market and future Urban Air Mobility business.
The two sides signed a memorandum of understanding in Seoul for comprehensive battery business cooperation for Energy Storage Systems (ESS) and other cleantech energy solutions. The MOU was signed by LGES and three subsidiaries under Hanwha Group — clean energy provider Hanwha Solutions' Qcells Division (Hanwha Qcells), Hanwha Corporation/Momentum and Hanwha Aerospace.
The joint investment is expected to boost battery supply resiliency for the U.S. market amid the growing need for American-made ESS following the passage of the Inflation Reduction Act. The parties will also pursue technology cooperation for developing advanced ESS solutions tailored to the commercial, industrial and utility markets. They include enclosure, heat management and other balance of system.
Hanwha Qcells is the biggest silicon-based solar energy provider in the United States. Being the only company to establish a complete solar supply chain in the United States, Hanwha Qcells leads the country's clean energy transition. Hanwha Qcells has retained its No. 1 market share in the U.S. commercial and residential PV module markets, underscoring the company as a leader in the module manufacturing business. Hanwha Qcells intends to become a top-tier solar and energy storage developer and EPC provider in the U.S. through this partnership by securing a stable battery supply as well as procuring competitive product solutions.
With the MOU, LGES has now secured another stable market demand in the mid- to long-term in the U.S. clean energy market where the fastest growth is expected, and thereby established a solid growth platform by reinforcing its well-balanced business portfolio of three sectors: advanced automotive batteries, mobility and IT batteries and ESS batteries.
In 2022, LGES advanced into the field of ESS System Integration by establishing a new corporation, LG Energy Solution Vertech. Inc., which offers customers a streamlined approach to energy storage system integration and a secure battery supply chain through LGES.
The other Hanwha subsidiaries, Hanwha Corporation/Momentum and Hanwha Aerospace, will also participate in battery cooperation with LGES. Hanwha Aerospace is a leading aerospace company manufacturing rocket engines and satellites technology. Hanwha Corporation/Momentum is an automation engineering company providing manufacturing facilities for batteries, solar panels and display.
Hanwha Momentum will seek to supply key battery manufacturing facilities for LGES, which is constructing joint battery factories with global automakers such as GM, Stellantis and Honda. Its existing factories in South Korea, Poland and the U.S. are also scheduled to expand. Hanwha Aerospace is also planning to work with LGES to develop special-purpose batteries for Urban Air Mobility.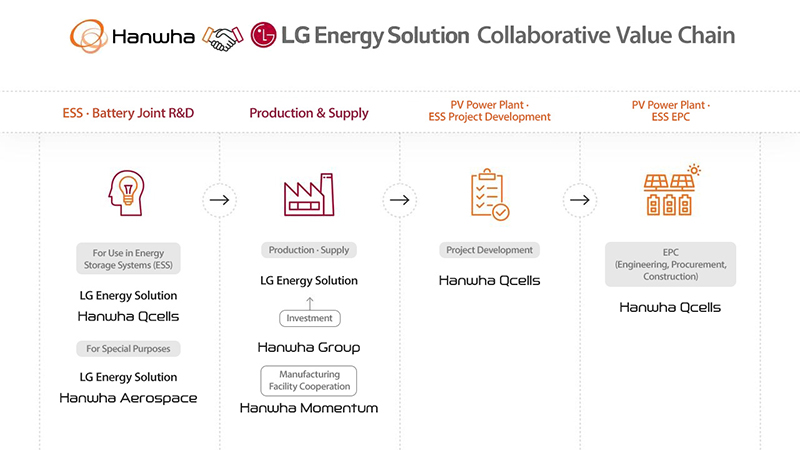 "We have decided to collaborate with LG Energy Solution, which has several large-scale manufacturing facilities being constructed in U.S., to target the U.S. ESS market boasting fast growth thanks to green energy policies," said Hanwha Group. "Our aim is to maximize synergy at home and abroad by promoting partnerships in various fields, such as supplying battery manufacturing equipment and developing special-purpose batteries."
"Our partnership with Hanwha Group is expected to take the competitiveness of each company's battery-related businesses a step further," said LG Energy Solution. "By signing this MOU with leading, like-minded energy companies, we put ourselves in the best possible position to successfully expand the influence of our solar and ESS businesses in the U.S., and we will do our very best to provide customers with comprehensive green energy solutions."
Hanwha Qcells
Hanwha Qcells (Hanwha Solutions Qcells division) is one of the world's leading clean energy companies, recognized for its established reputation as a manufacturer of high-performance, high-quality solar cells, and modules, a portfolio of intelligent storage systems, and a growing international pipeline of large-scale renewable energy projects. Hanwha Qcells also provides renewable electricity retail services and packages to end customers the world over. The company is headquartered in Seoul, South Korea (Global Executive HQ) and Thalheim, Germany (Technology & Innovation HQ) with its diverse international manufacturing facilities in the U.S., Malaysia, China, and South Korea. Hanwha Qcells strives to offer Completely Clean Energy through the full spectrum of photovoltaic products, storage solutions, renewable electricity contracting, and large-scale solar power plants. Through its growing global business network spanning Europe, North America, Asia, South America, Africa, and the Middle East, Hanwha Qcells provides excellent services and long-term partnerships to its customers in the utility, commercial, governmental, and residential markets.

For more information, visit: www.qcells.com/us/
Hanwha Solutions
Hanwha Solutions aims to deliver sustainable solutions for the planet through smart energy solutions and customer-focused materials. The Company operates its business through five divisions: Qcells, Chemical, Advanced Materials, Galleria and City Development. The Qcells Division offers total energy solutions from photovoltaic module manufacturing, power plant operation to electricity retailing service. The Chemical Division, the first in Korea to produce polyvinyl chloride (PVC), manufactures various chemical products and eco-friendly plasticizers. The Advanced Materials Division produces high-tech materials for automotive, photovoltaic and electronic devices. The Galleria Division, an operator of premium department store chain, provides premium fashion and food services. The City Development Division is a leading real estate developer specializing in industrial complexes. With its innovative technologies for sustainable growth, Hanwha Solutions strives to become a global leader in bringing a better future for humanity.

For more information, visit: www.hanwhasolutions.com/en/
Contact Us
Thank you for your interest in Hanwha.
Please contact us for your inquiries.
Email Us
Information Message
Please enter your email address.
Information Message
Please enter a correct email address.
Success
Keep an eye on your inbox for the latest stories from Hanwha.
Information Message
Your subscription request has already been processed. Thank you.