Hanwha Asset Management,
Hyundai Motor Company, and SK Telecom
to Create AI Alliance Fund
Hanwha's investments in AI and future technologies move into high gear
US 45 million dollar fund is established to support promising startups worldwide
Element AI to provide expertise and investment advice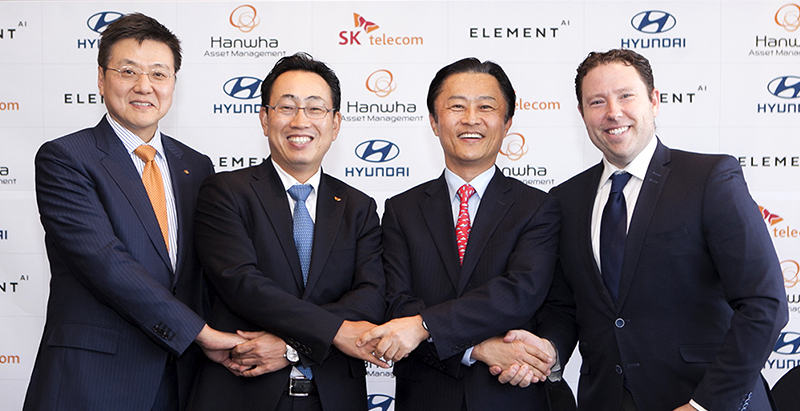 Hanwha Asset Management, Hyundai Motor Company, and SK Telecom have set up a joint fund to be launched in the first quarter of 2018. The fund will be called the AI Alliance Fund, understandably as its goal is to invest in artificial intelligence (AI) by supporting startups around the globe who are eager to innovate and are full of creative ideas.
Each of the three companies have so far committed US $15 million to the US $45 million fund. Element AI, a world-leading AI solution provider based in Canada, participates as an investment advisor.
The three investors will take advantage of Element AI's pool of experts and extensive global network to evaluate technical capabilities, market trends, and growth potentials of the startups.
Building next-generation technologies by investing in AI, smart mobility, and fin-tech

Disparate technologies are converging and being integrated to generate a wave of technological innovations that is changing the future. These next-generation technologies can be easily found in AI, smart mobility and fin-tech.
Hence, the AI Fund is both a strategic investment and a way to take advantage of changes that is dramatically affecting both the domestic and international markets.
The AI Alliance Fund will be used to discover and invest in startups across the United States, Europe, and Israel – in startups that can harness these technologies. However, what makes the AI Alliance Fund more unique is that it is a partnership of three major conglomerates who each already drive the Korean economy and lead the world in various businesses. It is with certainty that each partner will seek to internalize future technologies for their own gain and to this end, operate its own system to support startup with incubators and corporate venture capital (CVC). However, at the same time, the combined strengths of all three industry giants will be applied to achieve the common goal of creating new growth engines. And by working together, they'll form a cooperation-driven ecosystem of open innovations.
They will be able to secure leadership in the market and establish a competitive edge with which to navigate the rapidly changing business horizons filled with disruptive technologies and fierce competition.
AI-pioneer Element AI to provide analysis of technology, growth potential, and future value

The investment advisor to the fund, Element AI, was co-founded in 2016 by global AI guru Yoshua Benjio and entrepreneur Jean-François Gagné. The company provides consulting and has more than 160 researchers for AI research and solution development.
Element AI is using its extensive global corporate network and leveraging its partnership knowhow on a diverse collection of collaborative projects. The company's network of AI experts include world-leading institutions in artificial intelligence academia such as the University of Montreal and McGill University. The company is also funded by leading ICT investors worldwide, including Microsoft Ventures, Intel Capital, and NVIDIA GPU Ventures.
Combination of the companies' expertise will create synergy for enhanced competitiveness

Hanwha Asset Management currently manages USD 85 billion in net assets (as of October). By investing in tech startups, the company is seeking to invest in high potential markets driven by industrial technologies and AI. To ensure success, Hanwha Asset Management plans to guide tech startups with its asset management experience, work with co-investors make available technical capabilities, and allow the startups to gain learnings from the experts of Element AI.
The partnerships will benefit all parties involved, creating synergies among them and increasing their footprint.
Hyundai Motor Company, SK Telecom, and Hanwha Asset Management will leverage their expertise in their respective areas – mobility, ICT, and financial services. The synergy created from their combined capabilities is expected to further solidify their leadership and competitiveness in their respective businesses. Startups will have the opportunities to build their capabilities and launch their products in asset markets overseas. And Hanwha Asset Management will be able to strengthen its skills in assessing technological innovations while gaining new ones – as they foster the latest fin-tech innovations – the new engine for growth.
To celebrate the creation of the AI Alliance Fund, a signing ceremony was held at The Plaza hotel in Seoul, South Korea, on November 16. "Hanwha Asset Management, Hyundai Motor, and SK Telecom share our passion for investment and building the future. I'm excited we can now work together to create a new global, industrial reality," said Element AI CEO Jean-François Gagné, during his visit to Korea for the signing ceremony.
Hanwha Asset Management
Founded in 1988, Hanwha Asset Management has grown into a comprehensive asset management company offering a full range of financial instruments, including stocks, bonds, MMFs, fund of funds, social overhead capital, derivatives, real estate, ETFs, and PEFs in both domestic and overseas capital markets. At the end of 2017, we were among South Korea's top three asset management companies with USD 82.17 billion in assets under management (AUM). We have top-tier expertise and well-organized systems in all areas, including product development, research, compliance, and risk management. All our products and services cater to the needs of our customers because we apply our principles and management philosophy to placing our customers first before anything else.

For more information, please visit: http://eng.hanwhafund.co.kr

Contact Us
Thank you for your interest in Hanwha.
Please contact us for your inquiries.
Email Us
Information Message
Please enter your email address.
Information Message
Please enter a correct email address.
Success
Keep an eye on your inbox for the latest stories from Hanwha.
Information Message
Your subscription request has already been processed. Thank you.