Hanwha Group Chairman Seung Youn Kim Attends Hanwha Aerospace Vietnam Plant Grand Opening Ceremony
Hanwha Aerospace completes construction on Vietnam's first large-scale aircraft engine parts and components manufacturing plant
Chairman Seung Youn Kim meets with Vingroup Chairman, Pham Nhat Vuong, to discuss future cooperation in manufacturing, finance, and CSR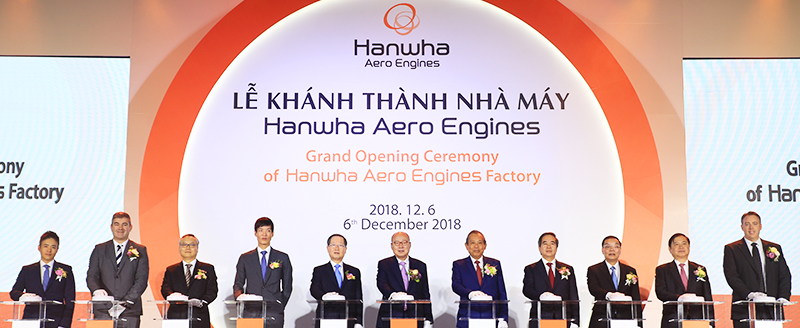 Hanwha Group Chairman Seung Youn Kim visited Vietnam to tour Hanwha's extensive business operations in the country. Vietnam represents an important investment in Hanwha's strategy to expand its global footprint, with several business units already successfully established.
On December 6, Chairman Kim attended the grand opening ceremony for Hanwha Aerospace's brand new manufacturing plant in Hoa Lac Hi-Tech Park, located just outside of Hanoi, Vietnam. He was accompanied by Choon Soo Keum, CEO and Executive Vice Chairman of Hanwha, Hyun-woo Shin, President and CEO of Hanwha Aerospace, and Dong Won Kim, Chief Digital Officer and Head of Global Business of Hanwha Life.
Vietnam's First Deputy Prime Minister, Truong Hoa Binh, Head of the Party Central Committee's Economic Commission, Nguyen Van Binh, and Minister of Science and Technology of Vietnam, Chu Ngoc Anh, also attended the ceremony alongside 300 other officials and dignitaries.
The plant represents the latest phase in Hanwha's global growth strategy to significantly grow its presence in the aircraft engine market and invest more than KRW 4 trillion (USD 903 million) in its aerospace divisions by 2022. Hanwha's new aerospace manufacturing plant is the first large-scale aircraft engine parts and components manufacturing facility in Vietnam, with 100,000 square meters of floor space.
Once it ramps up to full production, it will become a major global hub for manufacturing large-scale aircraft engine components. The plant will produce high-quality and cost-competitive products to help grow Hanwha's market share in the aircraft engine industry. Meanwhile, Hanwha Aerospace's current flagship plant in Changwon, Korea, will focus on R&D and high-precision engineering.
The plant symbolizes the strengthening of bilateral ties between Korea and Vietnam. And as Hanwha increases its investment in Vietnam, the two countries will work closer to become major trading partners.
"This Hanwha Aerospace plant in Vietnam will play a vital role in Hanwha's goal to become a major global player in the aircraft engine industry," Chairman Kim said to the 300 people who attended the ceremony.
He added: "Our advanced manufacturing technologies will also contribute to the development Vietnam's industries in aerospace and precision machining while also forming the foundation on which our two countries can form an implicit trust and ensure mutual economic growth."
"As a member of the local community, Hanwha won't just be concerned with how we can contribute to the economy, but also how we can help address environmental issues as well," continued Chairman Kim.
Hanwha Aerospace President Shin added, "The aircraft engine industry requires decades of investment in technology and equipment with deep technical expertise. For this reason, we are thinking long term and will continue to strategically invest in Vietnam for many years to come."
The Vietnamese government has taken a particular interest in Hanwha's entry into the country. In February of 2018, the Prime Minister, Nguyen Xuan Phuc, visited the Hanwha Aerospace Vietnam plant while it was under construction. Unconcerned with that day's inclement weather, he spoke with those working on the plant's construction and encouraged them to put in their maximum effort.
Hanwha and Vietnam are also closely cooperating on the technical front. A cadre of Vietnamese workers were sent to Hanwha Aerospace's flagship Changwon plant to receive training in the use of high-precision machine tools, and awarded certificates from an international aircraft components manufacturing system certification authority. With their training and certification, the workers returned to Vietnam, ready to further contribute to their country's growing aircraft engine manufacturing industry.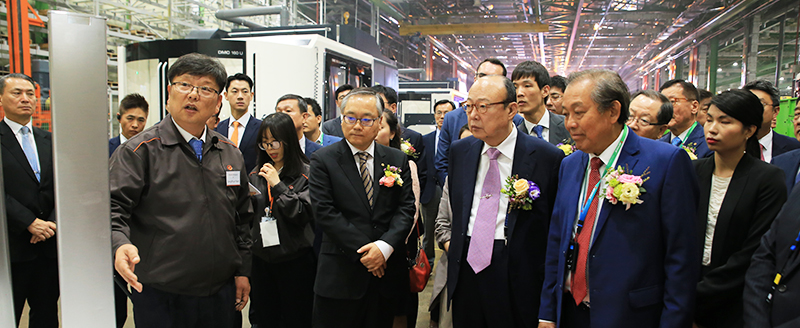 Chairman Kim also met with Pham Nhat Vuong, Founder and Chairman of Vingroup, Vietnam's largest conglomerate. The two business leaders discussed the opportunity for Hanwha and Vingroup to establish partnerships in the manufacturing and finance while conducting joint CSR activities in the country. Hanwha and Vingroup also hope to further collaborate across various industries, including automobile component materials, solar energy facilities, and securities.
"I am very pleased to be in this strategic partnership with Vietnam's number one business," Chairman Kim said during his meeting with Chairman Pham. "As companies representing our two countries, I look forward to working together to build and share in our successes."
On December 7, Chairman Kim paid a visit to Hanwha Techwin's plant in Que Vo District, Bac Ninh Province, and interacted with the employees at the facility. He thanked and praised them for their hard work, contributing to Hanwha's global success story. Opened in March of 2017, the plant manufactures security products such as CCTV cameras and storage devices.
Hanwha Aerospace
Hanwha Aerospace began operations in 1977, producing aircraft engines and film cameras. Since then, it has aggressively invested in R&D to grow into a major presence within the aircraft/gas turbine engine industry. Hanwha Aerospace's dramatic evolution was made possible by the successful development of industry leading and proprietary technologies that give it the competitive edge needed to succeed around the world. In addition to technological advancement, Hanwha Aerospace also focuses on developing industry expertise and the ability to comprehensively address changing market demands as well as the ability to anticipate future market shifts.

For more information, visit: www.hanwhaaerospace.com
Hanwha Group
Founded in 1952, Hanwha has grown quickly by anticipating and responding to changing business environments with a balanced business portfolio that includes energy & materials, aerospace, finance and retail & services. Our expertise and synergy in key areas have catapulted us into the seventh-largest business in South Korea and a Fortune Global 500 company. Hanwha continues to grow rapidly as we strive to pursue global leadership in all of our businesses. We are building a robust foundation for sustainable development and a brighter future for everyone.

For more information, visit: www.hanwha.com
Contact Us
Thank you for your interest in Hanwha.
Please contact us for your inquiries.
Email Us
Information Message
Please enter your email address.
Information Message
Please enter a correct email address.
Success
Keep an eye on your inbox for the latest stories from Hanwha.
Information Message
Your subscription request has already been processed. Thank you.