Hanwha Defense Systems and Hanwha Systems Join Forces for the Asian Defense Market
Hanwha companies partner to exhibit at the 8th Indo Defence, Indonesia's top defense expo
The Hanwha group flexes its defense muscles with an array of products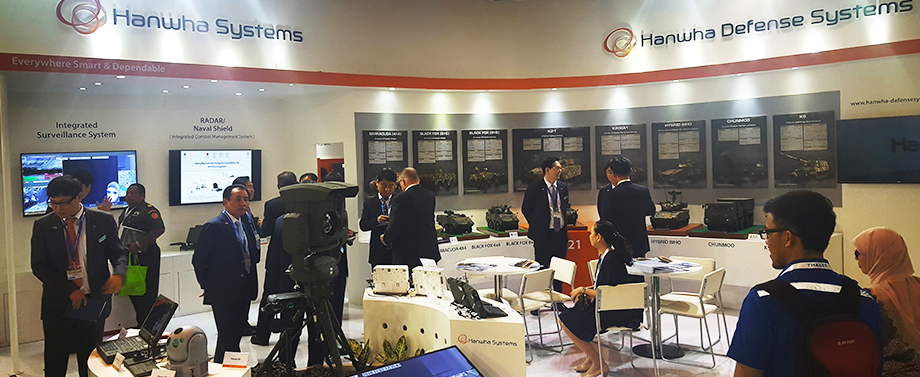 Hanwha Systems (formerly Hanwha Thales) and Hanwha Defense Systems exhibited together at the Indo Defence 2016 Expo & Forum from November 2nd through the 5th in Jakarta, Indonesia. The two companies showcased Hanwha Group's extensive lineup of military equipment, successfully foraying into Asia's defense market.
The Indo Defence 2016 is held biennially and is Indonesia's largest defense exhibition. This year's event attracted the most number of attendees ever, drawing more than 700 defense industry companies from 55 countries. A wide range of sea, air, and land defense equipment and weapons systems were on display at the 4-day defense industry event.
Hanwha's presentation at the tradeshow featured eight exhibit replicas including that of Hanwha Defense's K21 infantry fighting vehicle, K30 Biho Hybrid (Hanwha Defense's wheeled armored vehicle), Hanwha Systems' multi-purpose radar, Hanwha Systems' integrated reconnaissance system, and naval combat system.
A recent realignment among Hanwha's defense companies has allowed Hanwha Defense Systems to emerge as solid land-warfare equipment platform companies. And this year's expo in Indonesia gave military officials from around the world a first look into its comprehensive land equipment portfolio that includes armored vehicles and anti-air and guided weapons systems.

Hanwha Systems specializes in defense electronic systems that leverage cutting-edge technologies. Its solutions include radar, reconnaissance & surveillance systems and naval combat systems - they drew high interests, increasing the company's confidence it can expand rapidly into the Indonesian and Southeast Asian markets.
The two South Korean defense companies have been participating in the Indo Defence since the expo had first begun back in 2002. They have been using the venue as a platform to sell to Indonesia, a wide range of weapon systems, including the T-50 advanced trainer and submarines.
A Hanwha Group spokesperson said, "Numerous defense officials from Indonesia and its neighboring countries showed considerable interest in Hanwha's diverse products at the exhibition," adding that "Our companies will continue partnering at exhibitions to expand their offerings and jointly export defense products to global markets."
Hanwha Group
Founded in 1952, Hanwha has grown quickly by anticipating and responding to changing business environments with a balanced business portfolio that includes energy & materials, aerospace, finance and retail & services. Our expertise and synergy in key areas have catapulted us into the seventh-largest business in South Korea and a Fortune Global 500 company. Hanwha continues to grow rapidly as we strive to pursue global leadership in all of our businesses. We are building a robust foundation for sustainable development and a brighter future for everyone.

For more information, visit: www.hanwha.com
Contact Us
Thank you for your interest in Hanwha.
Please contact us for your inquiries.
Email Us
Information Message
Please enter your email address.
Information Message
Please enter a correct email address.
Success
Keep an eye on your inbox for the latest stories from Hanwha.
Information Message
Your subscription request has already been processed. Thank you.