Hanwha Energy Promotes Third Energy Storage System (ESS) Project in Ireland
The ground-breaking ceremony for the project was held on September 6 with Korean and Irish officials in attendance, including the Prime Minister of Ireland and Hanwha Energy CEO, In-sub Jung.
Commercial operation of the ESS project will begin in central Ireland in October 2024 and will cost 122.5 million USD to develop.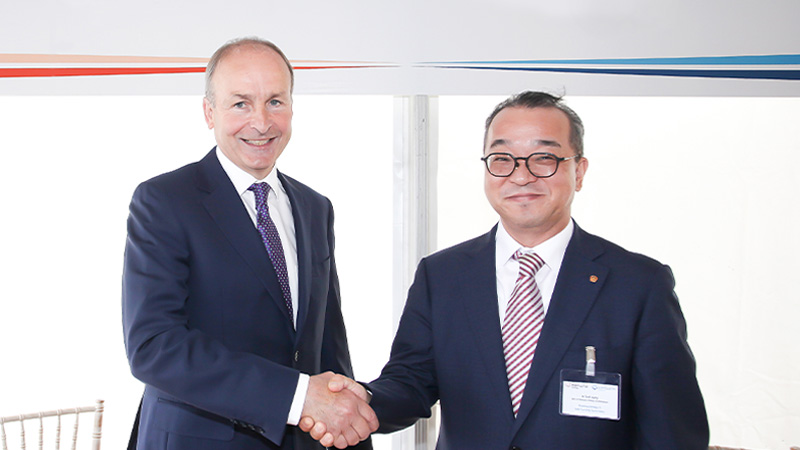 On September 6 (GMT +1), Hanwha Energy announced Shannonbridge B, the company's third energy-storage system (ESS) project, at a groundbreaking ceremony for the project in Ireland. The ceremony took place in County Offaly, Ireland with 50 Korean and Irish officials in attendance, including the Prime Minister of Ireland (Taoiseach), Micheál Martin, a member of Ireland's parliament (Teachta Dála, TD), Barry Cowen, the Ambassador of the Republic of Korea to Ireland, Ki-hwan Kweon, Managing Director of KDB Ireland, Tae-hee Kim and CEO of Hanwha Energy, In-sub Jung.
The development of the new ESS is a collaboration between Hanwha Energy and Lumcloon Energy, an Irish project development company focused on power and energy assets, and will assist with the stability and reliability of the renewable energy supply in the country. The new hybrid facility will be capable of providing an additional 160-MWh of hybrid capacity to the national electricity grid. The long-duration battery will also be paired with a power system stabilization facility (synchronous condenser) in County Offaly, Ireland to provide power-grid-stabilization services to Ireland's electricity grid operator, EirGrid.
The 122.5 million USD project will integrate the ESS and the synchronous condenser*, both of which are necessary for instances of electricity supply loss or surge in demand. The ESS stores and supplies idle power, stabilizes the power grid and controls the supply and demand of electricity through power transactions. The synchronous condenser provides improved voltage regulation and stability, keeping both the network frequency and grid voltage stable. Commercial operation of the facility will begin in October 2024 and will mitigate power capacity shortages in the Irish power system. Additionally, the facility aims to solve power grid instabilities through a range of grid stabilization services and will provide more advanced services beyond frequency adjustments. These contributions are expected to help Ireland achieve its goal of carbon neutrality by 2050.
*A synchronous condenser is a device that supplies reactive power to the system to adjust voltage and improve the power factor. At the same time, the machine provides low-carbon inertia, the stored kinetic energy, through the rotation of the rotor when insufficient in the system.

The Shannonbridge B project is Hanwha Energy's third ESS project in Ireland, following the two 60-MWh Frequency Regulation (FR)* ESS projects, 120-MWh in total, completed in two sites in central Ireland in 2021. Construction on the plants began in 2019 with financing provided by the Export-Import Bank of Korea, and operation of the plants officially began in 2021. Once construction of the new ESS plant is complete, Hanwha Energy will be running a total of three local ESSs in the country. With the completion of an additional ESS in Ireland, Hanwha Energy aims to strengthen its position in the Irish system stabilization service market by providing a consistent supply of renewable energy.
*Frequency Regulation (FR): ESS stabilizes power systems by adjusting the frequency of electric output.

"Through this project in Ireland, Hanwha Energy will contribute to the expansion of Ireland's renewable energy business and regional revitalization, and the experience accumulated is expected to provide new renewable energy business opportunities," said Jung.
Aside from developing ESS facilities, Hanwha Energy is a comprehensive energy solutions provider that is continually developing new energy businesses, with a diverse portfolio comprising of cogeneration plants, solar power plants, ESS, liquefied natural gas (LNG) and hydrogen fuel cell power plants. The company is committed to investing in and developing renewable energy projects both domestically and globally, aiming to create a more sustainable future for all.
Shannonbridge B Project Overview
· Project Name: Shannonbridge B
· Project Entity: Shannonbridge B (SPV)
· Share Rate: Hanwha Energy (80%), Javah Energy (20%)
· Location: County Offaly, Ireland
· Project Scale: ESS 63 MW, 160 MWh & Synchronous condenser 4,000 MWs
 Investment cost approx. $122.5 million USD
· Construction Period: 24 months
·Schedule: September 2022 – Conclusion of shareholder's agreement and payment of capital
October 2022 – Start of construction
October 2024 – Commercial operation
Hanwha Energy
Hanwha Energy is a comprehensive energy solutions provider that operates power plants in Korea and around the world with a focus on sustainability. Its diverse portfolio includes cogeneration plants, solar power plants, as well as the world's largest hydrogen fuel cell power plant, located in Korea's Daesan Industrial Complex. Hanwha Energy also acts as an independent power producer, offers operation and maintenance services, and is developing new energy storage systems and smart energy management solutions.

For more information, visit: hec.hanwha.co.kr/eng/enMain.do
Contact Us
Thank you for your interest in Hanwha.
Please contact us for your inquiries.
Email Us
Information Message
Please enter your email address.
Information Message
Please enter a correct email address.
Success
Keep an eye on your inbox for the latest stories from Hanwha.
Information Message
Your subscription request has already been processed. Thank you.