Hanwha Group Expands Presence in Global FinTech Market
Hanwha S&C forms joint venture with Dianrong, China's leading P2P lender¹
Head of FinTech and Head of Innovation Center of Hanwha Life Dong Won Kim discusses new business opportunity with CEO Soul Htite
Loan marketplace² to open in Korea this year; Vietnam next in line for business expansion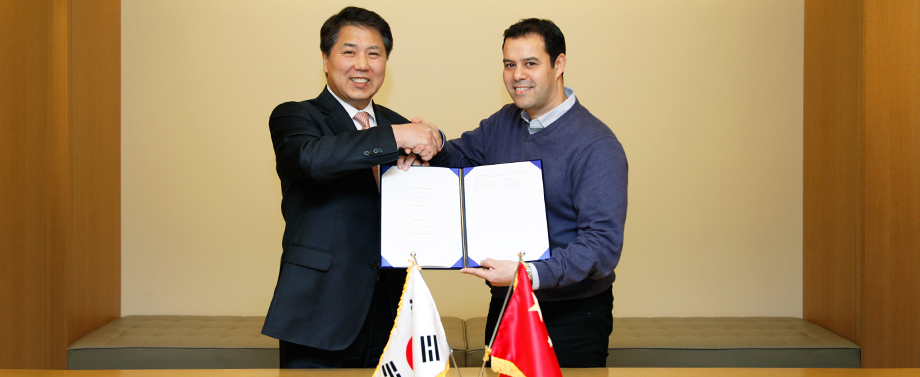 Hanwha Group (Chairman Seung Youn Kim) is entering the global FinTech market. The company has signed an agreement to establish a FinTech joint venture with Dianrong of China, following a strategic memorandum of understanding (MOU) with the company in November 2015.
CEO of Hanwha S&C Kim Yong-wook and CEO of Dianrong Soul Htite signed a shareholders' agreement for the establishment of a joint venture, on February 4th in Seoul.
Also present at the signing ceremony was Hanwha Life Head of FinTech and Head of Innovation Center Dong Won Kim. Discussions for the latest agreement first began in April 2015 when Mr. Kim met with Mr. Htite during the LendIt Conference held in the United States and shared ideas on areas of common interest. Following the signing of the MOU in November, Mr. Kim sat down with Mr. Htite again in Hong Kong and Seoul to discuss business strategies pertaining to the agreement.
The two companies will incorporate the new venture during February in Singapore through a 50:50 equity investment. The new company will begin engaging in the marketplace lending business in Korea and other major Asian nations by building on technological capabilities that have been proven during nine years of operations and management of 12 billion USD in loans in the United States and China.
A subsidiary will be established in Korea in March, with marketplace lending set to begin as early as August or September 2016. The Korean company will be launched with a new hire of 30 FinTech specialists.
The Korean marketplace will be operated as an open platform, building symbiotic relationships with Korean and international startup companies, financial firms and other FinTech industry members to create a robust Fintech ecosystem.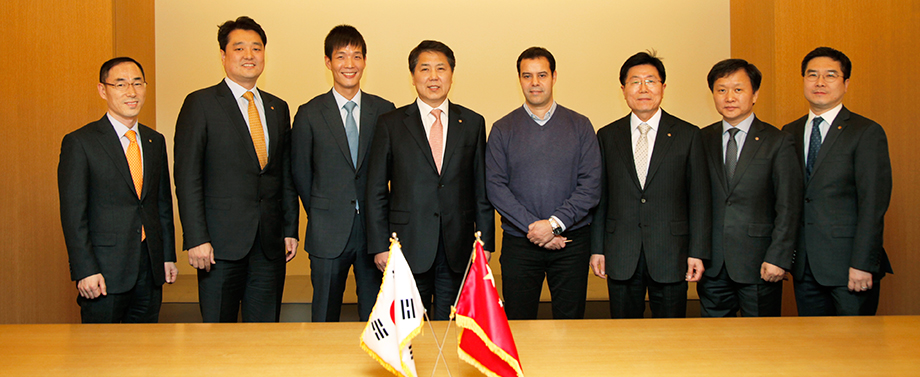 The shareholders' agreement will provide Hanwha Group with the foundations for discovering new FinTech business opportunities in Korea and abroad and secure an early presence in the growing market. As the FinTech industry continues to evolve and develop rapidly, the Group plans to further identify new opportunities for acquiring technological capabilities and operational know-how through strategic partnerships with global leaders.
Dianrong, a P2P lending company and one of China's most prominent FinTech leaders, was established in Shanghai, China in 2012 by current CEO Soul Htite, the co-founder and former chief technology officer of Lending Club, the largest company in the industry. Dianrong has grown into one of the top three P2P lenders in China with over 2,500 employees in 30 offices around the country.
¹ P2P lending
Peer-to-peer financial transactions via the Internet. P2P loans pool funds from an unspecified number of members of the public to provide loans at reasonable interest rates. The market has been growing explosively with the boom in FinTech (Finance + Technology) in the United States and other advanced countries.
² Loan marketplace
Referring to the commercial activity that takes place via online intermediaries that facilitate the sale or purchase of goods by private parties, a loan "marketplace" represents an online space that links loan providers with consumers.
Hanwha Group
Founded in 1952, Hanwha has grown quickly by anticipating and responding to changing business environments with a balanced business portfolio that includes energy & materials, aerospace, finance and retail & services. Our expertise and synergy in key areas have catapulted us into the seventh-largest business in South Korea and a Fortune Global 500 company. Hanwha continues to grow rapidly as we strive to pursue global leadership in all of our businesses. We are building a robust foundation for sustainable development and a brighter future for everyone.

For more information, visit: www.hanwha.com
Contact Us
Thank you for your interest in Hanwha.
Please contact us for your inquiries.
Email Us
Information Message
Please enter your email address.
Information Message
Please enter a correct email address.
Success
Keep an eye on your inbox for the latest stories from Hanwha.
Information Message
Your subscription request has already been processed. Thank you.