Hanwha Group Launches Ninth Hanwha Solar Forest
12,000 trees were planted on the ninth Hanwa Solar Forest, which lies on a 50,000-square-meter plot of land located in Hongcheon, Gangwon-do, South Korea.
"Hongcheon Carbon Absorbing Forest" is expected to help remove 102 tons of carbon dioxide and 0.53 tons of fine dust from the air yearly.
Hanwha has spent the past decade planting sustainable forests to help combat the climate change crisis. The forests now cover an area roughly the size of 200 soccer fields.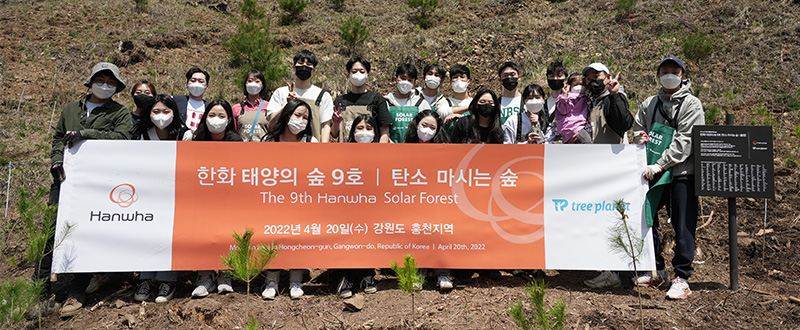 [May 9, 2022] Hanwha Group has taken a leading role in responding to climate change and carbon neutrality through Hanwha Solar Forest, a campaign that has seen them plant nine large carbon sink forests over the past decade.
On April 20, to celebrate Earth Day (April 22) 2022, Hanwha Group cut the red tape on its ninth Hanwha Solar Forest which it's calling "Hongcheon Carbon Absorbing Forest", which had been under construction since March this year. The forest will be completely carbon neutral, covering 50,000 square meters of land in Gangwon-do, South Korea.
Seedlings for the forest were grown in nurseries using solar energy generated from panels that were donated and installed by Hanwha Group, making Hanwha's initiative different from others. Using solar energy to power the seedling nurseries provides multiple ecological benefits, including consistent temperature and humidity control, optimal lighting conditions required to nurture saplings, and maintenance of a clean water supply. In turn, the use of solar energy creates a carbon-neutral forest. Additionally, the group's newest Solar Forest is now home to 12,000 trees, including pines with high carbon absorption. At its full capacity, the forest is projected to absorb 102 tons of carbon dioxide while purifying 0.53 tons of fine dust and 2,000 tons of oxygen every year. These reasons make it one of the world's most eco-friendly forests created in response to the climate crisis.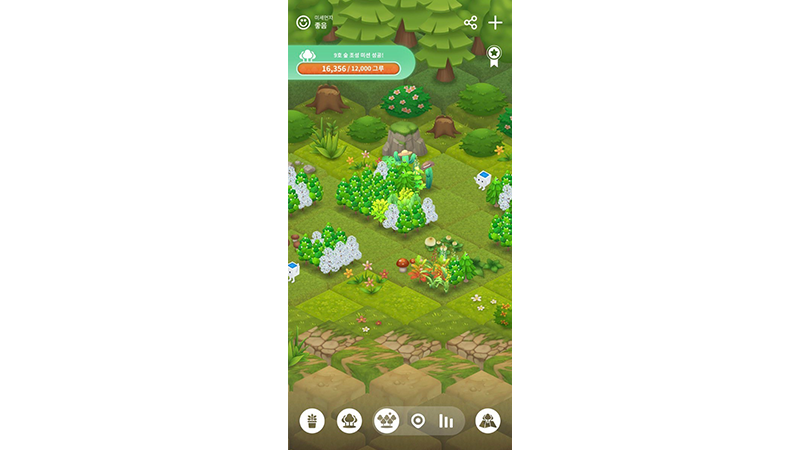 Hanwha's ninth Solar Forest has also found a unique way to involve the public – by taking the forest out of the woods and onto their phones. Hanwha's "Solar Forest" app allows users to raise virtual trees inside a mapped-out digital replica of the forest. Hanwha then takes their virtual tree to the real world and plants it in the live forest, where it will collect carbon, clear fine dust, and help aid in the fight against climate change. So far, the app has exceeded 160,000 downloads and 16,356 trees have been donated for the ninth Hanwha Solar Forest, eclipsing the original goal of 12,000.
"Hanwha Solar Forest is a campaign that represents environmental sustainability, a goal Hanwha Group has continued to strive for, while raising public awareness of corporate environmental responsibility and building a bond of sympathy in our society," said Tae-Gil Lee, President of Hanwha Communications Committee. "In the future, we will continue our business and fulfill our corporate social responsibility to solve growing environmental problems caused by climate change."
In his New Year's address this January, Hanwha Group Chairman Seung Youn Kim said that "our roles and responsibilities as corporate citizens are becoming increasingly important to solving global issues such as climate change," before adding that "we must instill a culture that is based on ethical management and the spirit of sharing."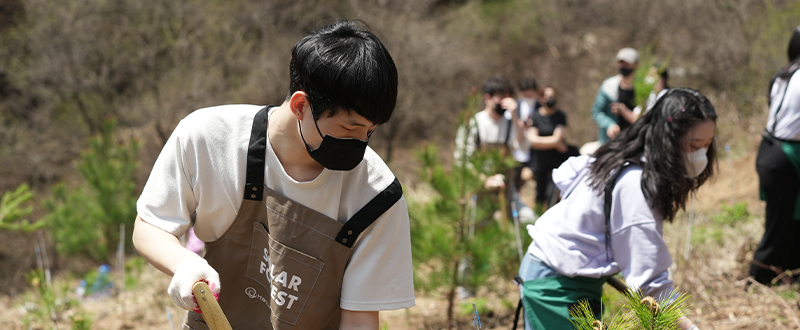 Hanwha Group has planted 526,200 trees for the Solar Forest campaign over the past decade
The Hanwha Solar Forest campaign began in 2011 in partnership with Tree Planet, a social venture company, to create eco-friendly forests locally and globally. Beginning with the Tujiin Nars anti-desertification forest in Mongolia in 2012, the campaign has created nine forests throughout South Korea, China, and Mongolia. Around 526,200 trees have been planted across 1.43 million square meters, equivalent to roughly the size of 200 soccer fields.
Forests created through the campaign have helped surrounding areas decrease fine dust, prevent desertification and soil erosion, and purify water and air quality. In Mongolia, residents who had to previously leave their homes due to desertification caused by unauthorized logging and arson have been able to return home to live and work as forest managers at the forests created through the Hanwha Solar Forest campaign. As these results show, Hanwha Solar Forest has brought about tangible and practical changes in the lives of local residents.
What makes the Hanwha Solar Forest stand out from others is its solar nurseries. Electricity used to grow seedlings in ordinary seedling farms is produced with fossil fuels and produces carbon emissions – the very thing these forests are meant to eliminate. Solar nurseries, however, grow seedlings entirely with solar energy, creating forests with an eco-friendly lifecycle, from seed to sapling. The Solar Forest campaign has been creating forests using seedlings grown in its solar nurseries since its second forest.
Through the Hanwha Solar Forest campaign, Hanwha Group has proposed solutions to environmental problems such as desertification, yellow dust, and fine dust by utilizing afforestation. This natural climate solution reduces the impact of desertification, supports ecosystems, and removes carbon dioxide from the atmosphere. The Hanwha Solar Forest also acts as a countermeasure against deforestation while raising awareness and support for the fight against global climate crisis.
As a result of Hanwha's efforts, the Hanwha Solar Forest campaign, the world's first corporate campaign utilizing solar energy development to prevent desertification, was introduced as a best practice at the 2011 United Nations Convention to Combat Desertification (UNCCD). It was also cited as a model case for how corporate partnerships can positively contribute to achieving the Sustainable Development Goals (SDGs) in a meeting at the UN's High-Level Political Forum in 2018.
Hanwha Group
Hanwha Group, founded in 1952, is one of the Top-Ten business enterprises in South Korea and a "FORTUNE Global 500" company. Hanwha Group has more than 85 domestic affiliates and over 380 global networks in three major sectors: manufacturing and construction, finance, and services and leisure. With more than 65 years track record of industrial leadership, Hanwha's manufacturing and construction businesses encompass a broad range of fields from chemicals & materials, aerospace & mechatronics, total solar energy solutions, and global construction. The finance network, covering insurance, asset management and securities, is the second largest non-bank financial group in South Korea. The services and leisure sector offers premium lifestyle services with retail and resort businesses.

For more information, visit: www.hanwha.com
Contact Us
Thank you for your interest in Hanwha.
Please contact us for your inquiries.
Email Us
Information Message
Please enter your email address.
Information Message
Please enter a correct email address.
Success
Keep an eye on your inbox for the latest stories from Hanwha.
Information Message
Your subscription request has already been processed. Thank you.