Hanwha Leads Response to Climate Change through Carbon Neutrality
Hanwha joins the 'Forest Strategy for Carbon Neutrality 2050' project with its 8th Hanwha Solar Forest in Samcheok City, South Korea
15,000 virtual trees grown by participants on the Solar Forest app were in turn, physically planted in a real forest by Hanwha
The Hanwha Solar Forest campaign continues to foster environmental consciousness and raise awareness on climate change and environmental issues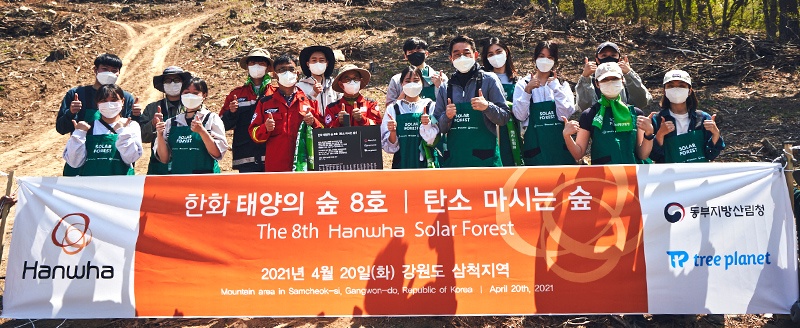 Hanwha is actively combating climate change, taking steps towards achieving carbon neutrality. One of the key ways in which Hanwha does this is through its Solar Forest campaign—an environmentally-friendly social responsibility campaign that was launched back in 2011.
On April 20th, Hanwha held an event to celebrate the completion of its 8th Hanwha Solar Forest, which forms part of the Samcheok Carbon Neutral Forest plantation in Gangwon Province Korea. The Samcheok Carbon Neutral Forest is one of several national forests being created through the 'Forest Strategy for Carbon Neutrality 2050' project. Under this project, the Korea Forest Service aims to plant 3 billion trees over the course of 30 years, and reduce carbon by 34 million tons.
Since March, Hanwha has planted 15,000 black locust tree saplings (a species from which honeybees collect nectar from its flowers) that were grown in a solar-powered seedling nursery on approximately 5 hectares of land in Samcheok City, South Korea. Once mature, the forest will be able to absorb 162 tons of CO₂ and 0.33 tons of fine dust every year.
Black locust trees were specifically chosen to create the carbon-neutral forest to maximize carbon capture because at the age of 30 years, they absorb on average 14% more CO₂ than a species widely known to absorb vast amounts of greenhouse gases—the oak tree.
The planting of the 15,000 trees was initiated through one of Hanwha's contactless campaign activities—efforts that have continued despite the Covid-19 pandemic. The company has been promoting its exclusive campaign mobile application called Solar Forest—launched last year in June—to promote awareness and encourage participation in the latest Solar Forest project. The campaign successfully spread awareness and kept the public engaged, incentivizing them to plant trees virtually, with Hanwha promising to match every virtual tree with a real tree planted in the next Solar Forest. Campaign participants—also known as Forest Heroes—responded enthusiastically by virtually 'growing' 15,000 trees and then donating them to the cause. In turn, Hanwha physically planted 15,000 trees in its 8th Solar Forest.

"Hanwha Solar Forest is a campaign that represents the environmental sustainability values pursued by Hanwha. It contributes to raising awareness and highlighting concerns on climate change and environmental issues," said Lee Tae Kil Senior Executive Vice President, Head of Hanwha Communications Committee. "It is also meaningful that the 8th Solar Forest can serve as a stepping stone to achieve the Korea Forest Service's Forest Strategy for Carbon Neutrality 2050."
Hanwha Solar Forest is a campaign that began in 2011 in partnership with Tree Planet, a social venture company, to create eco-friendly forests locally and globally. Since the planting of Mongolia's Tujiin Nars Desertification Prevention Forest back in 2012, a total of seven forests have been cultivated in China and Korea. Combined, these forests cover an area the size of approximately 180 football fields with over half a million trees. Hanwha's efforts have directly prevented desertification, helped purify water and air, and have even limited soil leakages in these regions.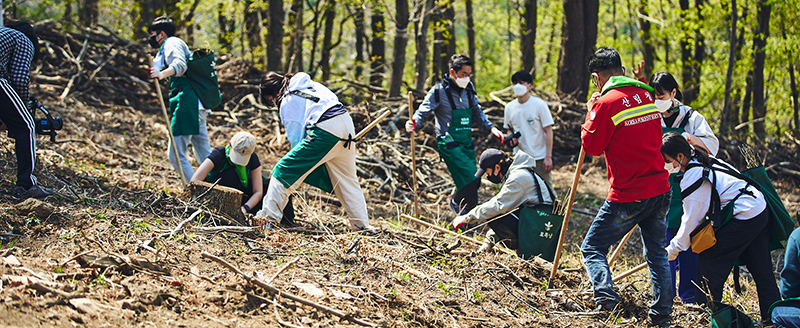 What makes the Hanwha Solar Forest campaign even more special is the use of solar-powered seedling nurseries. Tree nurseries normally use electricity produced from fossil fuels to grow trees, which releases carbon into the air. However, since solar nurseries are powered by solar energy, these forests are also eco-friendlier. Beginning with the 2 nd solar forest, Hanwha Solar Forests were planted using saplings raised with solar power.
Through the Hanwha Solar Forest campaign, Hanwha is providing solutions to environmental problems such as desertification and fine dust. At the same time, the company is encouraging people to participate in activities that raise awareness and foster environmental consciousness.
In 2011, the Hanwha Solar Forest Campaign was recognized by the United Nations as a model example of reforestation at the United Nations Convention to Combat Desertification (UNCCD) as well as being the world's first example of utilizing solar energy to grow trees for reforestation to fight the effects of desertification. Then, at the 2018 United Nations High-Level Political Forum on Sustainable Development held at the UN Headquarters, Hanwha Solar Forest was recognized again as an example of how corporate partnerships can contribute to the UN Sustainable Development Goals (SDGs).
Hanwha Group
Founded in 1952, Hanwha has grown quickly by anticipating and responding to changing business environments with a balanced business portfolio that includes energy & materials, aerospace, finance and retail & services. Our expertise and synergy in key areas have catapulted us into the seventh-largest business in South Korea and a Fortune Global 500 company. Hanwha continues to grow rapidly as we strive to pursue global leadership in all of our businesses. We are building a robust foundation for sustainable development and a brighter future for everyone.

For more information, visit: www.hanwha.com
Contact Us
Thank you for your interest in Hanwha.
Please contact us for your inquiries.
Email Us
Information Message
Please enter your email address.
Information Message
Please enter a correct email address.
Success
Keep an eye on your inbox for the latest stories from Hanwha.
Information Message
Your subscription request has already been processed. Thank you.