Hanwha Group to Hold 2015 Seoul International Fireworks Festival
Over 1 million visitors expected at Korea's largest fireworks event, now in 13th year
100,000 fireworks to bloom in the skies over Seoul for 1 hour 20 minutes
600 Hanwha employees to form volunteer team to help maintain safety, run clean campaign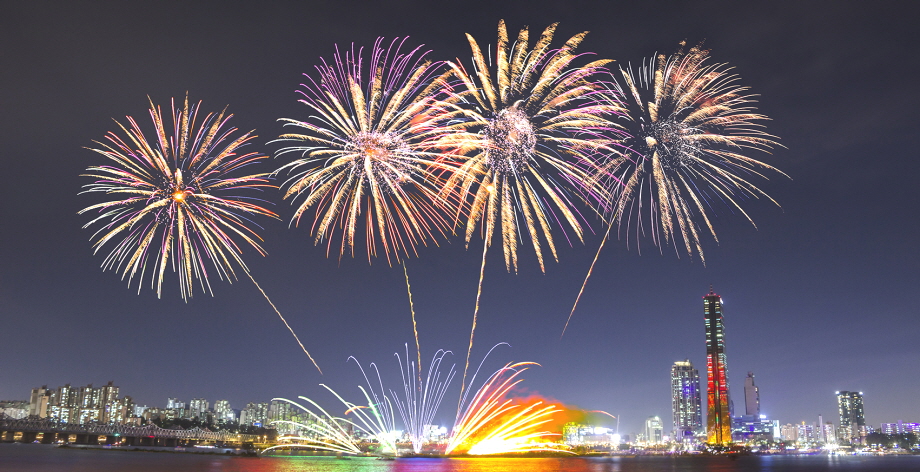 Now celebrating its 13th event, the "Hanwha Seoul International Fireworks Festival," one of Korea's largest and most popular outdoor events, will color the skies with over 100,000 fireworks on the evening of Saturday, October 3rd.
Created in 2000 as one of Hanwha Group's primary corporate social responsibility (CSR) activities, the Hanwha Seoul International Fireworks Festival is jointly organized by Hanwha Group and Seoul Broadcasting System and sponsored by the city of Seoul and the Korea Creative Content Agency.
Pyrotechnics teams from the United States, the Philippines and Korea will launch over 100,000 fireworks that will stitch Seoul's autumn skies with stunning explosions of every color and pattern.
An Invitation to a Magical World of Fireworks Woven into Delightful Stories
The fireworks show will be opened by Melrose Pyrotechnics from the United States with a performance titled "Love is Magical" that will embroider the sky with a sweet sensibility. Melrose Pyrotechnics has recently gained a large following in Asia after winning top awards in fireworks events in Japan and Vietnam, and will apply their extensive experience and expertise to offer a powerful yet sensitive pyrotechnic performance to the tunes of a love song that will seamlessly blend the classic and the modern.
Dragon Fireworks, hailing from the Philippines and slated to be the second team to perform, will put on a performance titled 'OPM (Original Philippines Music) against the World' that will combine the hidden gems of Filipino popular music with electronic dance music (EDM), the hottest genre in music today to create a musical show filled with passion and theatrical panache. Dragon Fireworks has recently won first prizes in two fireworks competitions in Europe, making fans eagerly anticipate their characteristic show that expresses the heights of popular culture in both the East and West through the dramatic beauty of a pyrotechnic display.
The event will close with a finale performance by Hanwha titled "The Flames of Magic," that will visualize the deepest flames in our hearts as Energy, Love, Hope and Joy.
Hanwha is poised to deliver the most elaborate performance to date, featuring a pyrotechnic extravaganza with a story told through music, fireworks, images and narration and unveiling for the first time new fireworks that will draw popular characters, ghostly images and UFOs soaring across the night sky with intricate pyrotechnic arrangements.
In addition, a volunteer team of over 600 employees of Hanwha family companies will make sure that the event is safe and fun for every guest, as well as enlist the help of visitors as part of a "clean campaign" to collect trash and tidy the festival grounds after the conclusion of the event.
A Magical Fireworks Village Makes Even Waiting Fun
A variety of events will be held from 1pm to 7pm to entertain guests while they wait for the main festival to begin.
Hands-on experiences and performance parades featuring the four main themes of Energy, Love, Hope and Joy of Hanwha's magical fireworks show will be on display along the "Fireworks Road" crossing the center of the festival grounds. The performance zone will be expanded to include two stages this year that will offer even more entertainment to guests waiting for the fireworks to begin.
More information about the event can be found at the Hanwha Seoul International Fireworks Festival homepage.
Hanwha Group
Founded in 1952, Hanwha has grown quickly by anticipating and responding to changing business environments with a balanced business portfolio that includes energy & materials, aerospace, finance and retail & services. Our expertise and synergy in key areas have catapulted us into the seventh-largest business in South Korea and a Fortune Global 500 company. Hanwha continues to grow rapidly as we strive to pursue global leadership in all of our businesses. We are building a robust foundation for sustainable development and a brighter future for everyone.

For more information, visit: www.hanwha.com
Contact Us
Thank you for your interest in Hanwha.
Please contact us for your inquiries.
Email Us
Information Message
Please enter your email address.
Information Message
Please enter a correct email address.
Success
Keep an eye on your inbox for the latest stories from Hanwha.
Information Message
Your subscription request has already been processed. Thank you.