Hanwha Life Donates Medical Facility, Housing in Vietnam
New clinic constructed in Bac Phong in rural northern Vietnam to provide medical services to local community
Contributes to raising local healthcare standards by donating 9,925 insurance cards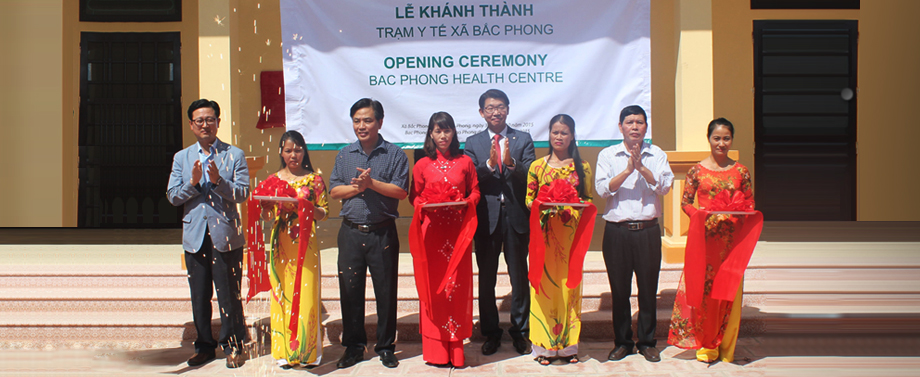 Hanwha Life constructed and donated a new medical clinic to provide healthcare services to residents in a remote rural region in Vietnam and donated life insurance policies as part of the company's "Love Life" service campaign.
Hanwha Life completed the construction of a community medical center in the Bac Phong region of Cao Phong District, Hoa Binh Province in the northern part of Vietnam on October 30 (Fri.), and donated the facility to the local government. Construction of the clinic, which is composed of eight healthcare facilities including a physical examination room, emergency room, labor ward, patient care beds and vaccination room, began in April and was completed in just seven months, and will begin providing comprehensive medical service to local residents.
Bac Phong is a remote rural region with a population of 44,485 where the medical condition was severely run down, unable to provide basic healthcare or emergency service. The facility was incapable of diagnosing and treating even common diseases such as respiratory infections, diarrhea, climate-related skin diseases, and water-borne infections.
Babies could not be delivered in the well-equipped center, and the lack of vaccination facilities or child emergency healthcare services resulted in very low survival rates for small children under the age of five. Sick children had to be taken to a distant hospital for any sort of care, a difficult task considering the poor condition of local roads.
The opening ceremony of the Bac Phong clinic was attended by Deputy Chairman Ho Xuan Dung of the Cao Phong People's Committee, General Director of Hanwha Life Vietnam, Mr. Back Jong Kook, and over 120 guests who expressed their gratitude for the extensive and sustained corporate social responsibility(CSR) activities of Hanwha Life. This medical center is a part of long-term projects sponsored by Hanwha Life in Hoa Binh Province, together with the donation of an elementary school in 2013 and a kindergarten in 2014.
Drawing from its capabilities as a life insurance company, Hanwha Life became the first Korean company in Vietnam to provide life insurance cards to local residents nationwide. Continuing the successful project last year, the company has sponsored 9,925 life insurance cards from April to May in 2015 to vulnerable social groups in 11 provinces including Yen Bai, Phu Tho, Hai Phong, Thanh Hoa, Gia Lai, Binh Dinh, Hochiminh City, Dong Nai, Lam Dong, Can Tho and Dong Thap, allowing a total of 20,347 Vietnamese residents to enjoy the benefits of healthcare.
In Vietnam, people may purchase life insurance certificates every year. The government subsidizes 70% of the insurance costs of disadvantaged groups, but the elderly, children, and poor families are often unable to pay the remaining 30% which Hanwha Life has been addressing by purchasing life insurance cards and providing them to these vulnerable groups.
Hanwha Life has also launched a House of Love building program. The company built 12 houses in Nghe An, Khanh Hoa and Ca Mau for disadvantaged residents on land donated by the Vietnamese government to help them to achieve self-sufficiency. Since 2013, Hanwha Life has donated a total of 145 houses through this program.
Mr. Back Jong Kook, General Director of Hanwha Life Vietnam, stated "As a life insurance company, Hanwha Life has always highly supported providing medical services to local residents, and especially children," adding that "Hanwha Life will continue to engage in a wide range of CSR programs tailored to meet local needs in Vietnam, as part of our efforts to reach our goal of becoming a global insurance company that can grow together with its community."
Hanwha Life's CSR activities are also notable for being private-public partnerships. The Vietnamese government donates land for houses and clinics, and Hanwha Life, together with the Green Umbrella Children's Foundation and local Vietnamese NGOs, identifies and fills the most immediate needs of local communities.
On April 1, 2009, Hanwha Life became the first Korean life insurance company to enter the Vietnamese insurance market. Hanwha Life Vietnam was also the first successful model of a Korean firm establishing a wholly-owned local subsidiary with 100% parent-company investment for providing insurance service in an overseas market. Now in its seventh year of Vietnamese operation, Hanwha Life Vietnam is widely regarded as a model case for overseas business expansion due to the company's stable organization, high new contract rate, and enhanced levels of efficiency.
Hanwha Life Vietnam's premium income rose fourteen-fold from 1.4 million USD in 2009 to 19.9 million USD in 2014, and this trend has continued with income of 12.7 million USD up to June 2015. The number of offices also increased from five in 2009 to 49 as of June 2015 in major cities across the country including Ho Chi Minh, Hanoi, Da Nang and Can Tho, creating a nation-wide sales network. The 13-month persistency rate was only 38% in 2010, but has increased to 71% as of June 2015.
Hanwha Life
Established in 1946, Hanwha Life is not only a leading South Korean life insurance company but also the first and oldest in the nation. For the past 75 years, Hanwha Life has played a critical role in developing the industry and expanding the country's economic growth. In 2021, Hanwha Life reported total assets of USD 112.76 billion, demonstrating its sound structure and firm commitment to adding innovative products and services that meet a wide range of customer needs.

For more information, visit: www.hanwhalife.com/en

Hanwha Group
Founded in 1952, Hanwha has grown quickly by anticipating and responding to changing business environments with a balanced business portfolio that includes energy & materials, aerospace, finance and retail & services. Our expertise and synergy in key areas have catapulted us into the seventh-largest business in South Korea and a Fortune Global 500 company. Hanwha continues to grow rapidly as we strive to pursue global leadership in all of our businesses. We are building a robust foundation for sustainable development and a brighter future for everyone.

For more information, visit: www.hanwha.com
Contact Us
Thank you for your interest in Hanwha.
Please contact us for your inquiries.
Email Us
Information Message
Please enter your email address.
Information Message
Please enter a correct email address.
Success
Keep an eye on your inbox for the latest stories from Hanwha.
Information Message
Your subscription request has already been processed. Thank you.