Hanwha Life Opens FinTech Startup Incubator DREAMPLUS 63
DREAMPLUS 63 helps FinTech startups set up offices in the 63 Building
Startups can have both the support and opportunities to establish business overseas
The center represents Hanwha's latest form of corporate social responsibility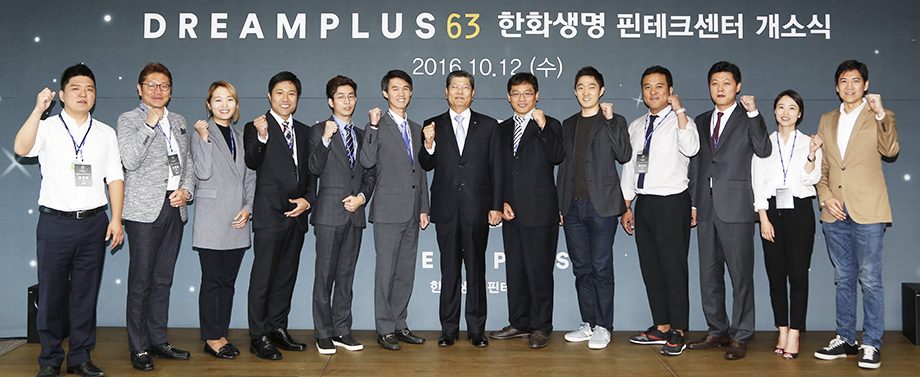 [October 12, 2016] On October 12th, Hanwha Life announced the opening of DREAMPLUS 63, the company's FinTech support center located in the landmark 63-Building in Seoul. The center is yet another initiative from Hanwha Life to engage in corporate social responsibility. It will help young entrepreneurs to set up startup companies, create jobs, and at the same time, contribute to a stronger FinTech ecosystem in South Korea.
Months earlier in July, Hanwha Life had issued a nationwide open call for startup companies seeking to occupy the new FinTech center and also receive Hanwha Life's support. Eleven startups were selected after careful review of numerous business plans and interviews through August and September. These startups were then given opportunities to turn their ideas into actual businesses in a wide range of areas including robo-advisors, asset management, financial instruments brokerage, credit rating, security solutions, and more.
Chang-hun Yoo, the founder and CEO of SSenStone, a company that leverages password encryption technology for authentication, said that his company has "high expectations for the FinTech Center." Then he said, "Hanwha Life is one of South Korea's most active backers of FinTech with products such as mid-range interest rate loans using big data and customer management apps," adding that "the center's dedicated experts have created a system of communication and support that has led to active and productive discussions with financial firms for business partnerships. We expect an early rollout of our solution."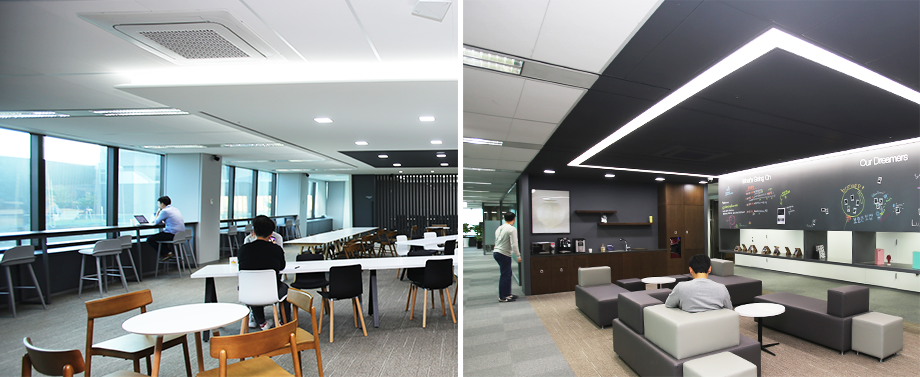 The DREAMPLUS 63, Hanwha Life's FinTech Center, is South Korea's largest FinTech center occupying the entire 3,074㎡ fourth floor of the 63 Building. The center features separate office spaces for each of the eleven startups, a 150-seat multi-purpose event hall, two large meeting rooms, six smaller meeting spaces, and an spacious rest area.
At the DREAMPLUS 63 center, each startup will be assigned a dedicated support staff to assist the company as it works closely with financial firms, including Hanwha Life, to build close partnerships. The startups will also be partnered with companies that will provide legal, accounting, tax and intellectual property rights consulting.
Hanwha Life's FinTech center also offers the power of its global network to help startups who seek to expand overseas. Startups looking to enter markets in Asia are matched with local partners through Hanwha Group's network. They receive assistance necessary to operate in the local markets including interpretation, legal and regulatory advice. The center also affords investor opportunities for the startups because it attracts them from leading venture capital firms in the United States, Britain, Singapore and Israel. For example, on the day of the opening ceremony, the startup companies met with investors from Shanda Group and Yida Group from China and Golden Gate Ventures from Singapore to discuss ways to create more business value and review practical approaches to expand overseas.
President and CEO of Hanwha Life Nam-Gyu Cha said, "With the opening of the FinTech Center, Hanwha Life aims to strengthen the FinTech ecosystem by infusing it with young startup entrepreneurs whose ventures will create new jobs," adding that "by providing carefully-tailored support, Hanwha Life will enable the startups to achieve real breakthroughs and help create a new wave of financial innovation."
Hanwha Group
Hanwha Group, founded in 1952, is one of the Top-Ten business enterprises in South Korea and a "FORTUNE Global 500" company. Hanwha Group has more than 85 domestic affiliates and over 380 global networks in three major sectors: manufacturing and construction, finance, and services and leisure. With more than 65 years track record of industrial leadership, Hanwha's manufacturing and construction businesses encompass a broad range of fields from chemicals & materials, aerospace & mechatronics, total solar energy solutions, and global construction. The finance network, covering insurance, asset management and securities, is the second largest non-bank financial group in South Korea. The services and leisure sector offers premium lifestyle services with retail and resort businesses.

For more information, visit: www.hanwha.com
Contact Us
Thank you for your interest in Hanwha.
Please contact us for your inquiries.
Email Us
Information Message
Please enter your email address.
Information Message
Please enter a correct email address.
Success
Keep an eye on your inbox for the latest stories from Hanwha.
Information Message
Your subscription request has already been processed. Thank you.