Hanwha Life Total Assets Exceeds 100 Trillion KRW (82.2 Billion USD)
Started as Korea's first life insurance company in 1946, and became the top life insurer representing Korea
Internet-primary banking, FinTech to become flagship businesses for a new digital age
Targets 1 trillion KRW (822 million USD) in pretax income by 2020, on track to reach 200 trillion KRW (164.4 billion USD) in assets by 2024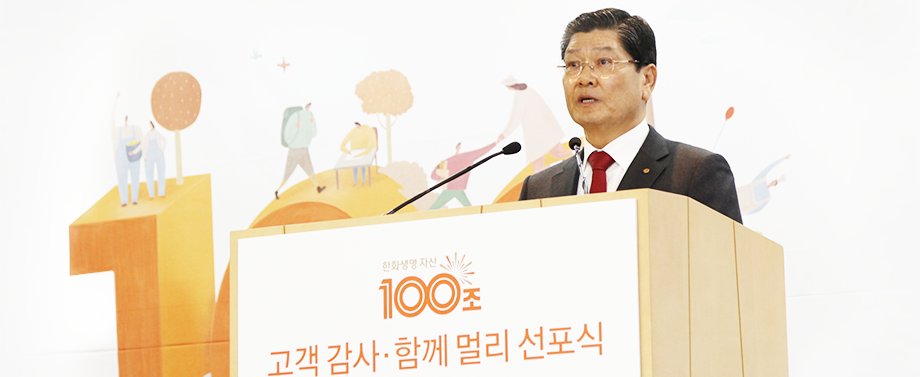 Seventy years after being founded in 1946 as Korea's first life insurance company and only eight years after breaking the 41.1 billion USD mark in total assets in 2008, Hanwha Life (President and CEO Nam-Gyu Cha) has reached a new milestone by recording 100 trillion KRW (82.2 billion USD) in total assets. By maintaining its current rate of growth, the company is on course to exceed 200 trillion KRW in total assets (164.4 billion USD) by 2024.
Total assets, which stood at 23.8 billion USD at the time of acquisition in 2002, increased rapidly to triple in thirteen years to reach 82.2 billion USD (100 trillion KRW). Premium income increased by more than half to 12.3 billion USD by 2015, and the risk-based capital (RBC) ratio, an indicator of asset quality, rose threefold from 95.6% to 277%.
Steadfast growth and management innovation enabled Hanwha Life to maintain a sustained rate of growth, reaching 470 million USD in pretax income in 2015 and aiming for 490 million USD this year. Focusing the company's energy into strengthening its world-leading competitiveness, Hanwha Life is well on its way to reaching its target of 822 million USD in pretax income and 590 million USD in value of new business by 2020.
Building a 'world-class insurance company' which also fulfills social responsibility and service to the community
President and CEO Nam-Gyu Cha of Hanwha Life Insurance stated, "Reaching 82.2 billion USD (100 trillion KRW) in assets will provide another boost to Hanwha Life's progress towards becoming a true 'world-class insurance company' that is closely in tune with the trends of our times and actively fulfills its social roles and responsibilities," adding that "Hanwha Life will engage in a diverse range of corporate social responsibility projects befitting its stature as a leading life insurance provider, becoming the ideal partner for progress for all of our customers."
To celebrate the new milestone, Hanwha Life will begin a volunteer service relay project, involving over 100 service teams composed of employees and financial planners. The project will run from March 21 to May 31, allowing the company to return some of the love it has received over the past seven decades to neglected and vulnerable members of the community.
Global expansion, internet primary banking, FinTech to provide future growth engines
Hanwha Life continues to build a leadership position in the global market. The company has the most extensive overseas presence among Korean life insurance companies, operating subsidiaries in Vietnam, China and Indonesia. As Korea's first life insurance company to set foot in Vietnam in 2009, Hanwha Life is preparing to post its first year of profits this year, celebrating its 7th anniversary. The company's Chinese subsidiary is on its way to becoming the top foreign-invested enterprise in Zhejiang province and is exploring an expansion into new markets in the country, including Jiangsu province; Hanwha Life Indonesia is diversifying its sales channels through a variety of initiatives, including bancassurance partnerships.
Securing future growth engines is another important priority for Hanwha Life, and the company is making rapid and notable progress. Hanwha Life is the only insurance provider in the K-Bank Consortium, an internet-primary banking project, giving the company a clear edge in the bancassurance channel of Korea's first internet-primary bank. In addition, the company became the first in the industry to successfully utilize FinTech and big data, which had been difficult to apply to the insurance industry, to create a real business model by launching a new medium-rate loan; the company is also preparing a strategy for expanding into foreign markets that lack credit scoring systems.
Milestones of Hanwha Life
Founded in September, 1946, with a capital of 8,220 USD, Hanwha Life constructed then-Asia's tallest skyscraper, the 63 Building, in 1985, and reached 822 million USD in total assets in December, 1986, and 8.22 billion USD in May, 1996. After becoming a part of Hanwha Group in December, 2002, the company grew rapidly to exceed 41.1 billion USD in total assets by April of 2008 and became the first large insurance company of Korea to be listed on the stock exchange in March, 2010. In December of 2012, the company changed its name from Daehan Life Insurance to its present name, Hanwha Life.
For more information, visit: www.hanwhalife.com/english/

* Currency is converted into US dollars at the average exchange rate of USD 1=KRW 1,216.54
Hanwha Group
Founded in 1952, Hanwha has grown quickly by anticipating and responding to changing business environments with a balanced business portfolio that includes energy & materials, aerospace, finance and retail & services. Our expertise and synergy in key areas have catapulted us into the seventh-largest business in South Korea and a Fortune Global 500 company. Hanwha continues to grow rapidly as we strive to pursue global leadership in all of our businesses. We are building a robust foundation for sustainable development and a brighter future for everyone.

For more information, visit: www.hanwha.com
Contact Us
Thank you for your interest in Hanwha.
Please contact us for your inquiries.
Email Us
Information Message
Please enter your email address.
Information Message
Please enter a correct email address.
Success
Keep an eye on your inbox for the latest stories from Hanwha.
Information Message
Your subscription request has already been processed. Thank you.