Hanwha Life Wins Best Insurance Capital Bond of 2018 at The Asset Triple A Regional Awards
Hanwha Life is recognized for its hybrid securities issuances – the largest by a Korean insurer and for having the lowest spread in Asia since 2008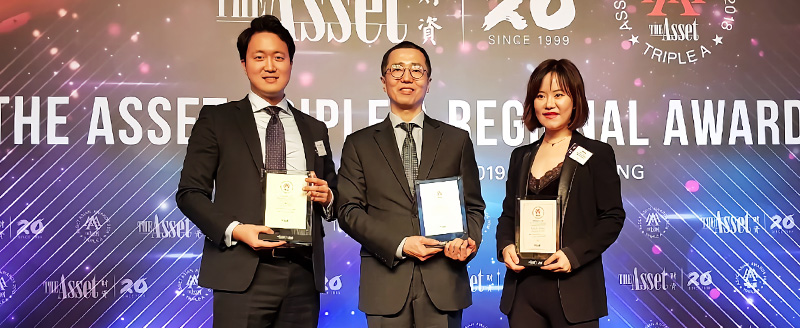 Hanwha Life was recognized as one of Asia's best bond issuers at the annual Triple A Regional Awards by The Asset, a business news magazine. The company received the award for "Best insurance capital bond" of 2018 in recognition for a landmark billion-dollar bond issuance it made in April of 2018.
The offering was the largest issuance of hybrid securities ever made by a Korean insurer. It was also admired for only having a spread of 200 basis points, that according to The Asset, was "the lowest among all US dollar-denominated hybrids since the 2008 global financial crisis." Hanwha Life's achievement with the bond issuance was significant enough that they were recognized at the Asia-wide Triple A Regional Awards, a step up from the local Triple A Country Awards.
"The bond issuance was made at a challenging time amidst rising market rates and other issues," said a spokesperson for Hanwha Life. "However, demand far exceeded availability and most of the bonds were purchased by major global investors."
The Asset is a Hong Kong-based publication that offers independent insight into the Asian financial industry in both print and digital form. Since 2007, The Asset has annually handed out its Triple A Awards to recognize significant achievements in the Asian financial industry.
Hanwha Life
Established in 1946, Hanwha Life is not only a leading South Korean life insurance company but also the first and oldest in the nation. For the past 75 years, Hanwha Life has played a critical role in developing the industry and expanding the country's economic growth. In 2021, Hanwha Life reported total assets of USD 112.76 billion, demonstrating its sound structure and firm commitment to adding innovative products and services that meet a wide range of customer needs.

For more information, visit: www.hanwhalife.com/en

Contact Us
Thank you for your interest in Hanwha.
Please contact us for your inquiries.
Email Us
Information Message
Please enter your email address.
Information Message
Please enter a correct email address.
Success
Keep an eye on your inbox for the latest stories from Hanwha.
Information Message
Your subscription request has already been processed. Thank you.