Hanwha Partners With Vertical Aerospace and Global Organizations for UAM Technology and Infrastructure Development
Hanwha Aerospace signed a memorandum of agreement with Vertical Aerospace at the 2023 Paris Air Show for the joint development of core parts for the VX4.
The companies are working towards a long-term contract for the development and supply of tilting and blade systems for eVTOLs.
Hanwha Systems will partner with European aerospace organizations to build out UAM infrastructure.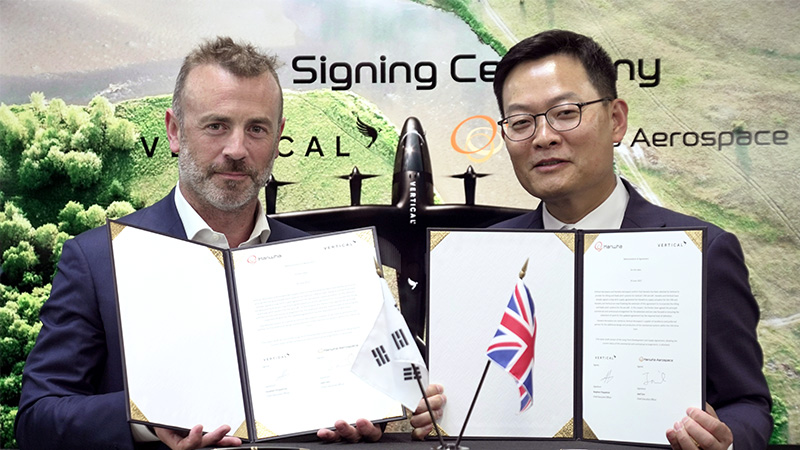 Hanwha Aerospace signed a memorandum of agreement (MOA) with Vertical Aerospace on June 20 to collaborate on jointly developing, testing, and manufacturing the tilting and blade system for the VX4, Vertical Aerospace's electric aircraft. The MOA was signed at the 2023 Paris Air Show, following last year's successful partnership focused on electromechanical actuator (EMA) development.
The tilting system is an essential component of the electric vertical take-off and landing (eVTOL) aircraft, which enables the aircraft to transition from vertical to forward flight mode. The blade system plays a key role in enhancing the stability and overall performance of the eVTOL.
"This strategic agreement serves as a meaningful step towards expanding and diversifying the capabilities we can offer to a variety of customers," said Jae-il Son, CEO and President of Hanwha Aerospace. "Working with Vertical Aerospace, our joint team will help develop state-of-the art electric aircraft systems and technology."
"Hanwha Aerospace is a fantastic partner for Vertical," said Stephen Fitzpatrick, CEO and Founder of Vertical Aerospace. "Hanwha shares our vision for pioneering electric flight; they are world leaders in electromechanical and actuation systems. The expansion of our partnership is a natural next step, building on the well-established cooperation between our two companies."
Vertical Aerospace aims to certify the VX4 by 2026 and has already secured orders for more than 1400 aircraft from global air carriers.
Hanwha Systems, which also attended the event, signed a memorandum of understanding (MOU) with the Netherlands Aerospace Centre (NLR) and Korea Airports Corporation (KAC) on June 21 to jointly develop core technologies related to the operation of UAM infrastructure. These include the urban air traffic management (UATM) system and vertiports, which are used for landing and takeoff. Additionally, Hanwha Systems and KAC signed a letter of intent (LOI) with Urban-Air Port (UAP), a British UAM infrastructure startup, committing to a future of sustainable air mobility by deploying an extensive range of technology-driven innovations to empower ultra-efficient, high-throughput vertiport infrastructure solutions.
Hanwha Aerospace
Founded in 1977, Hanwha Aerospace has become a leading company in the aerospace industry in South Korea. Today, Hanwha Aerospace's products serve not only aerospace but also the defense and marine sectors. With an unwavering focus on customer-centric quality management, technological innovation, and product competitiveness reinforced by advanced technologies, Hanwha Aerospace is surging forward as a global leader in the burgeoning space and aerospace business as well as in the land, sea, and air defense industries.

For more information, visit: www.hanwhaaerospace.co.kr/eng/
Hanwha Systems
As a global total solutions company, Hanwha Systems provides differentiated smart technologies by leveraging synergies with advanced defense electronics and future–ready ICT technologies. In addition to our world–class expertise in defense electronics, we also provide state–of–the–art IT services, such as AI, big data, blockchain, cloud services and more, to lead digital innovation across a range of industries.

For more information, visit: www.hanwhasystems.com/en/index.do
Contact Us
Thank you for your interest in Hanwha.
Please contact us for your inquiries.
Email Us
Information Message
Please enter your email address.
Information Message
Please enter a correct email address.
Success
Keep an eye on your inbox for the latest stories from Hanwha.
Information Message
Your subscription request has already been processed. Thank you.