Hanwha Q CELLS secures project
development rights from RIC Energy
for 940 MW solar portfolio in Spain
Hanwha Q CELLS completes transaction for development of large-scale solar projects across Spain; one of the largest renewable energy transactions in Spain's history. Development rights for this 940 MWp portfolio were acquired from Spanish global renewable energy developer RIC Energy.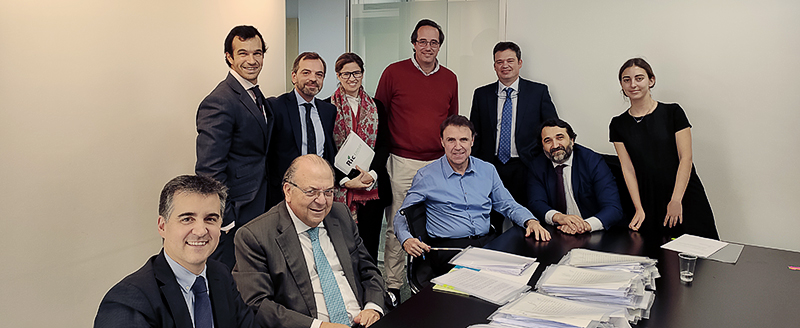 Hanwha Q CELLS, a renowned total energy solutions provider in solar cell and module, energy storage, downstream project business and energy retail, has secured the project development rights for a 940 MWp solar portfolio in Spain, in what is one of the largest renewable energy transactions in Spain's history.
Hanwha Q CELLS' Downstream Business Unit signed on December 31, 2019 an agreement to purchase 940 MWp of new solar capacity in Spain, which is projected to achieve Ready to Build status by the first quarter of 2022. Once completed, these solar installations will generate enough clean electricity to meet the annual power needs of more than half a million Spanish households.
RIC Energy is active in Spain, the USA, India and in parts of Africa. This transaction represents the largest deal that the company has completed in the Spanish market to date. In addition to the sale purchase agreement, RIC Energy confirmed that it will provide development services for all the projects in order to bring them to Ready-to-Build status.
The purchase agreement is a landmark transaction for Hanwha Q CELLS' Downstream Business division, which was officially created at the beginning of the year as successor to the former Hanwha Q CELLS EPC Division.
Hanwha Q CELLS' Downstream Business Unit now owns more than 1 GW of solar projects in Spain, and has a PV portfolio of more than 2 GW in the pipeline, across Iberia, Poland and Italy.
Gains in Spain
Hanwha Q CELLS' commitment to the Iberian Peninsula has grown in the past year in response to the burgeoning solar development opportunities emerging in both Spain and Portugal. Having enjoyed somewhat of a breakthrough year in 2019 – installing close to 300 MW of new PV capacity and assigning a further 1.15 GW at auction, according to Bloomberg New Energy Finance data – Portugal could well install more than 500 MW of new solar capacity in 2020.
Neighbouring Spain, meanwhile, finally appears to have discovered a thirst for sustainable solar growth, following a few years of boom-and-bust. In 2020, IHS Market forecasts Spain to claim 15% share of all European installations, behind only Germany, in a year in which Europe may exceed 23 GW of new capacity. Driving Spain's solar growth this year will be its utility-scale sector.
Sang Chull Chung, Head of EU Downstream Business Unit for Hanwha Q CELLS, said: "In securing the development rights from RIC Energy for its 940 MWp solar portfolio, Hanwha Q CELLS is sending out a strong statement of belief in the European market. As our Downstream Business Unit seeks to grow, Hanwha Q CELLS is eager to proactively explore the opportunities that exist right across the continent at a time of exciting growth potential for many European countries, particularly on the Iberian Peninsula."
José Luis Moya, CEO of RIC Energy, added: "This transaction represents the largest such deal that RIC Energy has completed in the Spanish market to date. Given the size of our current portfolio, we expect to close operations of similar size during 2020."
Hanwha Qcells
Hanwha Qcells (Hanwha Solutions Qcells division) is one of the world's leading clean energy companies, recognized for its established reputation as a manufacturer of high-performance, high-quality solar cells, and modules, a portfolio of intelligent storage systems, and a growing international pipeline of large-scale renewable energy projects. Hanwha Qcells also provides renewable electricity retail services and packages to end customers the world over. The company is headquartered in Seoul, South Korea (Global Executive HQ) and Thalheim, Germany (Technology & Innovation HQ) with its diverse international manufacturing facilities in the U.S., Malaysia, China, and South Korea. Hanwha Qcells strives to offer Completely Clean Energy through the full spectrum of photovoltaic products, storage solutions, renewable electricity contracting, and large-scale solar power plants. Through its growing global business network spanning Europe, North America, Asia, South America, Africa, and the Middle East, Hanwha Qcells provides excellent services and long-term partnerships to its customers in the utility, commercial, governmental, and residential markets.

For more information, visit: www.qcells.com/us/
Safe-Harbor Statement
This press release contains forward-looking statements. These forward-looking statements can be identified by terminology such as "will," "expects," "anticipates," "future," "intends," "plans," "believes," "estimates" and similar statements. Among other things, the quotations from management in this press release and Hanwha Q CELLS' operations and business outlook, contain forward-looking statements. Such statements involve certain risks and uncertainties that could cause actual results to differ materially from those expressed in or suggested by the forward-looking statements. Except as required by law, Hanwha Q CELLS does not undertake any obligation to update or revise any forward-looking statements, whether as a result of new information, future events or otherwise.

Contact Us
Thank you for your interest in Hanwha.
Please contact us for your inquiries.
Email Us
Information Message
Please enter your email address.
Information Message
Please enter a correct email address.
Success
Keep an eye on your inbox for the latest stories from Hanwha.
Information Message
Your subscription request has already been processed. Thank you.